A VIRAL video of a family unknowingly playing in their garden while an alligator quietly lurks just a few metres away is leaving viewers baffled.
The video, uploaded to Facebook by Nicole Mojica of Lake Nona in Florida, features a young boy playing on a slip and slide alongside an inflatable alligator toy.
Unbeknownst to him or his watching family though, an actual alligator was skulking nearby - but you might struggle to see it!
The recording actually ends before anybody on screen even realises what is going on too, though luckily no one was hurt.
Uploaded to Facebook, the video has already racked nearly 30,000 on Facebook.
The months of May and June traditionally serve as mating season for alligators, which goes some way to explaining the animal's presence in the video.
But the question remains: can you see the alligator? It pops up at around the 20-second mark.
Located close to a chair, once you see the alligator, you'll feel daft you missed it the first time around.
And if you happened to spot it the first time, then kudos to you.
Now test it out on your mates - can they spot the alligator?
Did you see it?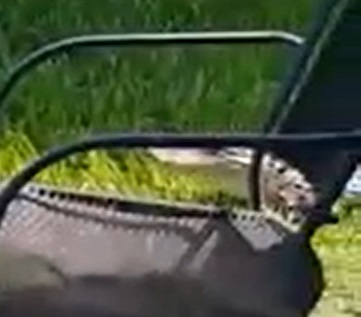 ** Originally published on Jun 7, 2018 
Related: