A LETTER from Bernie Sanders to then-Prime Minister Margaret Thatcher in the 1980's has resurfaced online.
After Vermont Senator Bernie Sanders was pictured wrapped up in mittens, wearing a mask and crossing his arms at the inauguration of Joe Biden, photoshoppers quickly got to work...
And unless you've been living under a rock for the past week, you've likely seen some of the results.
Bonus pic.twitter.com/rdsrZxfFTc

— Ashley Holub, PhD (@ashtroid22) January 21, 2021
But while the internet had a field day creating and spreading superimposed images of Bernie in unlikely places, the viral phenomenon also yielded some unexpected results, as a decades-old letter set by the Vermont politician resurfaced online.
The letter, written in 1981, is from the office of the Mayor of Burlington, Vermont, a position held by Senator Sanders at the time, and urges then-British Prime Minister Margaret Thatcher to put a stop to the inhumane treatment of Irish political prisoners.
1981, Bernie Sanders, stands up against Thatcher in support of Bobby Sands and the other hunger strikers in the H blocks. pic.twitter.com/J4cPHE6qde

— We, The Irish Podcast (@wetheirishpod) January 25, 2021
Sanders tells Thatcher that he is "deeply disturbed" by the British Government's treatment of Irish hunger strikers, writing:
"We are deeply disturbed by your government's unwillingness to stop the abuse, humiliation and degrading treatment of the Irish prisoners now on hunger strikes in Northern Ireland.
"We ask you to end your intransigent policy towards the prisoners before the reputation of the English people for fair play and simple decency is further damaged in the eyes of the people of Vermont and the United States.
"Sincerely, Bernard Sanders."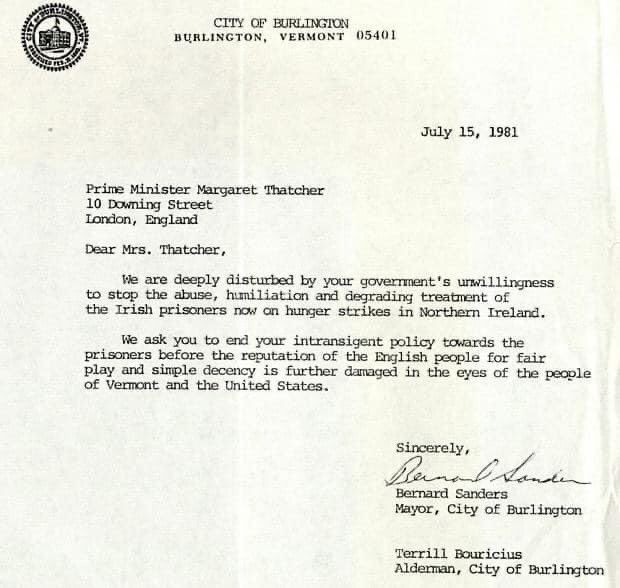 Multiple groups and individuals have shared the letter online, with one person writing "Since we're all talking about Bernie Sanders, let's remember that he was a friend to Ireland when we needed friends."
"Today I learned that when Bernie Sanders was the Mayor of Burlington, Vermont, he wrote a letter to Margaret Thatcher condemning her treatment of Irish hunger strikers," One Irish woman, Aisling, wrote on Twitter. "As if I couldn't love him any more."
At the time the letter was written, Bobby Sands was leading the hunger strike at Maze Prison in a battle for incarcerated members of the Provisional IRA to be treated as political prisoners.