SIR Bob Geldof has managed to insult some of his 'Brexit land' audience at a music festival in Essex by accusing them of turning up to see him perform in Primark clothing and voting for Brexit.
A video of the 64-year-old's tirade, in which he mocked the "boring and tame" crowd, has emerged after he headlined at the Brentwood Festival with his veteran band, The Boomtown Rats, last weekend.
"This is a rock'n'roll festival. When you come to a rock'n' roll festival you dress for a rock'n'roll festival," said Geldof, as he began goading the crowd.
"On the other hand Brentwood, you are wearing wall to wall f*****g Primark. We are mega. And you are Brentwood. How do we know that you are Brentwood and we are mega? Because I am wearing a f**k off pretend snakeskin suit and they are wearing f**k off cowboy shirts even though they live in London," he added, referring to his band mates.
The ballsy crowd was having none of it, though, and began booing and hissing at the Irish rocker, but Sir Bob refused to let up, taunting the audience for living in an area of England that voted for Brexit.
Advertisement
Every district in Essex has voted to leave the European Union.
Appearing to compare new Prime Minister Theresa May to her Tory predecessor Margaret Thatcher, he said "That song we just did was written at the end of 1975 when Margaret Thatcher became leader of the opposition".
"What are you booing for? We're in f****** Brexit land here guys. Yeah, we're Irish, we're still in Europe. It's just as well we wrote that song because this year is about Theresa May." She's gonna do you in," added Sir Bob, who was a leading EU referendum campaigner on the Remain side.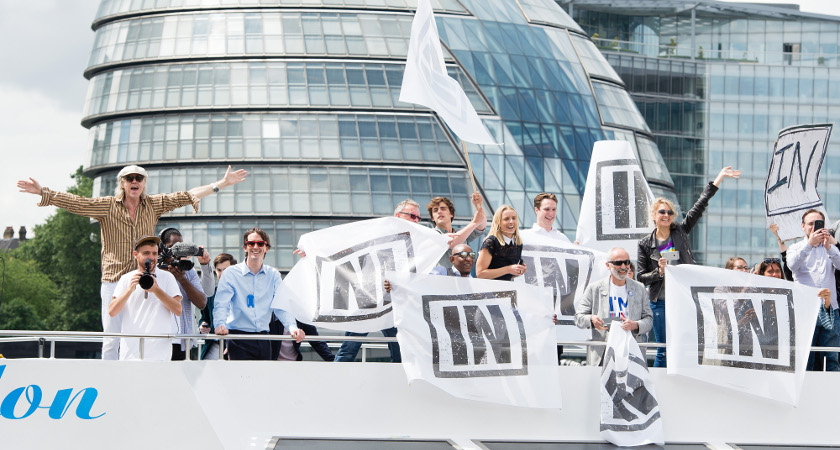 Sir Bob caused controversy during the Brexit campaign after taking to the river Thames in London where he clashed with UKIP's Nigel Farage in a nautical battle over Brexit.
Mr Farage led a flotilla of fishing boats up the Thames to urge Parliament take back control of British waters. But his Brexit armada was greeted by a rival Remain fleet carrying Mr Geldof.
The rock star yelled that the UKIP leader was "no fisherman's friend", while Mr Farage accused Mr Geldof of "mocking" impoverished fishermen.
Advertisement
Brentwood Festival co-ordinator Laurie Edmonds was pleased with the performance but apologised for the bad language Sir Bob used.
"They're a punk band. You expect them to be a bit controversial and he got a reaction from the crowd. People know he speaks his mind," said Edmonds.
"That's just what they do but they were a fantastic punk band and we thought it would go down well with our crowds. We know he's a bit of a lightning rod and people will have strong reactions to him," he added.
WATCH SIR BOB MOCK THE FESTIVAL CROWD HERE: