FOUR Irishmen have been convicted of plotting to steal £57million worth of jade and rhino horns from museums across Britain to export to China.
Daniel 'Turkey' O'Brien, 45, John 'Kerry' O'Brien, 26, Michael Hegarty, 43, and Richard 'Kerry' O'Brien Junior, 31, all from Cambridgeshire but with links to Rathkeale in Co. Limerick, were found guilty of conspiracy to steal at Birmingham Crown Court yesterday.
Ten other men had already been convicted for the same crimes at previous trials in Birmingham.
They stole 18 jade exhibits from the Fitzwilliam Museum in Cambridge, where they drilled through the exterior wall to gain access to the building.
The gang also carried out two counts of theft from Durham University Oriental Museum and robberies at Norwich Castle Museum in Norfolk and Gorringes Auction House in Brighton.
Advertisement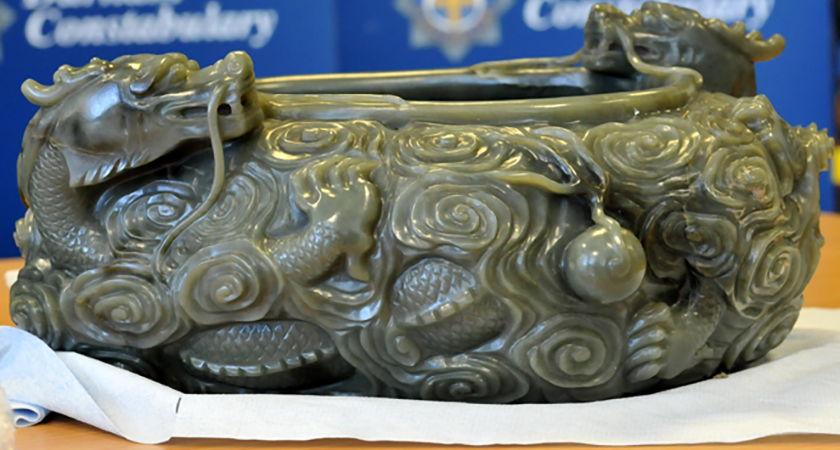 The crimes were carried out between November 2011 and April 2012 and initially investigated by local police though it soon became apparent that a gang was behind the planned robberies.
Durham Police revealed how the artefacts stolen, along with those they had intended to steal, could have been worth up to £57m on the black market.
"Because of the variations which can be given by auction houses the total value of the items targeted comes to anywhere between £18m and £57m," said Senior Investigating Officer for the operation, Detective Superintendent Adrian Green.
"This illustrates just how massively profitable this trade was viewed by the gang."
The Irish Rathkeale Rovers gang have been investigated by the European police force, Europol, in the past – and several members of the gang have been arrested since their operation began.
Rhino horns in particular are in high demand in China, where they are used in controversial preparations of the country's traditional medicines.
Advertisement
Sentencing will be carried out on a later date.