PIERS MORGAN has slammed former drug smuggler Michaella McCollum by saying he finds it "very hard to feel sorry" for her.
McCollum, one of the 'Peru Two', was appearing as a guest on ITV's Good Morning Britain promoting her new book which documents her ordeal, including the years she spent in a Peruvian prison.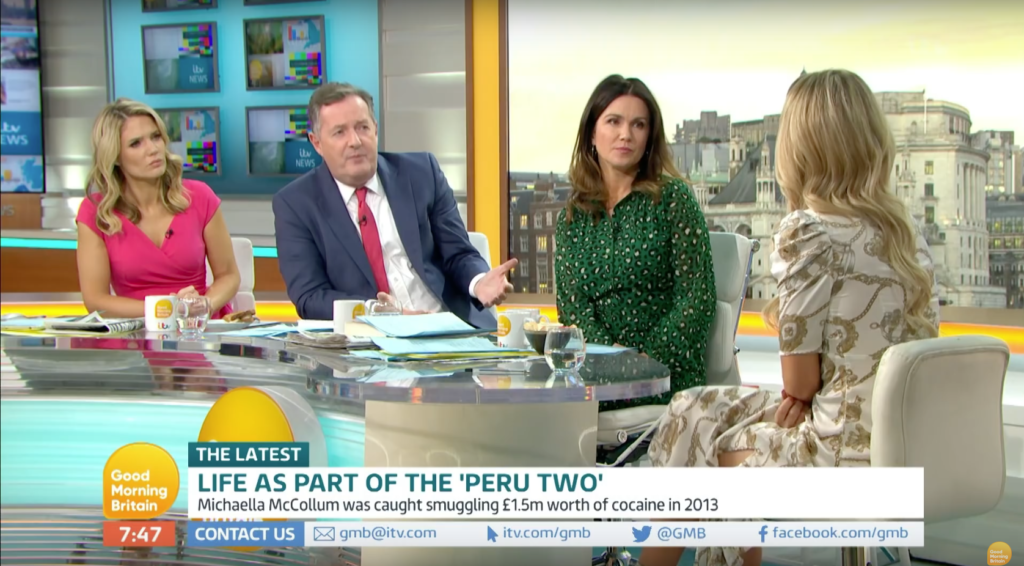 Morgan was praised online for admitting his lack of sympathy for the mother-of-two, criticising her decision to make money from her mistake.
"You know what, Michaella, look, here's what I think," Morgan said.
"I commend you for getting your life back on track. Everyone deserves a second chance in life.
"You're a different person and I can accept you've obviously learned a very harsh lesson.
"I find it a lot harder to feel sorry for you when you're making money from a book about it [drug smuggling].
"And I find it pretty irritating that you would then attack the media for lying about you, and then you not being able to name a single lie 'told'.
"I don't think that's a clever strategy. No one is going to feel sorry for you here."
Morgan added that he thought it was "problematic" that McCollum was now making a profit on the back of her new book.
"Why should anyone buy a book that's going to line your pocket, given that you took £1.5m of cocaine out of a country illegally?" He asked.
The Co. Tyrone woman argued that she was bringing awareness to her situation which could hopefully prevent others from making the same mistake.
The 54-year-old also took issue with McCollum's excuse that she "wasn't thinking" when she agreed to smuggle the drugs in exchange for £5,000.
Interjecting, Morgan said: "Hang on, Michaella, you were thinking weren't you?
"I mean, you were thinking 'I'm going to make five grand taking a load go illegal drugs out the country. You knew that.
"And you knew it was against the law, you knew if you got caught there'd be heavy penalties.
"This idea [that] you weren't thinking, you were 20-years-old, you weren't a kid.
"Even the most imbecilic person on earth knows that if you take a load of cocaine out of a country like Peru, it's a very bad thing to be doing.
"I don't understand this 'I wasn't thinking' bit, you were thinking, I mean you very carefully planned what you were going to be doing."
Following the interview, there were some who accused Morgan of being too kind, to which the 54-year-old responded on Twitter: "She was a convicted £1.5m cocaine smuggler.. should have I just made her a nice cup of tea & asked her about the weather?"
McCollum, along with her friend Melissa Reid, were caught at an airport in the Peruvian capital of Lima trying to smuggle around 11kgs worth of cocaine - with a value of roughly €1.7 million - out of the country in August 2013.
They initially claimed they had been forced at gun-point by a gang to smuggle the drugs, but later admitted and pleaded guilty to drug trafficking and were sentenced to six years and eight months each in prison.
The duo were released in the summer of 2016.