CRIMINAL gangs trafficking stolen priceless antiques between Ireland and Britain are the renewed focus of police units in both countries, security sources have revealed.
The news follows the recovery in May of a major haul of Irish artefacts by officers in the Norfolk Constabulary.
This followed a tip-off from the British Museum to the National Museum of Ireland, which contributed to the recovery of nearly 900 items.
But sources in Ireland have confirmed that the traffic of such artefacts, as well as precious paintings and priceless antiques, is the focus of criminal gangs on both sides of the Irish Sea and increasingly, chasing investigation units.
Séamus Lynam from the National Museum said the trafficking posed a "continuing threat to the portable archaeological heritage of Ireland by metal detectorists".
Advertisement
He added: "Many items similar to those recovered have been offered for sale in recent times over the internet and are the subject of on-going investigations.
"The recovery shows the determination of the National Museum, gardaí and other State bodies to protect the nation's heritage and demonstrates the ability to recover important heritage objects even when they have been illegally removed from the jurisdiction."
Among the objects recovered by the Norfolk Constabulary was a hoard of 28 medieval hammered silver coins covering the reigns of Edward I-III (1272-1377).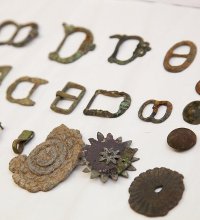 Also recovered were three 'gun money' coins of James II, consisting of a half-crown and two shilling coins.
'Gun money' was emergency war money coined by James II during the war of 1689-91 and a flat copper axe dating to the Early Bronze Age between 2500-2000 BC were also recovered, along with many military buttons relating to the activities of the British Army in Ireland.
One of the finds unearthed included a button from the tunic of a soldier in the 54th West Norfolk Regiment of Foot dating circa 1855.
Advertisement
Other military regalia included an Irish Volunteers badge and a badge of the Royal Scots Regiment, which was raised in 1633 making it the oldest Regiment in the British Army.