SHANE MACGOWAN has issued a fresh defence of The Pogues' festive hit Fairytale of New York following criticism over the song's lyrics.
One local BBC DJ has already banned it from his show while RTÉ 2FM DJs Eoghan McDermott and Stephen Byrne previously called for the track to be censored.
They wanted the word "faggot" removed from the version of the song played on the station after several members of staff said they were uncomfortable with the use of the word.
RTÉ has so far refused to bow to any pressure to censor the track.
And speaking to Ryan Tubridy on a special edition of  The Late Late Show, celebrating the Irish musician MacGowan rejected any notion of the song falling foul of political correctness.
"There is no political correctness to it," he said.
"I've been told it's insulting to gays; I don't understand how that works."
MacGowan remained unmoved when Tubridy attempted to explain the concern.
Swearing loudly, he told The Late Late Show host: "Nobody in the band thinks that's worth a second's thought."
MacGowan went on to perform the song, uncensored, as part of a star-studded night celebrating his career to date.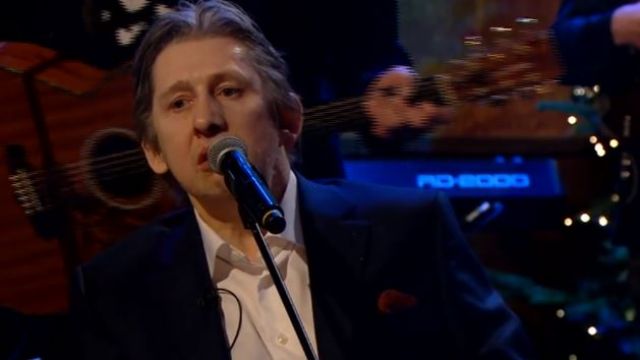 Last year MacGowan issued a statement to Virgin Media TV's The Tonight Show addressing the controversy.
"The word was used by the character because it fitted with the way she would speak and with her character," he said.
"She is not supposed to be a nice person or even a wholesome person. She is a woman of a certain generation at a certain time in history and she is down on her luck and desperate".
MacGowan added: "Her dialogue is as accurate as I could make it but she is not intended to offend! She is just supposed to be an authentic character.
"Not all characters in songs and stories are angels or even decent and respectable, sometimes characters in songs and stories have to be evil or nasty in order to tell the story effectively."
MacGowan went on to say that he does not want to clash with anyone over the song and would understand if it had to be censored on the air.
"If people don't understand that I was trying to accurately portray the character as authentically as possible then I am absolutely fine with them bleeping the word, but I don't want to get into an argument," he concluded.