A WOMAN suffered every golf fan's worst nightmare at the Ryder Cup after a golf ball struck her in the face.
Grim pictures of the stricken fan, bloodied and lying down in the grass at The Golf National in Guayancourt, France have been doing the rounds online.
The incident took place this morning (Friday, September 28th), when US team member Brooks Koepka attempted to play a shot from the sixth hole of the course.
Striking the ball hard and firm, the unidentified spectator ended up being on the receiving end of the shot.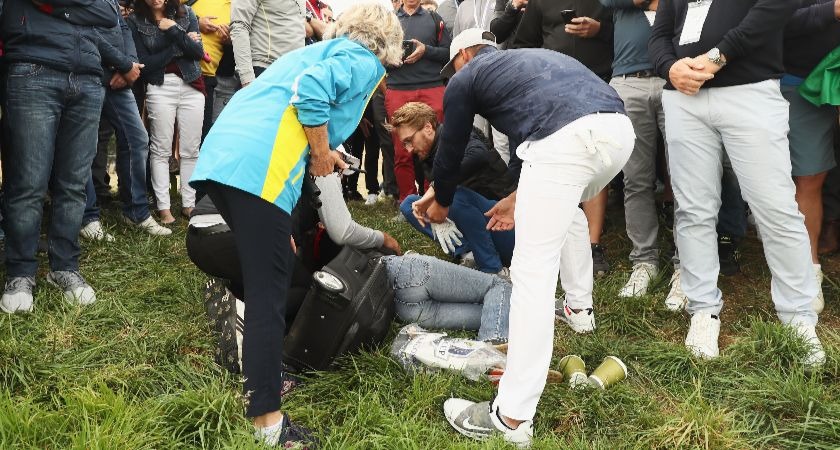 Advertisement
Though her injuries have not been revealed, she was pictured with a bandage around her eye.
Sky Sports, meanwhile, reported that Koepka had been left shaken by the incident after going to check on her.
It clearly had a negative effect on Koepka's game, with the American coming dangerously close to hitting more fans when he tee'd off from the seventh hole of the course.
And while the injured fan is the main focus of the imagery doing the rounds, several fans have taken to Twitter to criticise the number of fellow fans failing to lend a hand.
They were quick to note the startling number of onlookers attempting to film the incident on their phones rather than offer help.
Many simply expressed their shock at the unfolding events.
"Jesus, fan took that Koepka drive straight to the eye," one concerned spectator tweeted.
Advertisement
"What in god's name is Brooks Koepka doing out there," another added.
There's no word on the woman's condition as yet but her injuries are not thought to be life-threatening.