Written by Liam Walsh, following the death of Irish footballing legend Alan McLoughlin
It's 24th June 1990, and a month after scoring the play off winner for Swindon Town at Wembley, Alan McLoughlin is my hero.
Landing in Milan was more than landing in another world, it was landing in the world, our world. We stood, open mouthed, silent, in the grand station watching fans of every nation greet, cheer, rush here, pause there. It was a mesmerising celebration of people and peoples, the astonishing and unifying power of football. And we were here.
Eventually, we took the late train to Genoa, not arriving until the early hours, no plan, no hotel, no tickets. Tomorrow though, Ireland were playing Romania, for a place in the quarter final of the World Cup. We were in the right city. And so, it became clear very swiftly, were thousands of other Irish supporters. It became equally clear, almost as swiftly, that they had no beds and no tickets either. We were going to need those sleeping bags.
The next day, the greatest day, began a couple of hours later when I took a wake up kick in the back from a gentleman officer of the carabinieri. Within an hour, we'd bought coffee, croissants and not entirely ridiculously overpriced match tickets off a Belgian guy on the station concourse.
The next few hours in that bar were as good as it got. It's hard to relay sometimes the joy and celebration of fans mixing in major tournaments, the being alive rejoicing of the moment. Here, a far cry from television images of fuelled up jingoistic nationalists hurling plastic chairs across majestic city squares. Here, here set the pattern for future travels and adventures with Dad, Ireland's presence or not, how we loved the big occasion. Today, those pockets of Scottish fans, hordes of Irish and a scattering of willing extras, beguiled and bewitched by Jack's Party. Together, we shared the moment. We sang each other's songs: the Irish singing The Sash, the Scots reciprocating with Irish rebels songs they wouldn't naturally be comfortable with.
We took a young French student under our wing as the heat and the alcoholic haze intensified. Dizzy with the enchantment of it all, he staggered off the bus still miles from the ground. I smile in wonder at what became of him, and my daring removal of a carabinieri helmet as Dad tried to take a picture. I smiled at my first glimpse of those magnificently striking red corners of the Stadio Comunale Luigi Ferraris, one of the enduring images of Italia 90. Most of all, I smile when, still nearly an hour before kick off, I look down from my upper tier seat with a vertigo bar, at the rectangle of green beneath me.
I look down and as the players are walking the pitch, taking in the breathtaking number of tricolours already in place all around the ground. I smile as I look down and the first player I see, is Alan McLoughlin.
It's 25th June 1990 now, and Alan McLoughlin is my hero.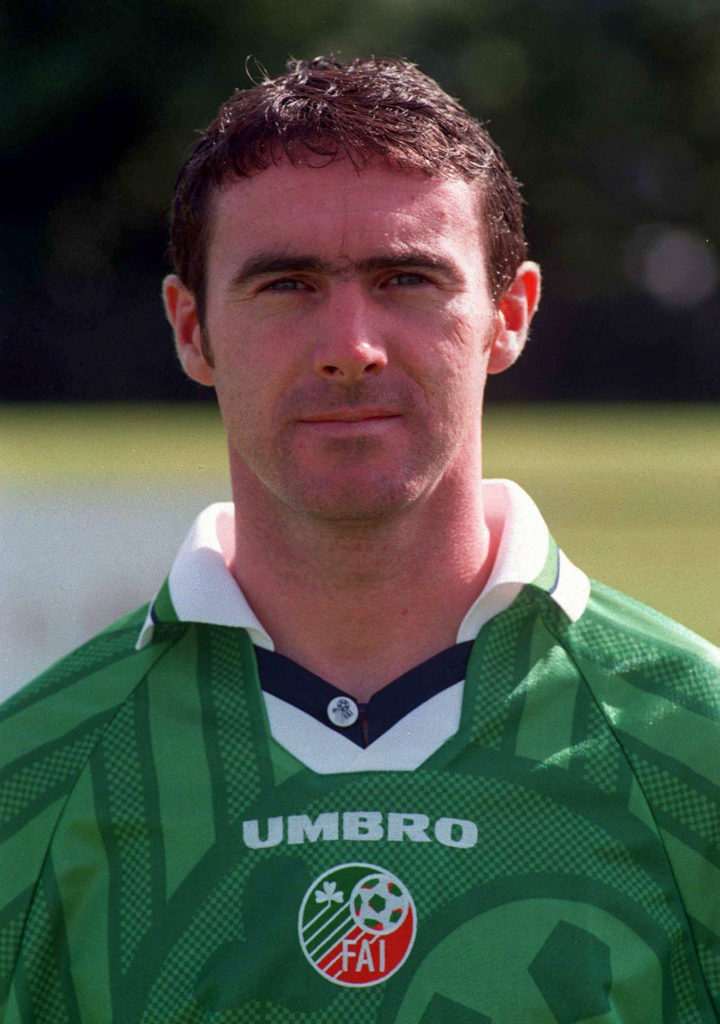 Macca has joined Swindon Town from Manchester United, his pedigree clear but his lightweight, flighty, ball playing nature not immediately beneficial to a heroically direct Lou Macari team. At Manchester City, in his home town we sat distant in the away end at Maine Road, thrilled at Mcloughlin's raw potential.
His eyes, body and two City players went one way in the centre circle, his hips swivelled the other, shifting the ball with them, opening up acres of green to his left, another counter attack. How Dad rejoiced, recalling this single vision of footballing dash and elan for years to come. After four years of remarkable success, on one hand Swindon were close to the hallowed land of mixing with the big boys for the first time in the club's history. On the other, the approach had grown stale, formulaic, and could be hideously dull to watch.
Swindon's success saturated public had grown bored, crowds were poor, increasingly apathetic. Swindon lost a play off to Crystal Palace and soon after we'd drifted desolately out of a Selhurst Park, we'd had an unimaginably glorious play off evening at against Gillingham just a couple of years earlier.
Macari departed, few lamented. A couple of weeks later we were on holiday when I picked up an English newspaper in Galway: "Dad, Dad, our new manager is Ossie Ardiles!". This promised to be different, and possibly fun.
It was all that and rather more. The first game I saw was a pre-season friendly away at Hereford. We won 5-4, and that set the tone. Instead of searching the sky for the ball, wondering where it would eventually land and who was chasing after it, the same players, Lou's up and at 'em runners, were now treating the ball with affection, caring for it, gliding around the pitch in exotic patterns, looking like they were enjoying it. At the fulcrum, at the tip of a newfangled midfield diamond was Alan McLoughlin.
The skinny, bit part player of a couple of months ago now epitomised and led our transformation, weaving this way and that, dazzling us, confusing us. Yeah, we let four in, but hey we scored five.
And that was the pattern of the most remarkable season. Set against the backdrop of financial scandal and looming punishment, the team, Ossie's team now, danced their way towards the play offs once more. McLoughlin was the heartbeat of this astonishing reinvention. On New Year's Day, he scored twice at Watford in one of the most wonderful performances in a Swindon shirt and of a Swindon team I can recall. We drove us around the country watching our team, our team now. This joy was ours to behold. We were nearly there, promotion beckoned and teased. Watford, West Brom, West Ham, Wolves, wherever - we'd be there. Wembley awaited.
On 28th May, McLoughlin scored the play off final winner at Wembley, as we obliterated Sunderland in surely the most one-sided 1-0 victory in a hundred years. At last Swindon had reached the promised land: milk, honey and all. Except that wasn't quite the case. Ten days later Swindon were demoted two divisions (reduced to one later on appeal) for illegal payments to players. It was absolutely heartbreaking.
In the meantime, Alan McLoughlin received a late, fortuitous, controversial call up to the Irish World Cup squad. Jack was taking our Macca, our hero, to Italy. He'd made a couple of substitute appearances, helping recover a draw against England, and today, there he was, in Genoa, in green rather than red, living his dream and ours, as he surveyed the pre-match scene around him. In sunglasses, short shorts and strolling casually, at home amongst Jack's heroes, the picture will start with me forever.
Three and half years later we'd driven to the GAA club in Ruislip to watch Ireland's decisive World Cup qualifier with Northern Ireland in Belfast. The Republic needed a point to secure a place in USA 94, and the build up was relentlessly rancid and bitter, amidst a background of sectarian killings, the most acrimonious football match. Jack, who'd remained steadfastly and consistently oblivious to the context of the troubles in the north, had one card left to play.
The hosts were leading 1-0 through a goal by Jimmy Quinn, another of Macari's old Swindon trailblazers. Jack's ace was Macca, now a Portsmouth hero, still appreciative of Quinn's welcome when he joined the Town. Alan McLoughlin, always the substitute, so often the bridesmaid for Ireland, crashed home an equaliser. Ruislip erupted, que sera sera. Dad and I floated home along the M40.
Today in Genoa, one of the world's finest players, Georghe Hagi, the Maradona of the Carpathians, tip-toed this way and that for Romania, gliding with a grace and verve that Ireland's workhorses couldn't match. But the boys in green, roared on by thousand upon thousand, kept them out, dragging a cagey, uneventful game goalless through half-time, full-time, extra-time. All the way to penalties. Boy I needed some water now, and wondered what had happened to the French lad. My ears were sore, my head ached, my throat was dry and Ireland were a penalty shoot out away from a world cup quarter final against Italy, in Rome.
Packie Bonner made the crucial save, David O'Leary calmly dispatched the winning penalty. The words, the pictures, the memories are national treasures. The noise, delirium, joy, songs, emotion, thrill of being there was life itself. Our hero though, as at Wembley just a month earlier, was Alan McLoughlin. An unused substitute. It was, the greatest of days.
The next season saw McLoughlin start in sublime form, the club was re-energised by the injustice of the summer, intent on making good. Macca led the Middlesbrough team a merry dance as they hacked and pulled and tried to treat him down. Eventually they succeeded, kicking him off the park. Alan Mac was patched up and soon back, but it was never the same again. As a tremendous asset he was dressed up and sold, clearly reluctantly and ultimately pointlessly, to a Southampton who had no idea how to utilise the talent they'd bought. The team fell apart. The club fell apart. Ossie's dream over, Glenn Hoddle replaced him, prevented relegation and brought us hope, eventually, partially, guardedly, renewed.
Alan McLoughlin went on to play over 300 games for a rightfully appreciative Portsmouth, but he was always ours. Always ours, capped 42 times ,too many of them substitute appearances. He played in two World Cups despite playing most of career at Championship level, he was always there for Jack, for us. He was one of Jack's. Jack knew.
It's 4th May 2021, and Alan McLoughlin is my hero.