UPON entry to the Cavalry Barracks in Hounslow, London, a Union Jack fluttered in the wind while identification, signature and a reason for visit were taken from each external attendee.
Entering a British Army base to watch a game of Gaelic football was indeed an unusual experience.
Inside the gates, the flag of St Patrick flew above a makeshift GAA pitch, while a row of military vehicles added to the peculiar spectacle of St Clarets' visit for Saturday's friendly with Gardaí Eireannach, the team from the Irish Guards.
It may sound like intimidating surroundings, though it was anything but. For once past security there's a real feel of Irish hospitality about the place, with tea, Guinness and Irish stew on offer for all visitors.
I was stuffed. But unfortunately for the hosts, so was their team.
This was only the second match the Irish Guards have played, and once again they were understrength and comprehensively beaten, with St Clarets showing no mercy in putting eight goals past them.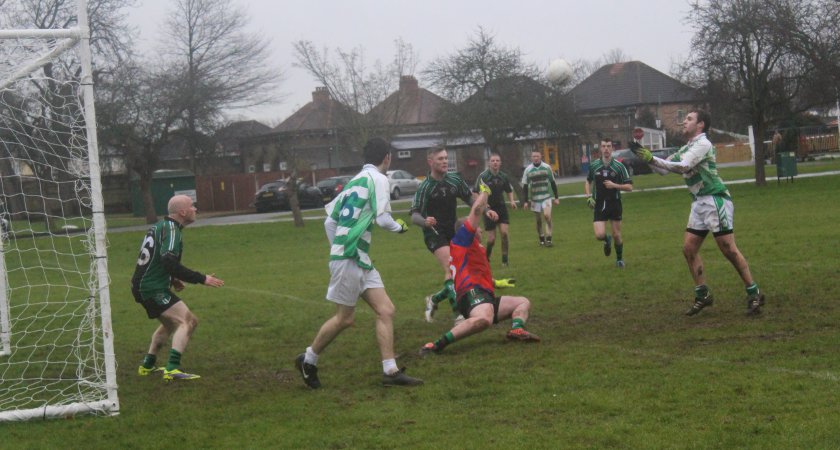 Harlesden Harps scored 5-10 against them in their opening game in the same venue earlier this month and once again the difference in experience was telling from start to finish.
Nonetheless, the Guards were creating chances of their own on the muddy surface, but wayward shooting caused a sizeable number of wides.
Many of these players grew up playing GAA or rugby, so the ball handling skills were there to be seen, and that lack of confidence in front of the target could be eradicated with some much-needed shooting practice.
Due to the nature of their work, the Guards will struggle to field a consistent team, but with a growing pool of over 50 players to choose from, they will have no trouble fielding a side anytime soon, even if some of their players are unfamiliar with each other's names.
Despite the heavy defeat, those involved appear to be enjoying the early stages of their journey and they're hoping for another practice outing against Tir Chonaill Gaels' Junior side on March 5 ahead of their first competitive season in London GAA.
Pictures: Jamie Casey