GAA MANIA is sweeping the nation again, as it has every summer for generations.
This year's league is slowly creeping to an end, with Limerick playing Kilkenny this Saturday in the Hurling semi-finals.
The local churches understand how important this match is to the people of Limerick, and, eager not to let mass attendance drop in the area, have announced they are changing service times so people can fit their weekly dose of Holiness in around the match.
Athea Tidy Towns posted on Facebook letting the parishioners know of the changed mass times, and asked God to help Limerick beat Kilkenny, announcing that the 6pm service is being moved to the earlier time of 5pm.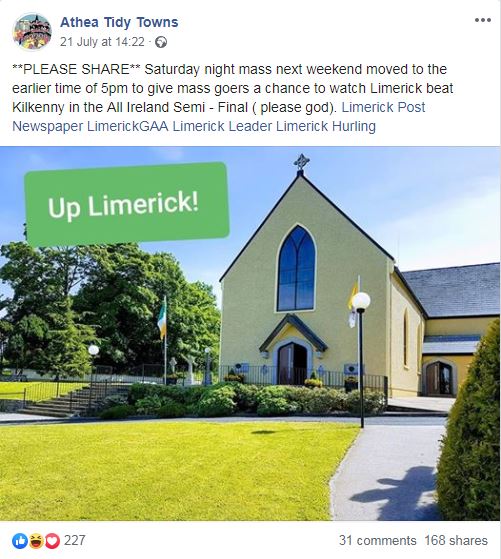 Those in the comments were quick to thank a certain Father Duggan.
Hannah Sheehy said: "Have we ever had a more accommodating priest in Athea. Thank you Fr Duggan."
While Margaret Carroll, replying, agreed: "We are so lucky to have Fr Duggan, he's such a pleasure and will go out of his way for anyone."
So is it about keeping up attendance, accommodating the parishioners, or is Father Duggan as eager to watch Limerick beat the Cats as the rest of the parish?
Either way, it's a pure example of how much the ancient sport means to Irish culture—we've been playing Hurling and Camogie for more than 3,000 years, and once you've watched a match or been caught up in the celebrations it's easy to see the appeal.
American Comedian Josh Pray recently discovered hurling, and his astounded commentary encompasses every magnificent thing about the game.
Limerick will take on Kilkenny to keep their 2018 All-Ireland Hurling Champions title, this Saturday at 6pm.