ARRIVING at the pre-fight press conference dressed in an impeccable three-piece suit, yet sporting a comical handlebar moustache, it's sometimes difficult to know whether to take Gary 'Spike' O'Sullivan seriously or not.
Chris Eubank Jr – O'Sullivan's opponent this Saturday night and son of Steve Collins' former foe – takes a less conflicting approach, arriving unfashionably late in casual sports gear a full hour after the media event is due to begin.
For all the uncertainty, with consecutive knock-out wins inside three rounds in his last five fights, there are few doubts surrounding Spike's seriousness inside the ring.
However, Eubank Jr is undoubtedly a step up in class for the Corkman, whose only professional loss to date is a Unanimous Decision defeat to Billy Joe Saunders, Andy Lee's WBO title challenger on December 19.
Likewise, Eubank Jr's only loss is to Saunders, but now that Spike is at the top end of a healthy middleweight division, will he have to be more patient when looking for the knock-out?
"I'm not sure about that," he laughs, when questioned by The Irish Post. "Come the night, whether it's the first round or the 12th, when I hit him clean – that's it for him."
On closer inspection, Spike comes across as a warm, charismatic individual, so it's no surprise that he has built up a large fan-base in Ireland, England and indeed Boston through his constant interaction with fans at shows, online and in public.
On Saturday night he'll find himself in the unusual position of being an Irishman fighting an Englishman in London with the majority of the support behind him.
"I love fighting in the UK, the fans like me here," he says. "I've fought in the O2 Arena before and I've fought around England a few times, so I think I'll have a lot of support on the night again."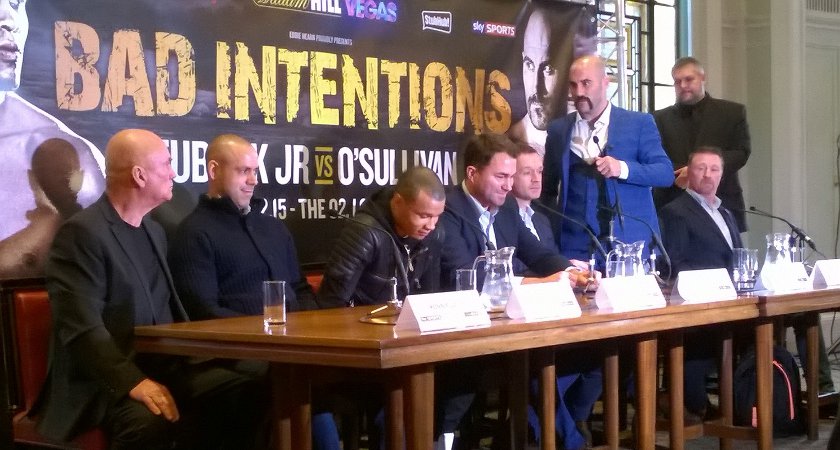 His trainer, Paschal Collins of Dublin's renowned Celtic Warrior Gym, appreciates that his charge will be the fans' favourite on the night, but is not reading too much into it.
"Spike's been lucky in his last two fights over here as they've been live on Sky, so that's enabled him to win over a lot more fans," he tells The Irish Post.
"A lot of people don't like Chris Jr, which is silly because I'm sure, behind all this, he's probably an alright guy. But this is the business you're in, you've got to promote yourself as either the good guy or the bad guy, as long as you sell tickets.
"There will be a lot of people rooting for Spike on the night, but we've been the away fighter nearly all his career so it makes no difference to us, we're kind of used to that. We can deal with all that pressure."
Often criticised for mimicking his father's character in both posture and exasperating out-of-ring exploits, it's fair to say Eubank Jr is one of the least popular boxers on the middleweight scene.
That said, and also much like his father, he can put up a pretty good fight, so much so that he'll go off as the 1/6 favourite.
"I'm quite confident going into the fight, but I'm not going in with my eyes closed – he's a good little fighter, Chris Eubank, and I respect him for taking the fight," adds Collins.
"[But] I think he's being badly advised, possibly by his dad, who done little things like turn up late to press conferences to try and wind people up.
"There's no need to do it, everybody has a job to do, people have flights to catch. He needs to show a little respect and be a professional and turn up on time. Let's hope he turns up on time on the night."
On the subject of fight night tactics, Collins is far from the control freak figure so often apparent in boxing corners. Instead, the Dubliner plans to allow his man to use his instincts once that opening bell sounds.
"It's up to Spike to do what he wants to do," he says. "If you start to worry about your opponent, you've lost the fight straight away.
"Of course, he's in with a much higher calibre of fighter than the guys he's been knocking out, but that doesn't mean he can't knock this guy out in the first round, it can happen.
"There's a lot of talk about Spike needing the knock-out, but Spike can fight too. He's a more experienced fighter than Chris."
Although Spike – who, incidentally, is an avid hurling fan – will be fully focussed on producing what would be the biggest win of his career, Collins has other motives for landing his compatriot this fight.
It's a bout that boxing fans have been talking up for the best part of two years as the pair have been at each other's throats with a public war of words.
Since it's live on Sky Sports Box Office as the understudy to the main event between heavyweights Anthony Joshua and Dillian Whyte, this fight will give Spike the type of financial security he's never before enjoyed.
"Chris talks a good talk," continues Collins. "In fact, he's even more vocal than his dad was. Both he and Spike have talked themselves into this big fight and a big payday, and that's what it's all about. It's a profession, it's about making money.
"Spike can maybe buy a house or whatever after this, it doesn't matter what happens."
Whatever way it goes, Spike's conditioning cannot be faulted. The Irishman looks in fantastic shape thanks to four consecutive training camps, two for his own fights and two as the chief sparring partner of Celtic Warrior stablemate Frank Buglioni.
"Fortunately for me, when Frank Buglioni was first scheduled to fight for the world title and it didn't happen, I sparred with him throughout his camp for that," says Spike.
"And I sparred with him when it eventually went ahead second time around and then continued to do so after that to prepare for my own fight in Boston, and then I had a few sessions in Florida while I was over there too.
"So I've been continually training and sparring for months – I'm as ready as ever."
WATCH: @spike_osullivan kisses @ChrisEubankJr on the lips at the pre-fight weigh-in: https://t.co/cPkiGrogkv pic.twitter.com/q6W2jFGBon

— Sky Sports Boxing (@SkySportsBoxing) December 11, 2015
Ironically, the fight has been dubbed 'Bad Intentions' by promotor Eddie Hearn's Matchroom Boxing, the same nickname given to legendary but troubled middleweight Jermain Taylor, who Spike had the pleasure of sparring with in Florida recently.
"He's a top-class fighter," says Spike. "I didn't know what to expect from him when I met him. But then, when I met Mike Tyson, he was actually very sane. Jermain was just normal too – just in the gym training and sparring hard as ever."
Collins used his connections in America to pull off that invaluable experience for Spike and, for him, all signs point to a knock-out win for the Cork native on Saturday night.
"His preparations have been very good, we're leaving no stone unturned," says Collins. "We're preparing him as best we can and he'll be ready on the night.
"If I was sitting on the fence, watching both, I believe Spike would win the fight because he's got that little bit more experience, more power and a cracking chin, but he's also got a great defence too.
"I've watched Chris' last couple of fights and his defence can be leaky and he does get caught. All it takes is one big shot to rock him, and if Spike rocks you, he'll finish you."