1. St John's Point, Co. Donegal
With views across Donegal bay, visitors can stay at one of two lightkeepers' cottages at St John's Point.
Operating since 1831, this towering structure was designed by civil engineer George Halpin Senior and is made of cut granite.
Automated in 1932, this lighthouse was converted to electric operation in the early sixties.
Advertisement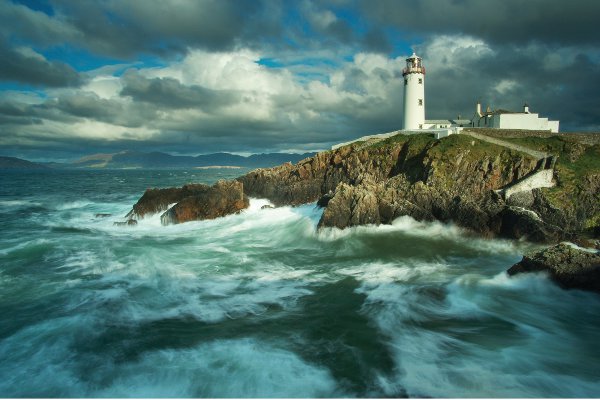 2. Fanad Head, Co. Donegal
Go hálainn ar fad (Beautiful all together) is what the locals would say about this Gaeltacht-located lighthouse on the Fanad Peninsula.
Part of the Wild Atlantic Way, you can stay in one of the lightkeepers' houses while soaking up the spectacular scenery and the area's history.
First lit on St Patrick's Day 1817, the lighthouse was built after the shipwreck of the HMS Saldanha in 1812 – the only survivor of which was the ship's parrot wearing a silver collar inscribed with the vessel's name.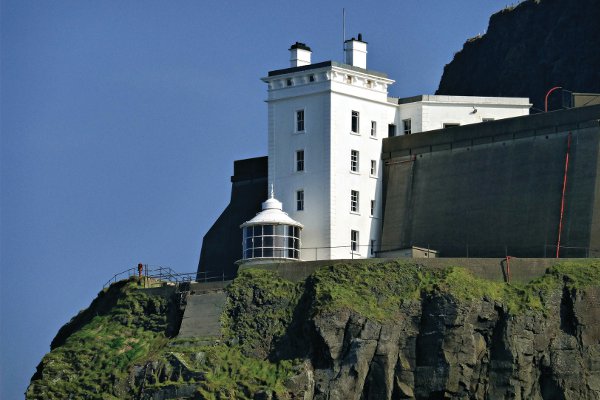 3. Rathlin West Light, Co. Antrim
Advertisement
Tourists can take the boat from Ballycastle to Rathlin Island - home to rare flowers such as the pyramidal bugle and the biggest colony of seabirds in Britain with over 250,000 guillemots, kittiwakes, puffins and more returning to breed here annually.
Built into the cliff face between 1912-1917, lightkeepers lived in the building until it was automated in 1983.
If you'd visited before 1995 you'd have needed to take some ear plugs as the lighthouse's fog signal, the Rathlin Bull, could be heard from 30km away – well beyond Scotland's Mull of Kintyre, which is located just 18kms from Rathlin Island.
4. Blackhead, Co. Antrim
Located on Belfast Lough's cliffside Blackhead Lighthouse was built in 1902 and had guided many famous ships , including the tragic Titanic.
Lightkeepers lived at the station until 1975 and thanks to the Irish Landmark Trust, visitors can now stay one one of three restored lightkeepers' houses beside the lighthouse.
Advertisement
From here you can explore the Gobbins pathways or head to the nearby Victorian seaside resort of Whitehead.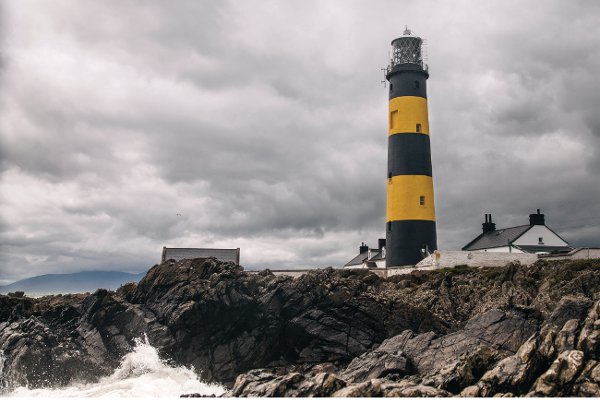 5. St John's Point, Co. Down
With its vibrant yellow and black markings St John's Point in Co. Down, close to Strangford Lough, is a striking sight.
Again, there's self-catering accommodation at this lighthouse which at over 54 metres high is the tallest onshore lighthouse on the Irish coast.
In operation since 1844, the original building was painted white, with three black stripes added in 1902 joined by yellow bands in 1954.
The building also has unusual literary link – Brendan Behan's father, who was contracted to paint a number of lighthouses across Ireland, enlisted his son's help to paint St John's Point in 1950.
Advertisement
Although it is said that his efforts were less than impressive!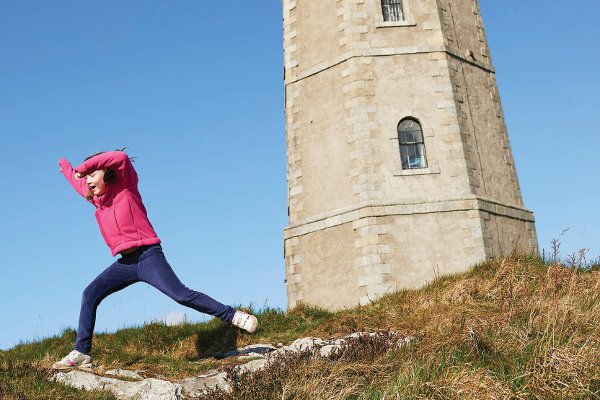 6. Wicklow Head, Co. Wicklow
This octogonal stone tower has now been transformed into self-catering accommodation – but it's not for the faint-hearted traveller given it takes 109 steps to get up to the kitchen.
Overlooking the coast of Wicklow since 1781, the lighthouses' original light source was 20 candles made from animal fat that reflector off a large mirror.
Wicklow Head Lighthouse was the one of two lighthouses built on the headland in 178 so that seafarers wouldn't confuse Wicklow Head with Howth Head (north of Dublin) and Wexford's Hook Head.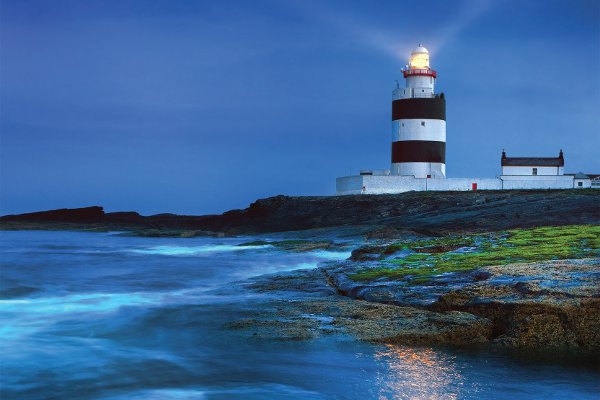 Advertisement
7. Hook, Co. Wexford
Over 800 years old Hook Lighthouse is the oldest operational lighthouse in the world.
Take a trip to the visitor centre to find out about its fascinating history and how its technology works to keep people safe at sea today.
There are panoramic views (look out for whales in the winter months) from the four-storey high balcony of the lighthouse, which was built by William Marshal, a Knights Templar, in the 13th century.
Monks looked after the lighthouse tower until 1641.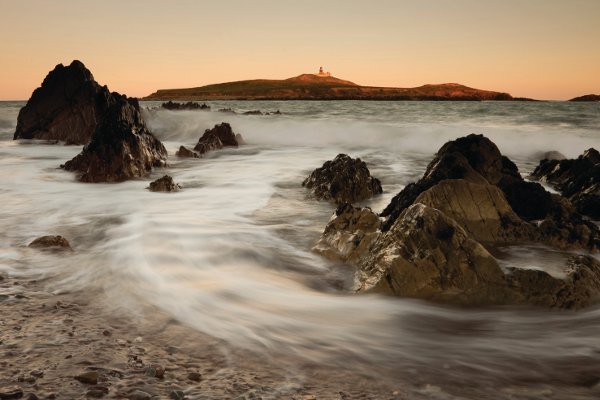 8. Ballycotton, Co. Cork
Advertisement
One of only two black lighthouses in Ireland, Ballycotton is accessible only by boat – trips can be arranged by Ballycotton Island Lighthouse Tours.
The lighthouse was first lit in 1851 after the paddle steamship Sirius, the first ship to cross the Atlantic totally by steam power, was shipwrecked in dense fog in 1847.
Lightkeepers lived on the island until 1896, with children rowing across to the mainland for school.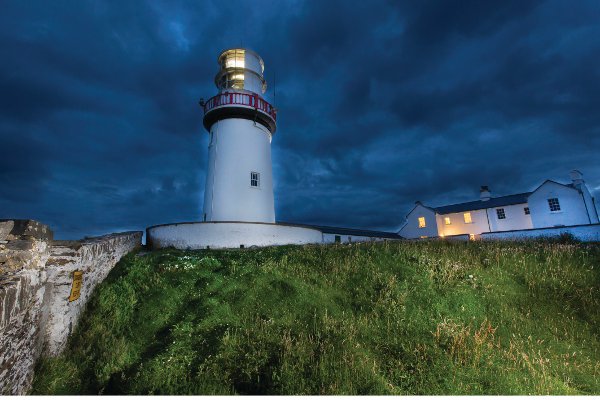 9. Galley Head, Co. Cork
When first built in 1875, Galley Head was the most powerful lighthouse in the world, rising up 53metres about the Atlantic.
The original light could be seen for 30km in clear weather, while lightkeepers would have seen the loss of the Lusitania in 1915 as well as seeing many British and German vessels during World War I and II.
Advertisement
Close to Clonakilty, there are two restored lightkeepers' houses here to cater for visitors.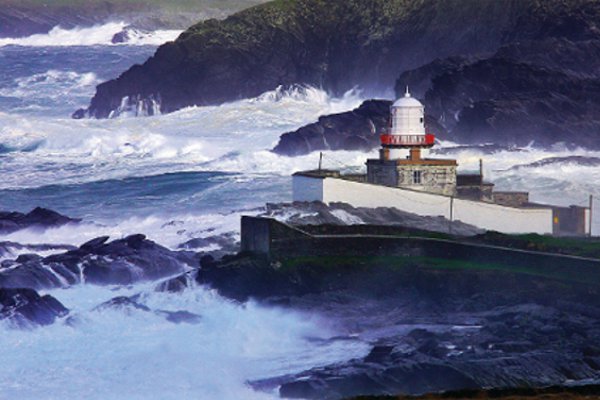 10. Valentia Island, Co. Kerry
Visitors can expect to see dinosaur fossil footprints from this lighthouse marking the moment a Tetrapod stepped from water to land here over 300million years ago.
On a clear day you can also expect to see Skellig Michael and the Blasket Islands.
It also marks the point of  Ireland's first modern communications system – the point from which transatlantic cable connected Europe with North America for the first time in 1866.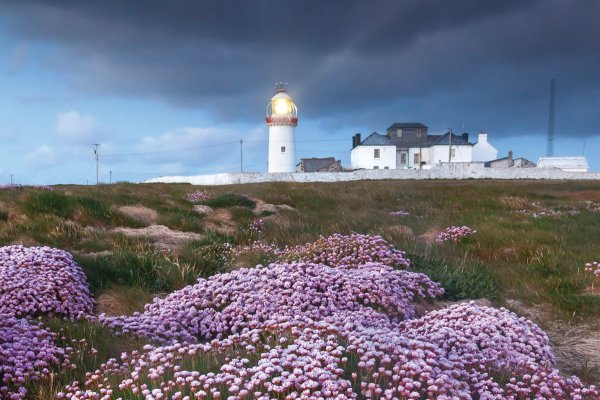 Advertisement
11. Loop Head, Co. Clare
At the mid-point of the Wild Atlantic Way, this lighthouse is at the end of Loop Head Peninsula in west Clare.
The original lighthouse was a cottage built in 1670 and consisting of a coal burning brazier on the roof – part of the old cottage is still visible today.
The first 'tower' lighthouse was built in 1802 and its light eventually changed from fixed to flashing – four times every 20 seconds.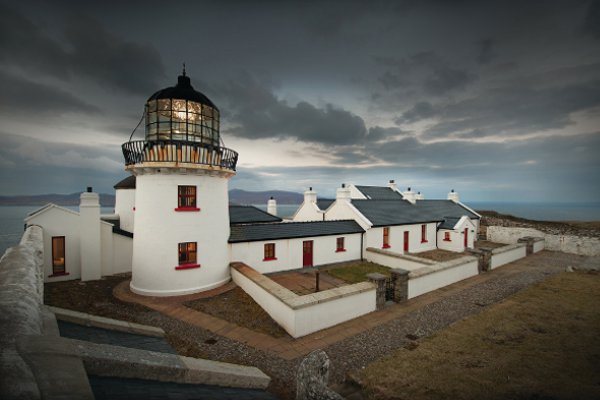 12. Clare Island, Co. Mayo
Clare Island Lighthouse and its buildings have been restored and transformed into a luxury guesthouse– and is the only lighthouse in Ireland that provides B&B accommodation and a six-course dinner.
Advertisement
Originally built in 1806 by the Marquis of Sligo, it was destroyed by fire seven years later after the lighthouse keeper threw 'the snuffings' of the wicks of candles into a tub.
The lighthouse was decommissioned in 1965 after 159 years of service
Pirate queen Grace O'Malley owned Clare Island during the Middle Ages.