AN IRISH developer is planning to build the world's first sky-high floating pool in London.
Not for the faint-hearted, the Ballymore Group's glass pool will be built 10 storeys above the ground.
Linking two apartment buildings, it will give swimmers breath-taking views over the River Thames.
The 10ft deep Sky Pool will be built at the Embassy Gardens, Nine Elms, allowing people to swim from one building to the other.
Sean Mulryan, Chairman of Ballymore Group and a 2014 Irish Post Business Award-winner, said he wants to achieve something "that had never been done before."
"At Ballymore we like to push the boundaries on all aspects of design, the Sky Pool's transparent structure is the result of significant advancements in technologies over the last decade," he added.
"The experience of the pool will be truly unique, it will feel like floating through the air in central London."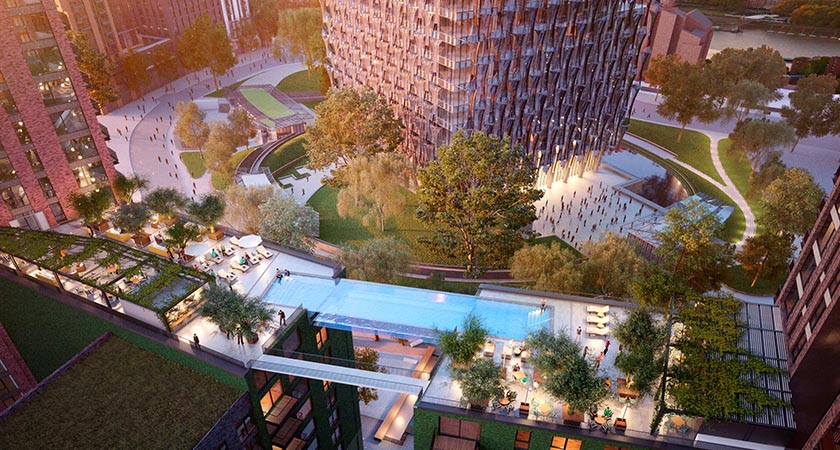 Dubbed the 'sky aquarium' by architects, the sky deck at the top of the two buildings will boast a spa, summer bar and orangery.
Those willing to pay £600,000 for a one-bedroom apartment will be able to enjoy the scenic views of iconic London attractions, including the Houses of Parliament and the London Eye.
Engineered by Eckersley O'Callaghan, the floating pool is expected to be completed in 2018.
The Embassy Gardens are set to launch later this year.
They will form part of a neighbourhood offering 2,000 new homes within landscaped gardens and a riverfront walkway from Embassy Gardens to Battersea Park.