"I USED to read The Irish Post when I lived in England in the 1980s and it was very important to me, very helpful.
"I would notice photographs in there about the Irish community in places like Slough and Rotherham, Luton and Coventry.
"Everyone knows about the Irish in Liverpool and in Cricklewood, but not many had heard about the Irish in suburban Britain. I wanted to give them a voice. That's why I set my new novel in Luton."
When Joe O'Connor crafted Star of the Sea he could hardly have imagined how one book would change the course of his life. The critics loved it, the public adored it and he rocketed to the top of the bestsellers list.
Now he's back with another novel, The Thrill of it All, and he is brimming with the excitement of seeing what kind of reaction this tale of Irish teenagers in suburban England in the early 1980s will receive.
"It's the story of a rock band, of a lad from Dublin whose family move to Luton. He meets up with another Irish lad called Francis Mulvey and they start busking around Luton. It's a town that has a significant Irish population and presence. I'm interested in places like that.
"There have been books before about the labourers in Kilburn, but nothing about the Irish in satellite, suburban towns. I have a friend who thinks that Luton is heaven on earth. Polish, Irish and Pakistani all living together — he loves being the nice Irish family at the end of the road!"
The book is split into two parts, with the first dealing with the teenagers and their band in the early 1980s and the second part looking at how life pans out for them.
O'Connor's wife is English and his son was born in London, plus he worked and lived here in the 1980s himself and knows very well what it's like to be Irish and in Britain. He gave a reading at the Royal Albert Hall in April for the celebration to mark the State Visit of President Michael D Higgins and says it was one of the proudest nights of his life.
"It was like a fairytale over the two days, it was so magical. The London Book Fair was on at the same time and I was at that when a friend, who was one of the Ceiliuradh producers, texted me and he said 'whatever you are doing right now, just get here!' I told him I was busy and he said 'honestly, just get here now!'
"He dragged me into rehearsals and there was Elvis Costello, Imelda May and Paul Brady all singing. It was a wonderful thing to be part of.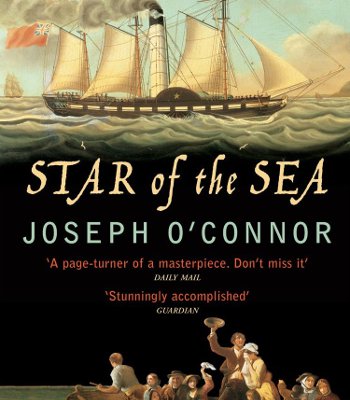 "On the day itself we were in there from 11 o'clock in the morning and it was a big complicated show, but there was no ego from anybody and it ran so smoothly. I got talking to a few people who were in the choir and it meant a huge amount to them.
"For the Irish who live in Britain it was a huge deal and maybe for the generation older than me it meant more. They were the ones who were belittled when they went to England. It was a very big deal for them.
"My son wouldn't recognise any of that, being Irish in Britain now is not the big thing it once was. A lot of people had tears in their eyes. Finally they had been recognised by Ireland as well as England.
"My only regret was that I would love to have done it again the following night and sat in the front row. I mean if you get 100 people at a book reading you feel great!"
O'Connor's work has, of course, travelled far from these shores, with Star of the Sea (an almost perfect novel, if such a thing exists) being translated into 40 languages. He speaks with a great sense of pride about it and why not? It is an absolute gem of a book.
"Nothing gets better. It became a huge part of my life and I'm very proud of that book. I worked very hard on it. It was a labour of love, I didn't think it would have any commercial success at all. I wanted to write out of my skin, do as best as I possibly could and then do some more.
"I put a drop of my blood into that book and I would have been proud of it anyway, but for it to have sold a million copies and been translated into 40 languages is just incredible. It was a huge bestseller in Britain. It was an amazing experience that every writer should have once and if it never happens to me again I would never be bothered!
"I receive at least one letter a week from a reader who has picked up Star of the Sea. It was published as a vintage classic last year and I'm still alive! It has even been included in exam papers around the world. It has changed my life and how I think about writing."
This year is a big year for O'Connor for another reason too. In September he will take up a position at the University of Limerick, teaching an MA in Creative Writing to emerging talents. And he can't wait.
"It came about because the writer Frank McCourt made a bequest to the University of Limerick to establish a creative writing course there. The job attracted many applicants from Ireland and overseas and I was lucky enough to get it. We're going to develop the students, bring them on. They will be working closely with me.
"There will be a maximum of 12 students on the course. It's the course I would have wanted to study when I was 21. We can't give you talent, but if you are prepared to work hard there is a lot we can do. We have had a lot of applications and there are a couple of places left."
So what advice will the bestselling novelist be giving to his new students?
"The main thing is to read a lot. I meet so many young people who want to write but don't read. And you need to make writing a part of your life. It's my job and I do it every day. You might have an hour on a Sunday afternoon or an hour on a Thursday night. Take that time and make it sacrosanct. Turn the phone off. This is your time for writing. Don't answer that knock on the door!
"You have to commit to it. Make the commitment. It's more like a marriage than falling in love. There are days when it's very thrilling and exciting and other moments where you have to work at it."
O'Connor puts his creativity down to his childhood in Dublin, where his siblings included Sinead (the singer) and Emer, an art historian. He says that it "wasn't a happy house" and that shaped his formative years.
"There are three of us who work in the arts. Our parents were interested in it, so they opened the doors for us, really. They were young when they got married and they had a great love of the arts. They thought you should at least have been to a play by Synge or know your Yeats.
"They were unhappily married so the house was unhappy and in that world, your imagination becomes a safe place to go to. You build an ark for yourself of songs and stories and it gets you through the night. That's what happened me. It was a secret room in my head and my heart and I still go to it all these years later."
 The Thrill of It All by Joe O'Connor is out now