"I am not a number — I am a free man!" implores the haunted figure named Number Six, in the cult TV series The Prisoner.
This iconic phrase is now a classic of high-end popular culture, a 1960s mantra like "All You Need is Love" and "The Times They Are a-Changin'", and it expresses either desperate defiance or a profound plea.
It's included in the Oxford Dictionary of Quotations, along with the Bible, Shakespeare and Groucho Marx.
But what's rarely mentioned is that these words were pronounced by an Irishman. Acclaimed actor Patrick McGoohan, though born in New York, hailed from Co. Leitrim, being reared in the townland of Mullaghmore before his family emigrated to Sheffield.
Once asked about his reflections on Leitrim, McGoohan said: "It's only export was its people." Perhaps the dowdiest of Ireland's counties, celebrated by its great writer John McGahern for being so "ordinary", Leitrim, nevertheless, threw up in McGoohan a performer of rare enigmatic quality.
McGoohan was recently the subject of a retrospective at the British Film Institute, running throughout last month.
Produced by cultural historian Dick Fiddy, the screenings include McGoohan's early 1960's TV appearances in the Armchair Theatre stories (transmitted live at the time), as well as B-Movie cult staples Hell Drivers (1957) and All Night Long (1961).
Also showing is Arthur Dreifuss' screen adaptation of The Quare Fellow (1962), in which McGoohan plays a prison guard challenged over his favourable views of the death penalty and The Best of Friends (1991), with McGoohan as George Bernard Shaw.
Before becoming an actor he'd considered the priesthood but his cool-thinking disposition always suggested a fierce questioning of moral certainties.
A forerunner to Daniel Day-Lewis in the profundity of his method, McGoohan was sometimes labelled difficult, uncompromising, arrogant and even angry. Yet, as Fiddy indicates: "No-one doubted his acting talent."
Blessed with extraordinary looks that were both handsome and beautiful, strong yet fragile, his appearance is comparable with contemporaries like Marlon Brando and Paul Newman, and with later figures like Pierce Brosnan and Jude Law, actors able to swing between vulnerability and cruelty with the merest facial twitch. (The emerging Jack Reynor could eventually join this category).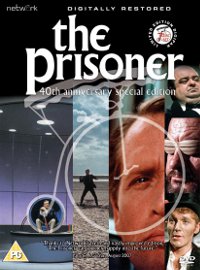 The intensity of McGoohan's gaze and his clipped, almost inaudible, vocal delivery made him paradoxically both a tangible and an elusive presence.
His characters seemed to bear the weight of a whole world of existential angst, likely to be crushed by their own scepticism or make others the victim of their cynicism.
Like so many working-class actors of his generation, McGoohan emerged through the theatre of the 1950s and the 'angry young man' and 'kitchen sink' dramas of Osborne, Behan and O'Casey. But his persona also bore some Beckettian colour, suggesting that the sincerity applied by anyone to almost anything might just be any old absurdity.
He was offered the original James Bond role, though he wouldn't have been suitable.
Before starring in the espionage TV series Danger Man in 1960, McGoohan insisted that there be no car chases, gun fights or gratuitous sex in the storylines, damning what he dubbed "corny showbusiness formulas".
Exasperation at the producers' insistence on more "action" in Danger Man inspired McGoohan, in 1967, to conceive of the challenging and claustrophobic milieu of The Prisoner.
As Number Six he plays a modern everyman, trying to make sense of a world in which technology is harnessed for human enslavement rather than freedom.
McGoohan wrote several episodes himself (using the pseudonym Paddy Fitz) and while the narrative looked back to Orwell, it foreshadowed Utopian/Dystopian dramas like The Stepford Wives (1975), The Truman Show (1998) and Lost (2004-10). Life can be ideal, they imply, if only you conform.
McGoohan could have cashed in on his star status after The Prisoner but he was noticeably absent from those celebrity-pregnant Hollywood blockbusters of the 1970s. Instead, he reappeared rarely and only in more cerebral offerings.
His work on the TV detective show Columbo won him two Emmy Awards, directing many episodes and playing the murderer four times.He was a personal friend of lead actor Peter Falk and drawn by the Dostoveskyan origins of the crumpled but canny copper.
Alas, none of McGoohan's Columbo films feature in the BFI retrospective. Nor, sadly, do his later movie roles, in which he became chillingly convincing at exuding cold evil.
He played the fraudulent art dealer, and made a rare excursion into comedy, in the celebrated caper movie Silver Streak (1976). He was excellent as the sadistic chrysanthemum-crushing warden in the prison drama Escape From Alcatraz (1979), warning his prisoners: "We make no attempt at rehabilitation."
But perhaps his most intriguing later role was in Alexis Kanner's Canadian-based thriller Kings and Desperate Men (1981). McGoohan is a gin-soaked talk-show host taken hostage by misguided terrorists, who soon discover that their threat of menace is drowned by their captive's dripping malevolence.
The Guardian called McGoohan "a redoubtable enemy of dumbing down".
He had no part in the inept remake on The Prisoner, in 2009, although in 2000 he was honoured by a self-parodying appearance in The Simpsons, the current-day kite-mark of valued fame, a certain sign that his was a memorable name.