WHAT comes to mind when you think of Soho? The theatre? The rag trade? Jazz? Sex? Rock n'roll?
Gathered outside The Palace Theatre in London's West End, that's the first question our Twilight Soho food tour guide asks.
Not one of the half-dozen people assembled says food, but as we discover over the next four hours – look beyond the neon, the nasty and the tourist traps – and Soho has some of the best foodie finds in London.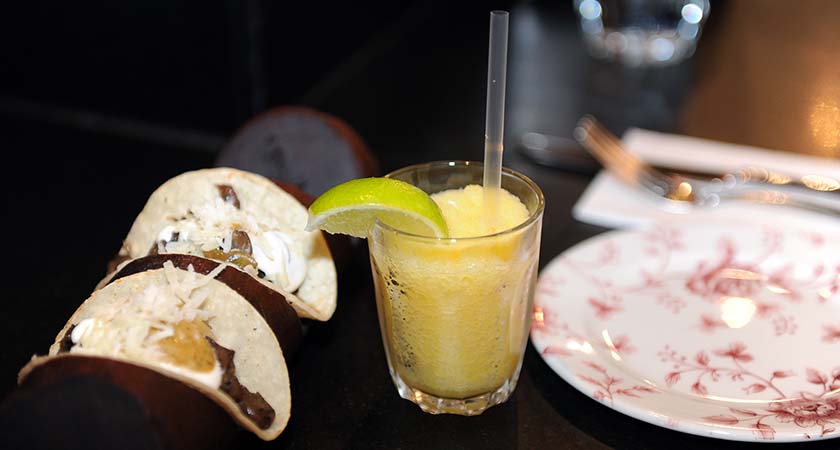 1. LA BODEGA NEGRA
9 Old Compton Street, W1D 5JE
If a supermarket-bought fajita kit is what comes to mind when you think of Mexican food, then you need to take yourself La Bodega Negra. We sampled some tasty bite-size tacos with a zingy frozen margarita on the side. The setting is as cool as the cocktails and the staff come tattooed.
2. ENRIQUE TOMAS

   
132 Wardour Street, W1F 8ZW
A carnivore's heaven, a vegetarian's personal hell – Enrique Thomas looks like a shop from the street but venture inside and there's a small seating area out the back where you can sample Jamón (and some delicious cheeses) with a seriously good glass of wine. The meat-loving Spanish staff will be happy to talk you through how the meat is aged, what the pigs eat to make it so tasty and pour your wine to wash it down.
3. PIX BAR
16 Bateman St, W1D 3AH
The next stop on our international moveable feast is this buzzy pick'n'mix pintxos bar, Pix Bar. Pintxos (pronounced peen-chos, meaning thorn or spike) are the Basque Country's answer to tapas – delicious mouthfuls and snacks (skewered with a wooden stick). Think spinach  and sweet potato tortilla; walnut, pomegranate and feta salad; artichoke and shaved manchego; serrano ham and quail egg served on crusty bread and you are on the right track. Pix also boasts a serious wine list. You might not want to leave.
4. OPIUM
15-16 Gerrard Street, W1D 6JE
It's not fair to choose a favourite but what the hell, this place was my favourite. Whether Chinatown is technically part of Soho or not is up for debate but this place is one of London's best-kept secrets. Enter through a dark unmarked door (if the burly bouncer will let you pass) and climb several flights of steps to hang out in what feels like an original Oriental opium den. No opium on offer, but a cracking cocktail list (or delicious teas if you can't handle the strong stuff) and the most delicious sticky, satisfying dim sum dumplings you'll ever get your chopsticks on.
5. THE LONDON GIN CLUB
22 Great Chapel Street, W1F 8FR
We've got the Dutch to thank for bringing gin to these shores (hence the expression 'Dutch courage') but this tidily tucked away little boozer is an English as they come. They take their gin seriously here, teaching you how to pour it over giant hand chipped ice into huge glasses, adding the gin, the tonic and an olive. Just so it doesn't go straight to your head they dish up delicious gin-infused homemade pies on the side. Clink clink!
6. SAID CHOCOLATE
41 Broadwick Street, W1F 9Q
We've done tacos, pies, gin, ham and cheese and dumplings, so there can only possibly be room in your stomach for one thing – dessert. The walls in Said are covered from ceiling to floor with hundreds of chocolate moulds in every shape imaginable and the counter is stacked high with chocolates made in the oldest chocolate factory in Rome and imported to London.
The indulgent hot chocolate is served in tiny cups so you don't die of a sugar overload. Don't let that stop you trying the authentic Italian tiramisu, it's worth dying for.
The Twilight Soho Food Tour, £75, including all food and drink tastings, Tuesday – Friday at 4.30 pm.
The saucy and saintly Irish hotspots of Soho
1. A SALUTE TO THE 'KING' OF SOHO
Blink and you'll miss it but right by Rupert Street crane your neck and you might spot a sign advertising the now closed Raymond Revuebar, a remnant of the sleazier side of Soho past. The Raymond in question is porn baron Paul Raymond who died at the age of 82 in 2015.
His obituary in The Guardian reads, "Raymond - who was one of the country's richest men with an estimated £650m fortune - made his name when he opened the UK's first strip club - Raymond Revuebar in Soho in 1958. He later diversified into porn magazines, publishing titles such as Razzle, Men Only and Mayfair."
Perhaps not what you'd expect from a young lad born Geoffrey Anthony Quinn into an Irish Catholic family in 1925 and educated by the Christian Brothers.
2. THE BEST KIND OF BOOZER
The Toucan, 19 Carlisle St, London W1D 3BY
Look, London isn't short of an Irish pub but this multi-level boozer off Soho Square is one of the best. Don't expect chandeliers and chaise lounges, this place is tiny, the seats are always taken and the toilets are the size of a matchbox but that's all part of its charm.
And bonus points for the giant barstools shaped like pints of Guinness in the downstairs, perfect for falling off. Speaking of pints – they do a decent Guinness and the atmosphere is just as you'd expect from a busy Soho spot, stuffed to the rafters and just the right amount of rowdy.
3. TAKE ME TO CHURCH
St Patrick's Catholic Church,21a Soho Square, London W1D 4NR
Soho Sqaure might have been built for the rich to enjoy but it quickly became a centre of squalor. Today it's the liberal free-loving hub of Soho, and not exactly the place you'd expect to find next to a church.
The history of St Patrick's is as colourful as its surroundings. Back in the late 1600s squalid  Soho was home to many destitute immigrants, many of them Irish. "To add to their misery, the anti-Catholic laws denied them the comfort of the sacraments and support of a parish priest," reads the history of the Church. 
Occasioned by the Relief Act of 1791, Irish Franciscan Friar, Father Arthur O'Leary got enough money together to lease Carlisle House (a venue where socialites and powerful people once came to satisfy their cultural, musical, and other appetites). With the help of a group of prosperous Irish Catholics who were equally moved by the misery of London's poor Irish, Father O'Leary had his venue.
"In 1792, on the 29th of September, St Patrick's was consecrated, and the existing elegant Italianate building we now know was later built on this site", the church's website explains.
St Patrick's is the first church in England, at least since the Reformation, dedicated to St Patrick.