CHRISTMAS looks very different for us all this year - with Covid restrictions keeping many of us apart from friends, family and loved ones.
But while we can't get back to Ireland just now, that doesn't mean you can't bring a taste of the homeland to your celebrations this festive season.
Whether you are home alone or celebrating the big day with those in your bubble, there are plenty of great Irish food and drink brands on offer in stores across Britain to bring you the great tase of Ireland.
No Christmas is complete without a decent cheeseboard and a jingling drinks cabinet – and here are some of the best on offer by Irish brands for 2020 and where you can buy them…
CHRISTMAS CHEESE
Advertisement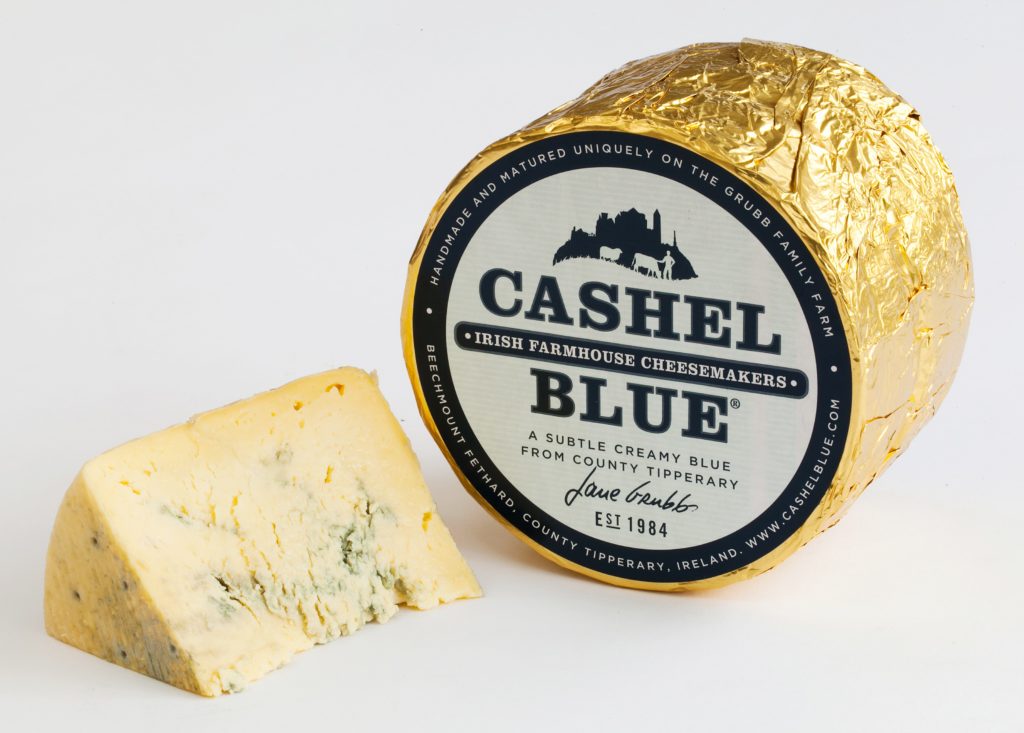 Cashel Blue
Established in 1984, in Co. Tipperary, Cashel Blue is the original Irish farmhouse cow's milk blue cheese. A unique creation of Jane and Louis Grubb, it is developed at a time when softer blue cheeses were a rarity. The Cashel Blue Cheese is a characterful but not strong, six-to-ten-week-old cheese. With pleasant, firm and creamy edges, it has an established blue flavour, offset by a mouth-watering tanginess.
Stockists: Neal's Yard Dairy and Paxton & Whitfield RRP: From £2.99
Durrus Cheese
An original recipe created by Jeffa Gill in 1979, Durrus Cheese has a natural rind that is developed slowly by washing it with cultures that are specific to the dairy.
Advertisement
These cultures develop the mottled pinkish skin as the cheeses ripen in the curing rooms.
The paste is straw coloured with irregular tiny holes and a soft pliable texture. The flavour of the Durrus can range from mild, mellow and grassy when young to rich, strong and earthy when aged.
Durrus Cheese has won many awards, both nationally and internationally.
Most recently it was awarded a Gold Medal at both the 2017 Irish Food Awards and 2017 British Cheese Awards, and two Gold Stars at the 2016 Great Taste Awards from the Guild of Fine Foods, UK.
Stockists: Neal's Yard Dairy RRP: £10.55 (275g)
St Tola
St Tola Irish Goats' Cheese is known as one of the most premium artisan products in Ireland. It has been handmade in the townland of Inagh, just south of the Burren in county Clare since the early 1980s. The St Tola herd of goats are reared on 65 acres of unspoiled pasturelands – considered some of the finest and purest farmland of its type in Europe.
Advertisement
The cheese has a golden rind on the outside and a soft white interior. It has complex, mellow and warm flavours and a rich, full-in-your-mouth texture – perfect for cooking with or as part of a festive cheeseboard.
Stockist: Neal's Yard Dairy RRP: prices start from £11.85 for 175g
Coolea
The flavours of this mild and creamy cheese are sweet and rich with hints of caramel, butterscotch and honey. Coolea is smooth and close textured, with a distinct flavour.
Coolea Cheese is hand made on the mountain farm of the Willems family in Coolea, Co. Cork.
Advertisement
Stockists: Neal's Yard Dairy RRP: £14.60 (435g)
FESTIVE DRINKS CABINET
Five Farms – Single Batch Irish Cream Liqueur
Five Farms is a true farm-to-table product, crafted from single batches of fresh cream that are combined with premium Irish Whiskey within 48 hours of collection to become authentic Irish Cream Liqueur. The cream is sourced entirely from five family-owned farms in county Cork, run by families that have a deep connection to the land and a passion for their craft.
Five Farms Irish Cream Liqueur has been awarded the Chairman's Trophy at the 2018 Ultimate Spirits Challenge, the premier spirits competition in the world.
Advertisement
The 97 score awarded to Five Farms is the highest that an Irish Cream Liqueur has ever received in this prestigious competition, signalling the arrival of a brand that is poised to elevate the category.
Stockists: Harrods, Oddbins and The Whisky Exchange
Teeling Small Batch Irish Whiskey
Teeling Small Batch Irish Whiskey is a deliciously creamy, spicy and rich blended Irish whiskey.
Each step of The Teeling Small Batch process, from hand selecting casks of grain and malt whiskey, blending each batch to taste, and finishing in only the highest quality rum casks, gives Teeling Small Batch Irish whiskey its distinct taste and extra spice.
Advertisement
Encased in a sophisticated, premium gift box, it's the perfect gift this Christmas season.
Stockists: Gift Set: www.masterofmalt.com and Whisky Exchange
Bottle: Asda, Waitrose, Tesco, Premium Independent Retail Outlets, Travel Retail, www.masterofmalt.com. Price: Gift Set £45.95/70cl Bottle £34.95 - £37.99
Teeling Single Pot Still
Teeling Single Pot Still is an Irish whiskey, crafted using a recipe of 50 per cent unmalted spring barley and 50 per cent malted barley, which is triple distilled and matured in a combination of virgin oak, ex-bourbon and Sherry casks.
The first release to come from The Teeling Distillery in Dublin, and the first new Single Pot Still to come from the City in over 40 years, Teeling Single Pot Still pays homage to the traditional Dublin style of Irish whiskey making.
At 46% ABV, aromas of hibiscus flowers on the nose combine with honeycomb, white grape and citrus.
Advertisement
A landmark liquid for Irish Whiskey and the Teeling Whiskey Company, the Teeling Single Pot Still is a real must for whiskey lovers this Christmas.
Stockists: www.masterofmalt.com Price: £49.95
Renaissance Series 2
To celebrate the rebirth and beginning of a new chapter in Irish Whiskey's new Golden Era, Teeling Whiskey has released the Teeling Renaissance, a limited series of Single Malt bottlings, celebrating the very best Teeling Whiskey has to offer.
The Renaissance Series 2 consists of 18-Year-Old Single Malt that was aged initially in ex-Bourbon barrels before being finished in high quality, ex-Australian Shiraz wine casks, imparting distinct hints of ripe red fruits with sour cherry notes and a delicate soft spice. Limited to just 9,000 bottles, the resulting Single Malt is then bottled at 46 per cent with no chill filtration.
Advertisement
Stockists: Master of Malt, Irish Malt's, Hard to Find Whisky, House of Malt, The Whisky Exchange. RRP: £129.95
Drumshanbo Gunpowder Irish Gin
Drumshanbo Gunpowder Irish Gin is slow distilled by hand in a gleaming medieval copper pot still fired by steam.
The method combines vapour distillation of fresh citrus fruits with a special selection of oriental botanicals including gunpowder tea, star anise and local Drumshanbo meadow sweet, giving a bold and bright flavour with a slight spicy freshness.
The first striking bottle of Drumshanbo Gunpowder Irish Gin was distilled on
Winter Solstice (December 21) 2015 at The Shed Distillery, and every bottle
since is uniquely hand filled, labelled and sealed by the team at The Shed Distillery.
The type of bottle to keep forever and the perfect gift for gin lovers this Christmas.
Stockists: Ocado, Asda and Master of Malt RRP: £25 - £31.73
Advertisement
Glendalough Rose Gin
Released at the beginning of January 2019, Glendalough Rose Gin is much more than "just another pink gin". It's a small-batch product, made when the distillers took their Wild Gin recipe and redistilled it with extra fruit, flowers, spices and fresh wild rose petals from three varieties – the rare and elusive Wild Rose found in the Wicklow mountains, the ancient prized Damask Rose and the large fragrant Heritage Rose.
Because of the delicate ingredients used to make the Rose Gin, a slow distillation process is used with the vapour distillation playing a large role in extracting the essential oils and flavours. After distilling it is infused with more roses to deepen the flavour. All this gives it an aromatic nose, a gentle sweet spice, reminiscent of Turkish delight, as well as a lovely pink hue.
Available: Ocado, Master of Malt and Amazon. Price: From £26.75

Coole Swan Irish Cream Liqueur
Advertisement
Complete your Christmas drinks cabinet with a delicious blend of the best Single Malt Irish Whiskey, Belgian White Chocolate and the most amazing light Dairy Cream straight from the farm.
Fresh and natural: subtle and complex; fresh vanilla cream combines with creamy chocolate and refined top-notes of rich cocoa and delicate hints of soft whiskey to give your taste buds an experience they'll never forget.
The family behind Coole Swan have a long history of dairy farming and the spirit is still made on the family farm on the Eastern Seaboard of Ireland.
Stockist: John Lewis and Amazon.com. RRP: £25