WHILE in lockdown portrait artist Claire Flynn has turned her talents to creating street art which pays tribute to the NHS.
Based in Coventry, Ms Flynn has transformed the pavement outside her front door with stunning drawings created in chalk every Thursday, in line with the weekly clap for health service workers.
The most recent of her pieces depicted the fundraising star Captain Tom Moore, whose remarkable campaign has now raised more than £27million for the NHS.
Advertisement
Prior to the government enforced lockdown, Ms Flynn, whose mother hails from Co. Wicklow and late father hailed from Galway, taught art at the Christ the King RC Primary School in Coventry.
She also restored statues for the Catholic Church.
Of her lockdown creations, the artist describes the work as her appreciation for the NHS, and 99-year-old Captain Tom Moore in particular, whose determination has inspired the nation over the past week.
"My neighbours are all very supportive", she adds, "it's become a thing they look forward to on a Thursday now to coincide with the clap for the NHS."
"I've watched people, dog walkers, families, van drivers all stop and take a look at the artwork. It's just an incredible response."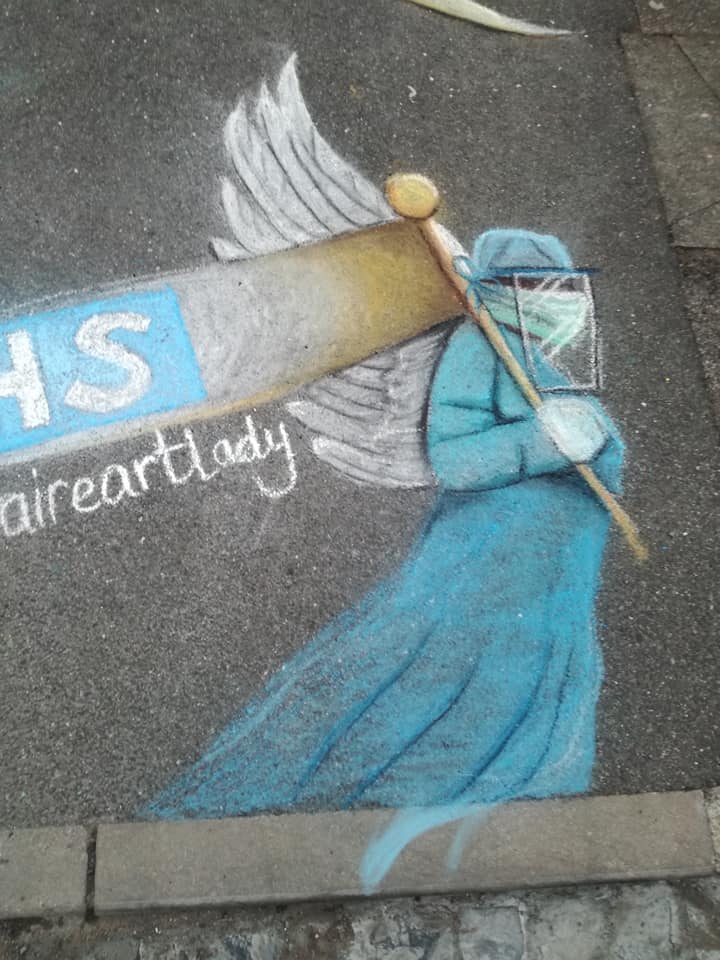 Advertisement
She added: "I'm just so glad I got to say thank you to Captain Tom Moore in my own little way."
Follow Ms Flynn's work on Facebook and Twitter by searching for @claireartlady