SECOND WORLD War veteran Captain Tom Moore has now raised more than £18 million for the NHS to help combat the ongoing coronavirus pandemic. 
When the 99-year-old first set himself the target of walking 100 lengths of his 25-meter garden before his 100th birthday for charity, he did so with a fundraising target of £1,000 in mind. 
He had recently recovered from a broken hip and was eager to give something back to the staff who nursed him back to full health. 
What Captain Tom could never have foreseen, however, was the way his story has captured the hearts of so many across the UK and beyond. 
At the time of writing, he has raised a staggering £18 million for the NHS via JustGiving – the largest total ever raised for a single campaign on the website. 
This past Thursday, Captain Tom was joined by a special guard of honour from the 1st Battalion of the Yorkshire Regiment for the final 25-metre lap of his 100-lap challenge. 
Speaking afterwards Captain Tom said: "I feel fine, hope you are all feeling fine too!" 
"Our country and all our nations, we're all so generous in all sorts of ways," he told ITV. 
"But it's for a super purpose - Nurses, doctors and all the back-up workers, they deserve everything we can give them." 
Though plans for his 100th birthday party at the end the month have been put on hold, Captain Tom said the love and support he has received during his fundraising campaign has been "a party enough for me".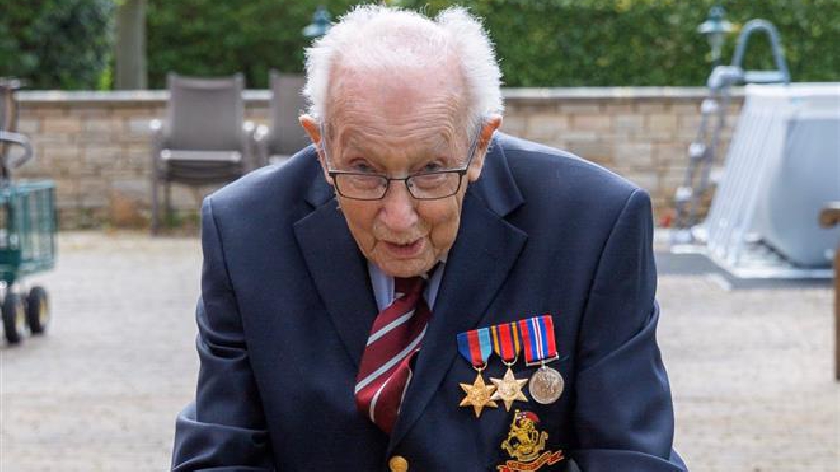 An online campaign has now been launched encouraging children to make birthday cards to mark the centenary. 
There are also growing calls for Captain Tom's efforts to be recognised with a knighthood while Boris Johnson is exploring ways to mark his "heroic efforts". 
A spokesperson for the Prime Minister said the 99-year-old has "captured the heart of the nation" and "embodied the spirit of the whole country in doing their bit for the battle against coronavirus". 
"From his military contributions to his support for NHS staff, Tom has demonstrated a lifetime of bravery and compassion,"" they said. 
"The Prime Minister will certainly be looking at ways to recognise Tom's heroic efforts." 
Health Secretary Matt Hancock described Captain Tom as an "inspiration" while the director-general of the World Health Organisation Tedros Adhanom Ghebreyesus hailed his efforts as an "extraordinary act of solidarity". 
Prince William and Camilla, the Duchess of Cornwall, have also written to Captain Tom to thank him for his efforts. 
Originally from Keighley in Yorkshire, Tom trained as a civil engineer. 
He went on to enlist in the army in 1940 for the Second World War, eventually rising to the rank of captain while serving in India and Burma during the conflict. 
Anyone wishing to donate to the fund can do so here.