AT LEAST 49 people have been killed in shootings at two Mosques in Christchurch, New Zealand.
The shootings took place at two separate mosques in the Canterbury region of the city.
Initial reports had suggested 30 people died at Dean Avenue mosque with a further 10 people killed at the city's Linwood Mosque.
However, Police Commissioner Mike Bush has since updated that number to include several other victims who have died as a result of their injuries.
Officers first responded to reports of shots being fired at in Christchurch at around 1:40pm (12:40am GMT).
People were urged to stay indoors while schools and much of the city went into lockdown while the situation was dealt with.
NZ Police: One person, a male in his late-20s, has been charged with murder and should appear in the Christchurch court tomorrow morning.

MORE: https://t.co/3rbAQNJ8oc pic.twitter.com/QarsSuskha

— Sky News Australia (@SkyNewsAust) March 15, 2019
New Zealand Police have now confirmed that three men and one woman are in custody in relation to the attacks.
At least one of the group streamed footage of the attack live on the internet. None of the four people arrested were on New Zealand's security and terrorism watchlist.
One has been identified as a male in his late 20s has been charged with murder and is expected to appear in court tomorrow.
A fourth person was detained but may have had nothing to do with the attacks.
Australia's prime minister Scott Morrison has since confirmed that one of those arrested was an Australian citizen.
Two explosive devices that were attached to the suspects' vehicles were also found at the scene. One has been defused while police are working to defuse the second IED.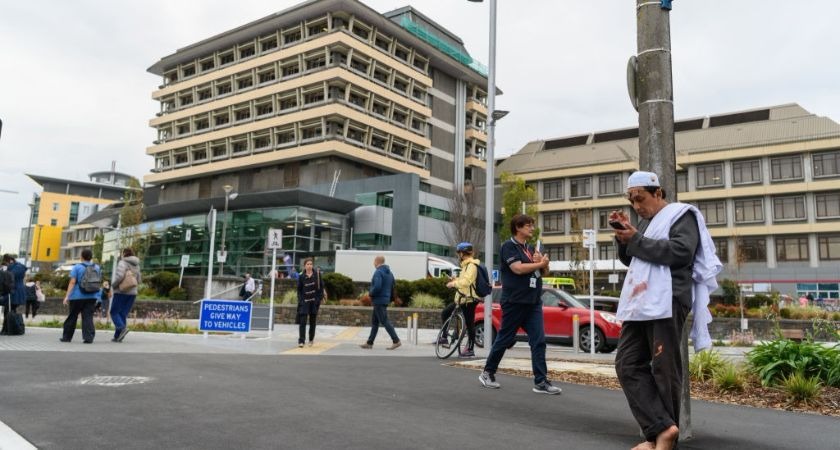 Christchurch remains in lockdown with the authorities urging anyone planning to visit a mosque in New Zealand to refrain from doing so.
Prime Minister Jacinda Ardern told the Press Association:
"We have undoubtedly experienced an attack today that is unprecedented, unlike anything that we have experienced before.
"But, as I say, New Zealand has been chosen because we are not a place where violent extremism exists.
"We reject those notions and we must continue to reject them. This is not an enclave for that kind of behaviour, for that kind of ideology.
"We will and must reject it. This is a place where people should feel secure and will feel secure.
.@jacindaardern: We have apprehended three individuals.

However, police are not taking for granted is that there may well be others who may need to be brought into custody.

They have got no reason to suspect that, but they have not ruled it out.

MORE: https://t.co/wSY5BHt4aA pic.twitter.com/gWEiPBV3uB

— Sky News Australia (@SkyNewsAust) March 15, 2019
"I am not going to let this change New Zealand's profile, none of us should."
"What has happened here is an extraordinary and unprecedented act of violence."