DESPITE its reputation for being the home of redheads, Ireland has been pipped to the post to the title of the reddest country.
IrelandsDNA has just announced the result of a year-long project to show just how redheaded Britain and Ireland are with researchers claiming there are now over 20m people who carry the ginger gene.
"Millions of people in Britain and Ireland have no idea that they are carriers," said Alistair Moffat, Managing Director of IrelandsDNA.
"That should help play down ginger jibes."
The results, along with the first ever red-headed map, were released to coincide with the weekend's Redhead Convention in Co. Cork and the Ginger Pride march held during the Edinburgh Festival.
Advertisement
The most redheaded region is the south-east of Scotland with Edinburgh as a red-hotspot.
There, four-in-10 carry one of the three most common red hair genes. Scotland as whole has a higher percentage than Ireland, 36.5 per cent as against 34.7.
"No-one needs a DNA test to tell if they have red hair. All they need is a mirror. What IrelandsDNA set out to discover was a hidden story, one never before told," Mr Moffat added.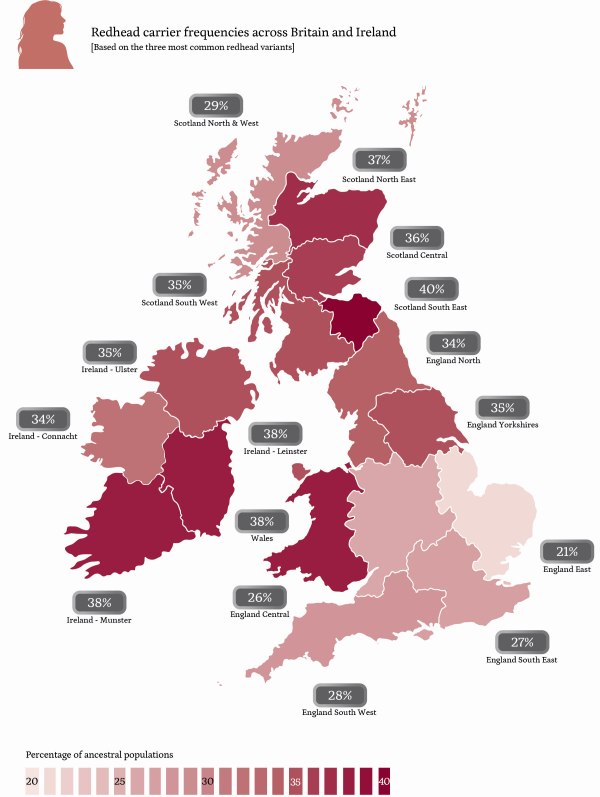 "This is the story of the secret carriers."
Wales is also higher than Ireland with 38 per cent.
In England the most redheads are found in the north of England and Yorkshire/ Humberside.
East Anglia is the lowest, while in the Midlands 26 per cent are carriers. About six per cent (300,000) Scots have red hair.
Advertisement
In England four per cent are redheads – that's 2.1m people.
Researchers point towards the migration of the Vikings and the Anglo-Saxons as to why there are so many redheads in Britain and Ireland, but its perceived attractiveness in the past is another factor.
And that's something that might be fueling the success of some our own Irish redheaded celebrities, such as this week's Rí-Rá cover star Domhnall Gleeson.
In an interview with The Irish Post, the About Time actor says: "Perhaps I'm slightly unconventional as a leading man, but at the same time I think that's what I have to offer.
"I don't think I would ever slot into a part that was written for the tall, dark and handsome type but I'll give it a shot and do something different with it."
Alistair Moffat of IrelandsDNA added: "Having red hair, although not helping survival, was considered sexually attractive, and thus redheads had more children than non-redheads, leading to an increase in frequency.
"Like the peacock's tail, it doesn't help him survive but it attracts mates."
Advertisement
■ See this week's Rí-Rá for the full Domhnall Gleeson interview