ONE DUBLIN pub is pulling out all the stops to ensure the UK enjoys a proper EU leaving do before Brexit arrives.
Searson's of Baggot Street in the Irish Capital is hosting the 'UK's Leaving Party" on Friday, March 29th and
Originally set up to coincide with the official date the UK is supposed to leave the EU, the potential delay to Britain's plans hasn't put the venue off giving them a decent send-off.
"Hi guys, so as you know the UK is leaving us! Sad times, right?," the event's Facebook page reads. "But let's give them the send off they deserve with a proper going away party!"
It promises to be quite the occasion too with a glut of Brexit-themed musical acts and drinks on offer throughout the night's festivities.
First up, there's the Backstop Boys, described as "an EU supergroup of Irish music industry with stars from the Last Waltz and Bootleg Beach Boys."
Advertisement
"Don't miss these three Brexiteers in action!" the organisers warn.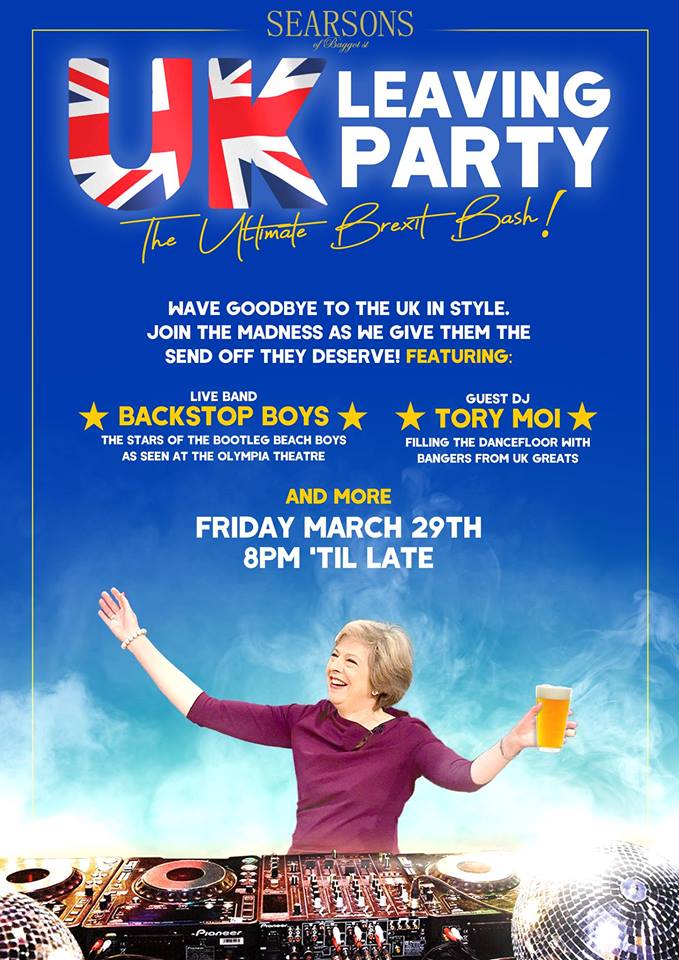 Then it's on to the night's big headliner, DJ Tory Moi, who is set to fill the dancefloor "with bangers from UK greats like Bowie, Queen & Oasis, Elton, Spice Girls & Madness, Blur, Bee Gees & Take That all night long!"
It sounds like a rare treat – and that's before we even get to the unique selection of Brexit themed cocktails set to be on offer.
With organisers inviting partygoers to "get Jean Claude Drunker" on drinks like the 'Theresa Maytini', 'Old Fashioned Tory' in the ongoing uncertainty facing Brexit one thing is certain: there are going to be some sore heads comes Saturday March 30th.