CONOR MCGREGOR has hinted the incredible sum he is set to earn from his upcoming fight with Khabib Nurmagomedov at UFC 229.
The Notorious is returning to the Octagon after a two-year absence away from the sport.
He'll be facing off against the undefeated Nurmagomedov in Las Vegas in what amounts to a grudge match and one of the biggest encounters in the history of UFC to date.
McGregor made headlines earlier this year after attacking a bus the Russian was on.
Nurmagomedov had angered the Irishman after he got involved in an altercation with the Notorious' training partner.
Advertisement
Though McGregor was arrested and charged over the incident, he avoided jail time, clearing the way for this mouth-watering fight.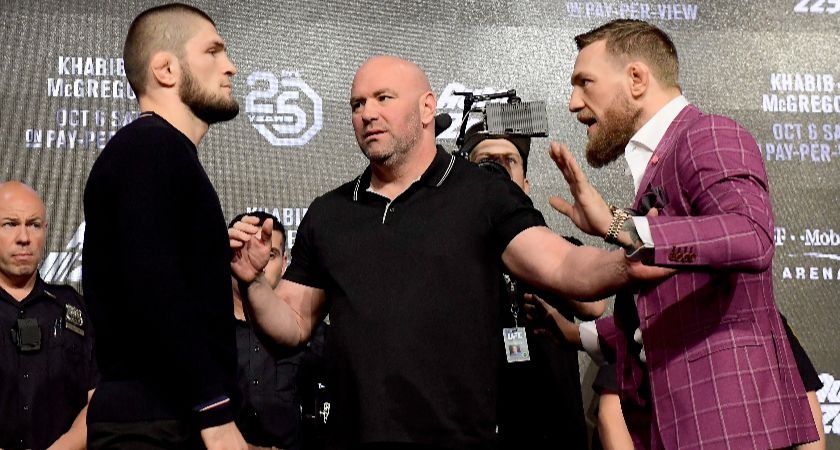 It's a fight the Irishman has revealed with make him a "good, solid" eight-figure.
Though not as big an amount as his fight with Floyd Mayweather, the bout still amounts to a massive payday for the MMA icon.
McGregor told the Ariel Helwani MMA Show on ESPN: "It's a tasty, tasty, record-breaking deal.
Advertisement
"My team and myself have done a lot of great work - and with the UFC - we've done a lot of good work.
"It's give or take [nine figures]. The Mayweather fight was nine figures but we're almost there, it's a good, solid eight figures; halfway there.
"We're all very happy with where we're at. It's not what the Mayweather fight was but it's a good halfway there.
"And to fight this bum, this flat-footed fool that everyone thinks is all this and all that. He's stuck in the mud and he's going to freeze in there. We're very happy with the deal."
Advertisement
McGregor last fought in the Octagon against Eddie Alvarez some two years ago.
The Irishman won the UFC lightweight title that night but was eventually stripped of the belt after deciding to accept Mayweather's offer of a one-off boxing match.
Speaking ahead of the Nurmagomedov fight, McGregor was in confident mood.
"I believe [it will be a] KO, a devastating KO," he said. "I hope it's not too early. I believe I will clatter him and he will crumble.
"I don't believe he can take a smack. I don't think he has the chin of a [Nate] Diaz or the composure of a [Floyd] Mayweather.
"He has a glass chin that hasn't been cracked yet. I hope he absorbs it then I'll maul him."
Conor McGregor vs Khabib Nurmagomedov will be broadcast at 3am this Sunday, October 7th, on BT Sport 1.
Advertisement