LOCALS IN Dublin have done their part in protecting the city's homeless community from the cold as they hung more than 30 coats under a bridge for anyone who needs it.
Volunteers from local organisation Warm For Winter hung 31 coats and hats under Connolly Bridge in Dublin's city centre yesterday evening, along with a note that reads: "If you need one, please take one.
"If you want to help, please hang one up."
Taking to Facebook to share the initiative and encourage others to get involved, a spokesperson for the campaign wrote that they had left the coats as the "weather [is] due to get rough over the weekend".
"Clothes may not be essential for the big boys in the Dáil but for the people on the street there's nothing more essential," they added, referring to the current restrictions which state that clothing aisles in supermarkets, and clothing shops, are non-essential and cannot remain open.
Warm For Winter made global headlines last year with a similar campaign which saw dozens of coats and hats left on top of the city's Ha'Penny Bridge.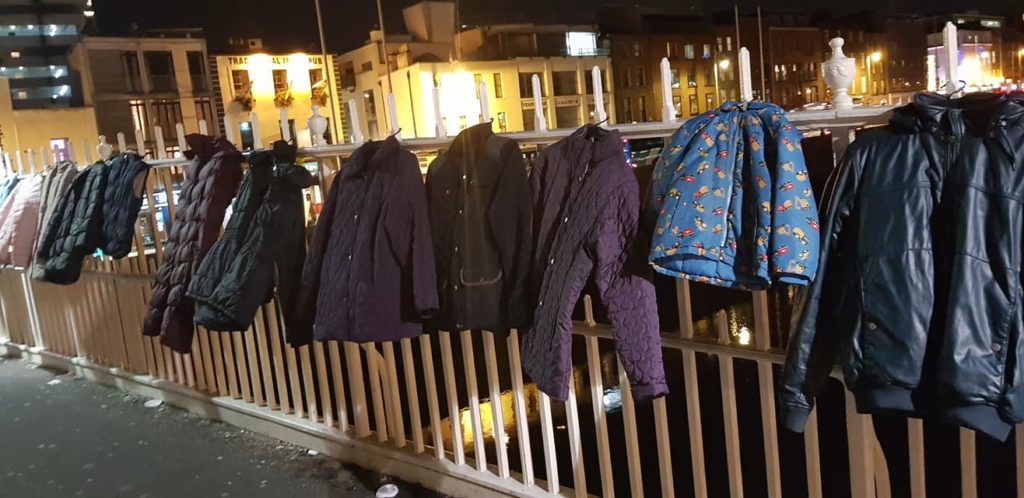 However, the heartwarming campaign was cut short as the City Council removed the coats. A spokesperson for the campaign confirmed in a comment on social media that they have had no further issue from Dublin City Council, and hope that this year's campaign will pass off without incident.
This year, when the weather is set to be clear Warm For Winter will hang warm clothing off Ha'Penny Bridge again, but when rain or wind is forecast they will be left under Connolly Bridge to help protect the coats and hats.
To find out more about the Warm for Winter campaign or to get involved, you can visit the Facebook page here.