THE man who tackled London Bridge attacker Usman Khan with a fire extinguisher is himself a convicted killer, currently on parole.
Footage emerged in the aftermath of the terrorist attack of Crilly and a number of others attempting to subdue Khan after he fatally wounded Jack Merritt and Saskia Jones. One man had grabbed a narwhal tusk from a nearby fishmongers while Crilly used a fire extinguisher to quell the attacker.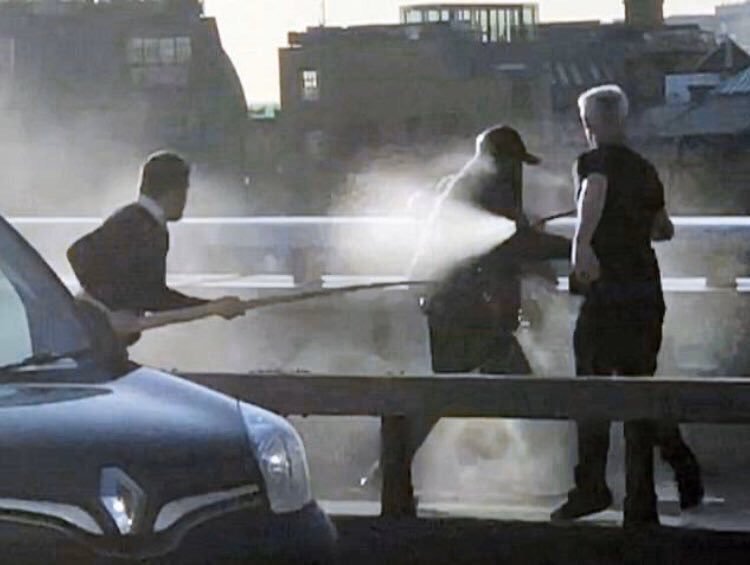 John Crilly, who was a friend of Merritt's, served 13 years in prison after being convicted of murdering 71-year-old Augustine Maduemezia in 2005.
However, the 48-year-old's conviction was quashed after a Supreme Court ruling on joint enterprise law and he was released in 2018.
Advertisement
The court ruled the law on joint enterprise - where defendants were prosecuted for murder even if they did not strike the fatal blow - had been misinterpreted.
Crilly had been involved in a botched burglary where he and his associate David Flynn broke into the home of Maduemezia in Manchester.
Mr Maduemezia died after being punched in the face by Flynn, but there was no intent to kill from either man.
During his time in prison, Crilly started studying law and set out trying to complete a degree on the subject. When he heard about the overturning of the joint enterprise law in 2016, he believed it would apply to his case.
It was during this time where he met Jack Merritt, where the Cambridge graduate was participating in a rehabilitation programme.
Advertisement
Speaking after his release from prison, Crilly told the BBC: "I had a bad life, I've changed it, I wasn't guilty of murder.
"I totally accept what I did and it was wrong... I would have done the time, I would have done every day of that."
He later said that he should never have been convicted of murder in the first place.
"I wasn't a violent drug addict. I was lost. I was lost in drugs ... I'm not a murderer.
"If you take the foresight burden of proof away, and go on intent, which you're supposed to do, it's impossible to convict me of murder. So it's that simple really."
Earlier this year, Crilly completed his Open University law degree and Jack travelled to Manchester for his graduation ceremony.
Crilly described Jack as "the best guy I ever met."
Advertisement