LONDON is to enjoy an extended three-day festival to celebrate St Patrick's Day this year.
The celebrations will take place from Friday, March 17 to Sunday, March 19 across a range of locations in the English capital.
The news comes after a pledge by Mayor of London Sadiq Khan last November to boost festivities in 2017.
"We're going to make it bigger and better in this coming year," he told The Irish Post at the time.
Now in its 16th year, the London St Patrick's Day festival has previously attracted over 100,000 people to a one-day parade and festival at Trafalgar Square in central London.
This year's programme of events will run over three days to mark the contribution of the Irish community in London and encourage the celebration of Irish culture.
The new-look festival was launched this evening at the Irish Embassy where Irish Ambassador Dan Mulhall welcomed the news.
"It takes celebrations in London to a new level," he said, describing the festival as a great showcase of "Irish culture and the atmosphere intrinsic to Ireland".
Both the Ambassador and the GLA's Jacqueline Rose, who represented Mayor Khan on the night, called on Irish business owners in the capital to continue to support the festival financially.
Ambassador Mulhall also paid tribute to the late Brendan Riney, the Irish business man whose company JB Riney was one of the main sponsors of last year's festival and who have again pledged support for 2017.
Mr Riney, a well-respected Kerry native who came to Britain in 1947 aged 13, sadly passed away last month.
Among the new additions to the festival in 2017 will be a St Patrick's treasure hunt and a children's art competition judged by TV favourite Dermot O'Leary. See below for details.
"Cultural diversity is one of city's key strengths and the contribution of the Irish is a part of that," Ms Rose added. "London really does celebrate the Irish and its culture."
This year the Mayor's festival will also team up with Camden Market to offer a new family-focused music, art, food festival as part of efforts to bring the celebrations outside of central London and acknowledge some of the more historical Irish links in the capital.
"Irish band Kila will being some sparkle to Camden," Ms Rose said." We also want to inspire people to explore rich Irish culture for the other 364 days of the year."
Irish Community Advisory Forum chairperson Catherina Casey said the festival will continue to grow in future years.
"It is our community, our culture, our responsibility," she added.
Tourism Ireland, one of the festival sponsors alongside Your Irish Shop, Bord Bia and others, will once again bring its global greening campaign to the city.
Nelson's Column will be lit up in green as part of the Trafalgar Square finale on Sunday, March 19.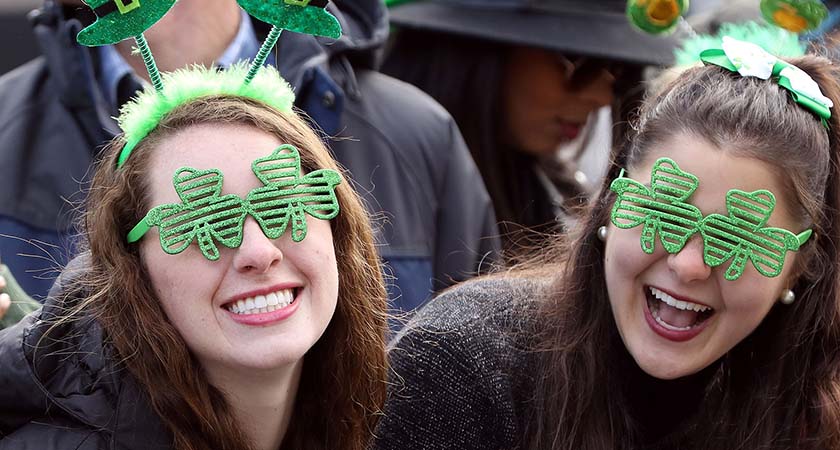 What's planned for London's St Patrick's Festival 2017:
Trafalgar Square stage
Trafalgar Square will once again host a main stage, Irish street food market, tea tent and an Irish shop. While the line-up has yet to be announced previous performers have included Nathan Carter, Mary Coughlan, Paul Brady and Riverdance.
The parade
Around 5,000 people take part in the annual parade including walking groups, marching bands, performance groups and up to 40 floats. This year's parade will feature Galway performance group Macnus.
Irish street food market
An Irish-themed Bord Bia street food market will see Irish chef John Relihan head up a line-up of foodie treats. There will be an Irish craft beer tent serving drinks from Rye River Brewing Co and Carlow Brewing.
Underground busking
A number of Underground tube stations will host live performances.
St Patrick's Treasure Hunt
An Irish-themed treasure hunt will take place around Trafalgar Square on Sunday, March 19. The trail will take around 1.5hours to complete and is suitable for all ages.
City Hall art exhibition
Works by Co. Armagh artist John B Vallely will be exhibited at City Hall. Vallely is a critically-acclaimed painter and musician whose work features the traditions, sport, music and mythology of rural Ireland. City Hall will also host a lecture night, details to be announced.
Film Festival
The Irish Film Festival London will host a programme of events. Details to be announced.
Children's art competition
X Factor host Dermot O'Leary will join Mayor of London Sadiq Khan to judge a primary school art competition where children across the city will be asked to design a banner to lead the St Patrick's Day Parade.
Full details of timings and locations for all events will be announced in The Irish Post in the coming weeks.
See more pictures from the festival launch here...