Eamon de Valera's political career spanned over 50 years. (Image via RTÉ Archives)
THE first volume of a two-volume biography of Eamon de Valera by RTE journalist David McCullagh chronicles the darkest parts of Dev's political life, with over 2,750 notes on sources.
The author tackles some of the more controversial aspects of De Valera's life, most notably whether or not his mother and father were ever married. His mother named the priest and the church where this supposed marriage took place, but to this day nobody has been able to locate a record of the ceremony.
The first volume details the early days of the revolutionary leader, sent to be reared by his grandmother in Bruree, Co. Limerick, however ending up with an uncle who considered him a burden, as well as his scholarship to attend the prestigious Blackrock College, which he considered to be a home of sorts.
He came to national attention in 1916 as one of only two commandants to survive the executions following the Easter Rebellion. The author presents the story in a balanced way, allowing readers to come to their own conclusions.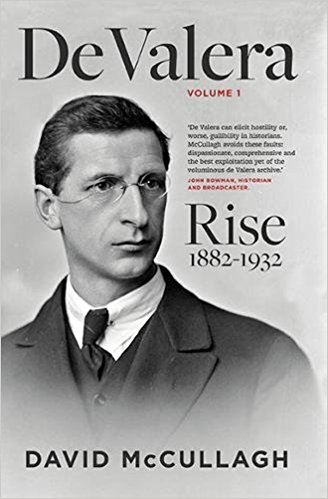 Image via Amazon
The story of the first volume continues right up to the Peace Treaty of 1921, the following civil war, and the foundation of Fianna Fail. Of this, the author writes, de Valera "convinced himself that he needed to fashion a new party in which his decisions would be unchallenged, to establish a newspaper in which his views would be uncontested, and to build a new relationship with the Irish people in which his ideas would be accepted."
De Valera's astonishing recovery "from apparent political oblivion" in the wake of the Civil War is covered in depth. He overcame "seemingly insurmountable odds" to regain power in 1932, the author concludes.
"The question now was how he would use it."
Having just covered what was arguably the darkest part of de Valera's career, McCullagh is clearly issuing an appetising teaser for the second volume of the biography, due out in 2018.