AN INNOVATIVE new mobile app is set to offer visitors to Dublin a chance to explore the city through the eyes of its most famous export – U2.
The new 'U2's Dublin' app is the brainchild of musician Dan O'Connor and his brother Sean, who are both huge fans of the band.
Eager to do something to mark the 40th anniversary of U2's debut album Boy, they hit upon developing an app that would allow other fans to explore some of the places in Dublin that helped shape U2.
Speaking to the Irish Independent, Dan detailed some of the work that has gone into the new app.
As part of their research, the brothers contacted DJ Dave Fanning, who was the first radio presenter to play U2 on air, for more information.
Advertisement
"It was a labour of love really. It took more than a year to complete," he said.
"I did the research and text and Sean built it."
The unofficial app features more than 145 different locations around Dublin, offering up trivia and other fascinating details about the group.
For example, it provides further info on Bonavox, a hearing specialists located on North Earl Street, which ended up being the inspiration for Bono's stage name.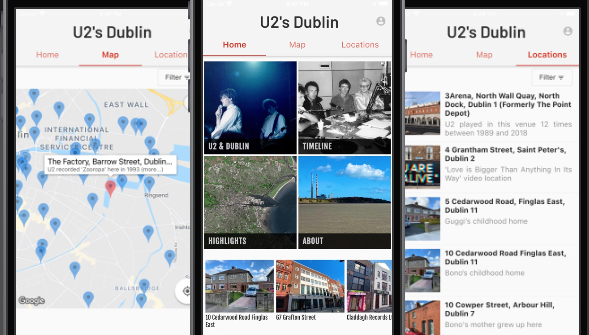 According to Dan it was "either by Gavin Friday or Guggi," who came up with the name.
"They originally christened him 'Bonavox of O'Connell Street'.
Advertisement
"That was then shortened to 'Bonavox', then 'Bono Vox' and finally 'Bono'.
"The Edge says Bono was also known as 'Bon Smelly Arse' for a while," he adds.
Other destinations of note include the Harcourt Hotel, formerly Keystone Studio, where U2 recorded their very first demo.
There's also an opportunity to see the place where Bono, The Edge, Larry and Adam first played together.
Combining the city's history with that of U2's the app is free to download on Android and iOS.