A PETITION set up by a Thin Lizzy fan is gaining traction online after the Central Bank's Phil Lynott memorial coins sold out within minutes.
The demand for the special edition coin, launched as part of a 'Modern Irish Musicians' series and marking 70 years since the birth of the legendary musician, was so high that the website's servers crashed upon release.
3,000 silver proof coins were released on November 27th at the price of €65 each, and was intended for fans of Thin Lizzy and avid coin collectors, but just a week after release the coins are already cropping up on Ebay for hundreds of euro.
One such coin is being auctioned off to provide funds for animal charity PAWS, but over a dozen more are available to buy on the online marketplace in an apparent attempt to make money from genuine fans-- one coin is being offered for €500.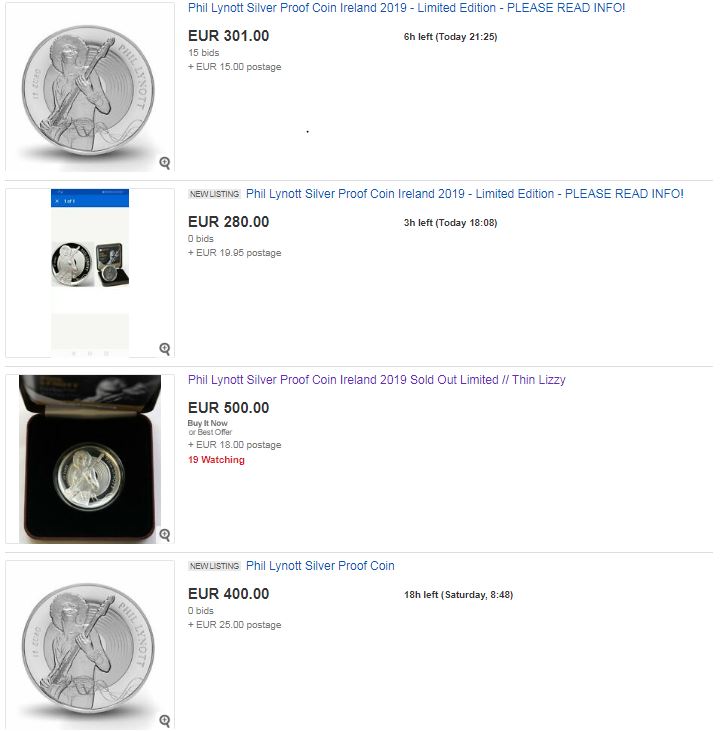 Now a petition has been set up requesting that the Central Bank release another wave of the special edition coins.
Titled 'Central Bank to reissue Philip Lynott commemorative silver coin', the petition describes the frustration felt by genuine fans who were disappointed not to get their hands on one of the coveted coins.
The petition reads:
"Following the issue of the Commemorative Phil Lynott coin on 26 November 2019, which sold out on the day of issue, it left supporters like me and many others of Philip Lynott and Thin Lizzy disappointed we were unable to secure one.
"The demand for the coin was so high it caused the Central Bank systems to crash. This kind of thing is understandable considering the limited run of only 3,000 coins. Surely this has shown the Central Bank that there is demand for these coins and we call on the Central Bank to make a further issue of the coins so that we supporters can purchase such a special coin that commemorates a man and band that means so much to us.
What has left us feeling angry and disappointed, is some of these coins are already on eBay with asking prices of £500+!"
As the coins were advertised as one-off special limited editions, it's unlikely that the Central Bank will have them reissued, but if nothing else it highlights the need for regulations to stop people from profiting from fans in this way.
To add your voice, you can sign the petition here.