THREE disused police stations have been withdrawn from sale amid safety fears brought about by the return of a hard border and border controls after Brexit.
The Police Service of Northern Ireland (PSNI) had been planning to dispose of Castlederg police station in the west (see map below), Aughnacloy police station in the south and Warrenpoint police station, in the easterly coastal town that is home to Northern Ireland's second largest port behind Belfast.
Police say that the withdrawal from sale is a precautionary measure but that they are yet to receive any guidance on the future of the only land border between Britain and Europe.
"The PSNI has a responsibility to keep people safe and we constantly review our resources to ensure that we are best equipped to do this," Assistant Chief Constable Stephen Martin said in a statement.
"In light of the UK Referendum vote to leave the EU, we are reviewing decisions we previously made about some of our stations identified for disposal.
"As the PSNI has not yet received details regarding potential border arrangements, this is a precautionary step to ensure that, whatever Brexit looks like in the future, we will be able to continue to keep our communities safe."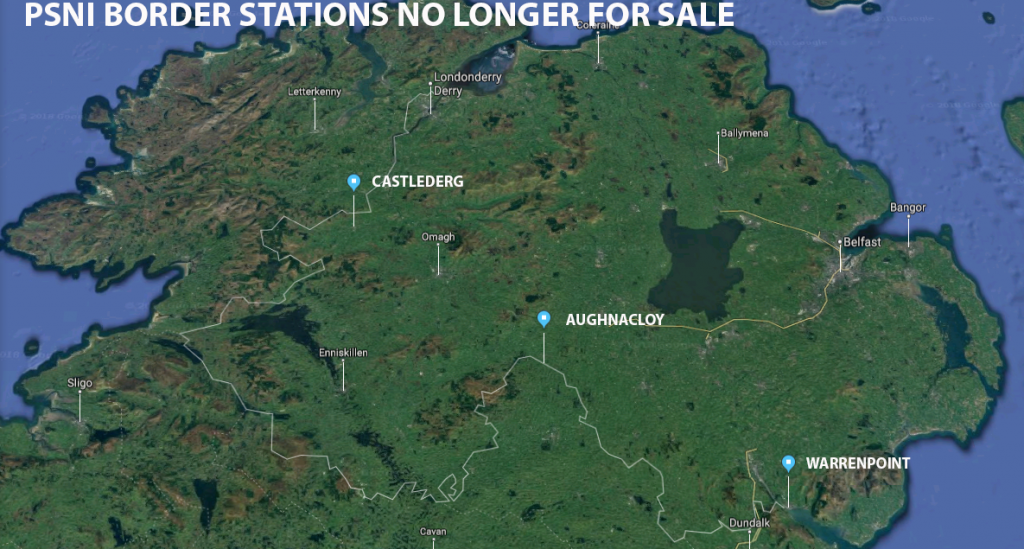 Last week the head of the PSNI asked the British Government for 400 more officers, new vehicles and specialist equipment to help police the border after Brexit.
Chief Constable George Hamilton said at the time that a business case was being drawn up.
"Our members are extremely vulnerable on the border without proper backup", Mr O'Connor told the Irish Times last week. "If we have an incident now, what do we have? A couple of detectives with a side arm for personal protection and no tactical training.
"It's just simply not up to the threat and the danger that's there."
While Britain, Ireland and the EU have all indicated that they do not want a hard border after Brexit, the three sides have been unable to agree on how to police traffic to and from Ireland once Britain leaves the EU, which is scheduled for next year.