THE LUSH emerald island of Ireland is brimming with wildlife, culture, charming villages, striking sights, delectable food and drink, activities for the whole family to enjoy, and best of all; warm and friendly locals whom will welcome you with open arms.
Ireland really is a stunner, and it's not hard to see why a record breaking 11.2 million overseas tourist visited the country in 2018, with Dublin being the most heavily visited region.
Whether you are visiting from abroad or opting for a staycation to explore Ireland with new eyes, there are plenty of sights to discover around the island, and what better way to discover some of its hidden gems than by car. Opting for a road trip to explore Ireland's fantastic history, as well as its countryside and sights, can really give you the chance to embark on a once in a lifetime adventure.
With the help of Auto Europe, you as a traveller can tailor your experience to fit your journey's needs, regardless if you are planning a trip for next year or in a month. As one of Europe's leading rental brokers, we work together with major car hire suppliers like Hertz, Avis, Sixt and Dollar as well as national and local brands so that you can compare and find the best deal, regardless if you are booking a car in the Republic of Ireland (autoeurope.ie) or in Northern Ireland (autoeurope.co.uk). A vast range of vehicles at competitive prices, available at numerous pick-up locations around the island will enable you to go off the beaten track and really savour the sights.
So strap on your seatbelt and prepare to be dazzled by the Irish charm as we take you on 3 of our top choices for a road trip across this spectacular island.
Ring of Kerry
The Ring of Kerry is a popular choice for a road trip and for a good reason. The tour, starting and ending in Killarney, spans 120 miles of beautiful coastline with dramatic mountain passes and picturesque villages.
Having headed out on the road from Killarney, the first stop on the agenda is the town of Sneem. The small village, divided in to a north and south part thanks to the river Sneem, is lined with colourful houses, many of them housing nice little pubs and eateries, makes for a picture perfect stop to enjoy its rural beauty and charm.
Next it is onto Derrynane beach, just a stone's throw away from Derrynane house, former home of the Irish politician and statesman Daniel O'Connell. Here you can take in the breath taking views of the sea, as well as the green rolling hills as you relax and unwind with a walk on its gorgeous shore.
Heading on to Portmagee you will find another stunning fishing village lined with brightly painted houses. The town once very popular among smuggler and pirates looking for trade ships, is now home to an award winning seafood restaurant, The Moorings and serves as a departure point for tourist travelling to Skellig Michael, the larger of the two Skellig Rocks located of the coast. The location is hugely popular with Star Wars fans, as filming for The Force Awakens and The last Jedi took place on the island. It is also famous for its ancient monastery founded between the 6th and 8th centuries.
Close to Portmagee you will find Puffin Island, a Wildbird Conservancy reserve and home to thousands of Manx Shearwaters, Storm Petrels and Puffins. The island, although it can only be visited with special permission, can be viewed quite well by boat which can be charted in Portmagee.
Next along the Ring of Kerry is Rossbeigh beach and the Bog village. Rossbeigh beach is stunning blue flag beach perfect for family outings, water sport, horse trekking and walks, and features a great children's playground for little ones to blow of some steam. For those interested in Irish history a visit to Kerry Bog Village is a must. Here you can travel into Ireland's past and experience life in a 19th century Irish village, complete with fully furnished thatched cottages.
Heading towards the last stop of the journey you will come along the Gap of Dunloe, a narrow mountain pass between MacGillycuddy Reeks and Purple Mountain, one of county Kerry's most popular tourist attractions due to its fantastic scenery. Within the Gap lies 5 lakes, all connected by the river Loe, and it is said that between the first 2 lakes lies the Wishing Bridge, on which it is said that "wishes made while upon the bridge are destined to come true".
The last stop before arriving back in Killarney is the Kissane Sheep Farm situated between Kenmare and Killarney National Park. The mountain sheep farm, which has been family owned for almost 200 years, is open to visitors from the middle of March until the end of October and regularly hosts sheep dog demonstrations.
Game of Thrones tour
For fans of the HBO hit series Game of Thrones, a tour around the counties of Antrim, Londonderry and Down in Northern Ireland is the perfect way to explore and re-live some of the most icon GOT backdrops. The tour, starting off in Tollymore Forest Park and ending in Ballintoy Harbour takes around 3-5 days in total and offers you the opportunity to explore the real-world Westeros.
First stop is the Tollymore Forest Park; a 1,600 acres state forest park, home to giant redwoods and Monterey pines, sitting at the foot of the Mourne Mountains. This area was used for filming a lot of outdoor scenes such as The Wolfswood near Winterfell, The Haunted Forest North of The Wall, The Kingsroad near Castle Black and the forest close to Dreadfort.
After you've explored the woodlands where White Walkers and direwolves were first encountered, the tour goes on to Castle Ward and Inch Abbey. Castle Ward, home to the Ward family since the 16th century in real life, was used mainly as home to the Stark family and the location of Winterfell during filming. The castle offers Winterfell tours where you can emerge yourself into the world of GOT fully by practicing archery, exploring over 20 key filming locations or taking part in a bountiful medieval banquet inspired by the show. A short journey from Castle Ward lays Inch Abbey; a Cistercian Abbey built in 1180. The historic location was featured in season 1 as Robb Stark's camp and it was here the War of the Five Kings began.
Next on the tour is The Caves of Cushendun which were formed over a period of 400 million years and are known for being the chamber underneath Storms End where the shadow baby was birthed by
Melisandre. This pretty seaside village offers stunning view of its beachfront and harbour and is a good place for a pit stop to enjoy a hearty Irish meal.
After this it is on to The Dark Hedges, an avenue of over 150 beech trees which form a tunnel like atmosphere. The trees were planted in 1775 along the entrance of Gracehill House which was built by James Stuart. The Dark Hedges are mostly known as the Kingsroad in Game of Thrones, being the longest highway between Castle Black and the Six Kingdoms.
Larrybane and Portstewart are next on the trip. Located along the North Coast, Larrybane Quarry is an old chalk quarry that was transformed into a tourney site where King Renyl Baratheon had set up camp in season 2. Without the sets and props of the show, the Quarry might hold little resemblance to the stunning camp on film, but its striking landscape and the nearby Carrick-a-Rede Rope Bridge makes it well worth a visit.
Equally striking is Portstewart Strand, a golden 2 mile long beach located between Portstewart and the mouth of River Bann. The area, which is owned and managed by the National Trust, were used as a backdrop for the sweeping sands of Dorne and is one of the few beaches in Ireland where cars have permission to drive on the beach. Making it perfect for those wishing to have a quick break from the road and have a picnic on its golden shore.
The last stops are Ballintoy Harbour and Mussendun Temple. Ballintoy Harbour is a small fishing harbour but is known as Pyke on the Iron Islands during the series. Most notably for Theons return and where he first encounters his sister Yara. The stunning Mussendun Temple, which was built in 1785, perches on a 120 feet cliff top, overlooking Downhill Beach and is a complete replica of the Temple of Vesta in Rome. The beach, which attracts a lot of surfers, has a dark side and it is here that Stannis Baratheon converts to the Lord of Light and rejects the seven gods of Westeros.
Wild Atlantic Way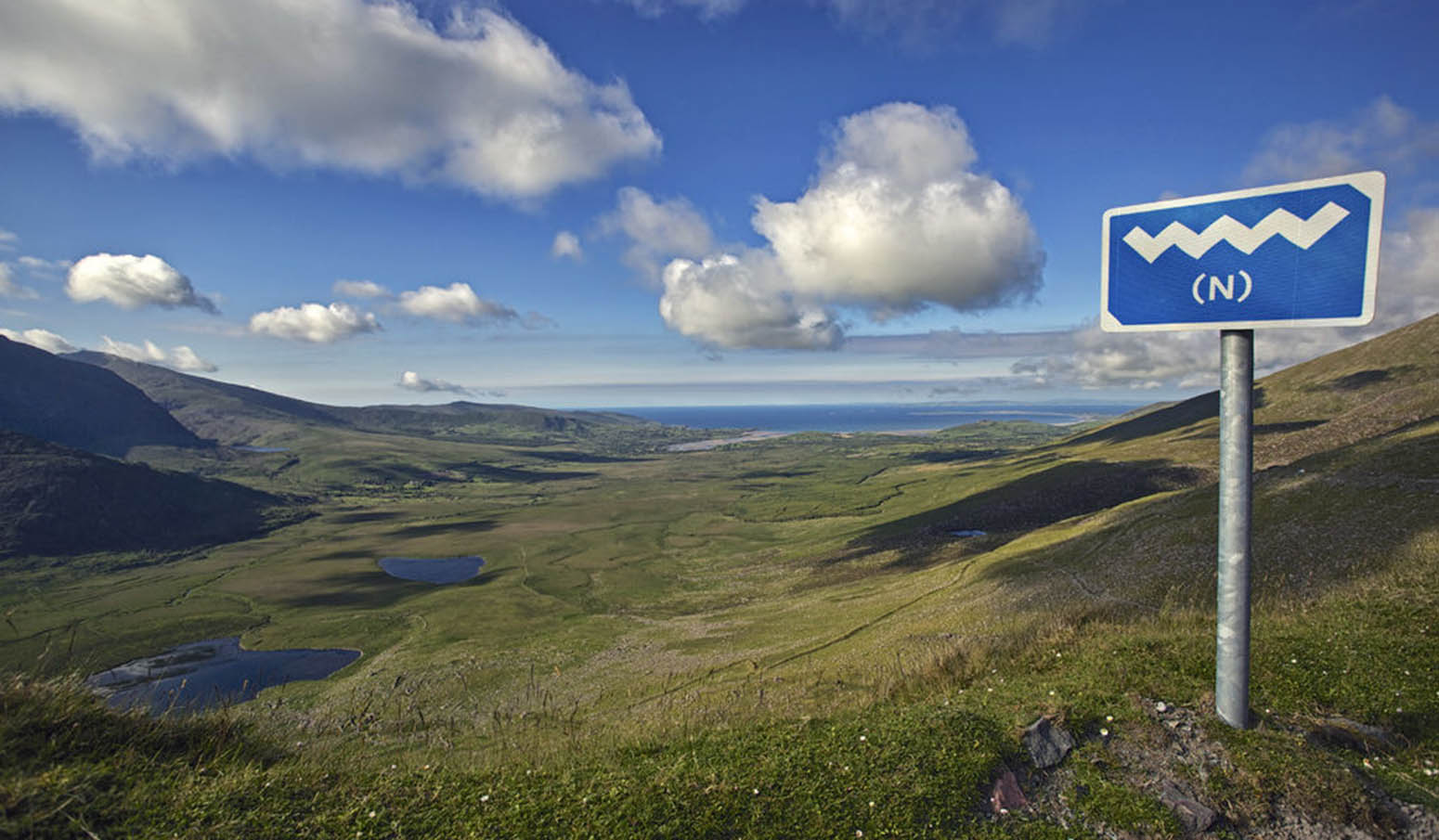 Traveling along Wild Atlantic Way is a beautiful journey with stunning views and plenty of culinary delights along the way. The 1550 mile long trip will take you through the 9 counties of Cork, Kerry, Limerick, Clare, Galway, Mayo, Sligo, Leitrim and Donegal and is sure to serve up some hidden gems along the way.
Your journey will start in the seaside town of Kinsale with its beautiful waterfront and harbour. A truly picturesque scene with its vibrant and colourful shop fronts and narrow streets, and the perfect starting point to head out on a an amazing road trip. An annual food festival is held in the town every year in October and is much visited by locals and foreigners alike. On the edge of Kinsale Harbour you will also find the legendary Charles Fort, a star shaped military fortress with tremendous views of the countryside and water. For those wishing to experience some of Irelands dazzling coastal views and unspoilt natural landscapes, a hike along Sheep's Head is really a must.
Next on the programme is Dursey Island, a popular destination among tourists due to the wild birds, dolphins and whales which live on the peninsula and in its surrounding waters. The island is one of few inhabited islands off the southwest coast in the country and is separated from the mainland by a stretch of water named the Dursey sound. It is connected to the mainland by cable car and has no amenities so make sure you bring food and drink with you, should you get peckish.
After visiting Dursey Island it is onto county Kerry and the Dingle Peninsula with its sensational beaches and ravishing landscapes. A stop at the award winning restaurant Global Village is a recommended threat for any food lovers wanting to whet their appetite and any whiskey fans should make sure to stop at Dingle Distillery. Then head along to Minard Castle, a 16th century fortress sitting on a hill overlooking the bay along Dingle Peninsula, with gorgeous views of the Irish Sea. After the castle, Gallarus Oratory is next. The site is the most famous landmark on the peninsula and is an old chapel built completely out of rocks in the shape of an upturned boat. It is believed to have been built between the 9th and 12th century but no exact date can be given for its construction.
Next on the agenda is one of Ireland's top attractions, the Cliffs of Moher located in county Clare. The astounding cliffs, which rise to an impressive 702 feet, is a haven for wildlife with over 20 different seabirds represented, among them puffins, razorbills and peregrine falcons, as well as rare flora. On days when the waters are calm you might even observe sharks or dolphins.
Before moving along to county Galway, a stop at Linnane's Lobster Bar in New Quay is well worth a visit along with Ballyvaughan Farmers' Market, should you happen to visit the area on a Saturday between May and October. In country Galway you'll find Dunguaire Castle, a 16th century tower house open to the public. From September to October you can enjoy a fabulous castle banquet, complete with medieval entertainment and locally sourced food.
Next is Kylemore Abbey, a Benedictine Monastery founded in the 1920's on the grounds of Kylemore Castle. The abbey was founded for the Benedictine Nuns who fled Belgium during World War 1 and is run by the Benedictine community to this day. Along with the abbey the site is also home to a marvelous Victorian walled garden.
Last two stops on the tour will take you through county Sligo, Leitrim and Donegal. First is Glencar Lough also known as Glencar Lake, a freshwater lake which covers an area of 284 acres. The region is popular with hikers and is full of lush wooded countryside and trickling little rivers. Last stop on the journey is Malin Head in county Donegal. This is a far north as you can go, with the Head being located at the most northerly tip of the island of Ireland. The area is full of beautiful landscape and beaches and is perfect for walking, fishing, swimming and golfing.