MUM-OF-THREE Sheila Turner had one of her biggest wishes granted when Coronation Street star Ward visited her at home.
The 53-year-old woman is on end of life care for lung cancer, which she has suffered since being diagnosed in August 2014.
The strong woman was originally told she only had 9 months to live but has struggled on.
Her best friend of 16 years, Kelly, having seen Turner deteriorate so fast, decided to make one last wish come true.
Kelly began a Facebook appeal to catch the attention of Ward to meet Turner before she died.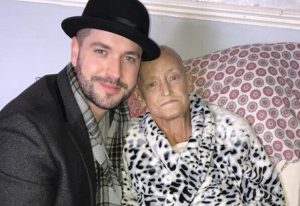 According to Manchester Evening News, Ward got wind of the appeal and arrived at Turner's residence in Wythenshawe.
Ward visited Turner last Friday, greeting her with a kiss and a hug and chatting at her bedside as Turner wept tears of joy.
Ward also gifted the woman two signed photographs with the message 'lots of love Sheila' and told her to stay strong before he left.
Turner had been a fan of Ward since his appearance on the X Factor in 2005.