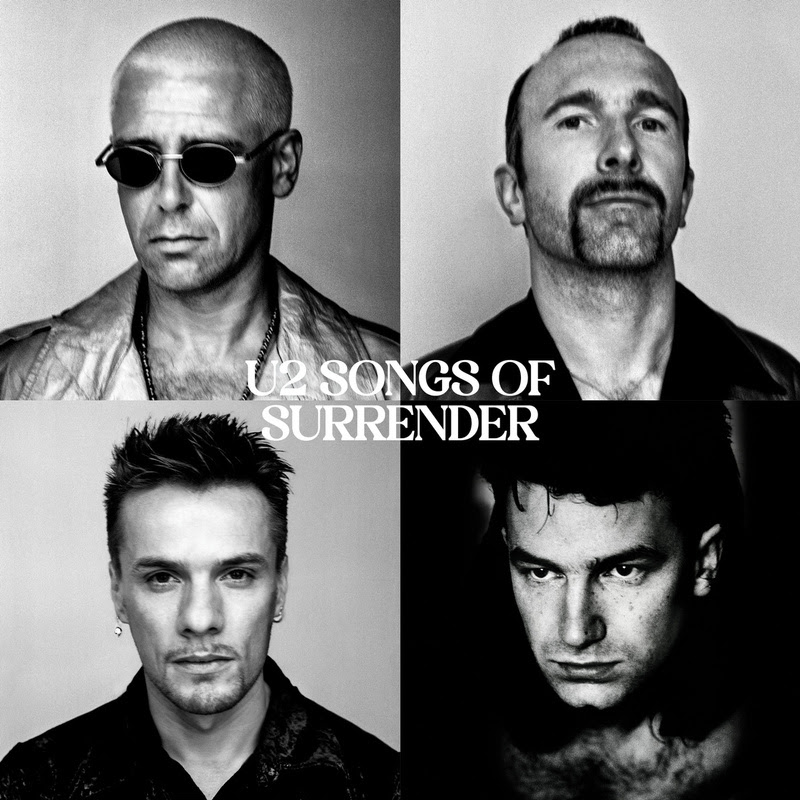 Tony Clayton-Lee reviews U2's Songs of Surrender
Never a rock band to allow the grass to grow even a millimetre under their communal feet, U2 didn't spend downtime during the pandemic to binge-watch TV shows. Instead (as we now know), they devised a two-pronged creative/commercial assault that was spearheaded, as usual, by the band's two primary instigators – Edge (aka Dave Evans) and Bono (aka Paul Hewson).
Keen-eared U2 fans would have had an inkling of what was in the works via an interview that the band's bass player Adam Clayton gave to Rocky O'Riordan (aka Cait O'Riordan, former member of The Pogues) in June 2021 on the band's U2-X Radio platform on the online radio station Sirius XM. "We are playing around with rearranging some of the songs that we have and setting them in a more acoustic environment," revealed Clayton. "Edge got a bit of a bee in his bonnet to look at these songs and imagine them in a different context."
Fast forward to November of last year, and the release of Bono's memoir, Surrender: 40 Songs, One Story.
For the audiobook edition, each chapter came with a snippet of a re-recording of a song that the chapter was named after. There was more, however, as anyone who had the good fortune to nab a ticket for the Stories of Surrender book tour witnessed: during these shows, Bono performed U2 songs with sparse and elegantly acoustic arrangements — the first time he had performed U2 songs with no other members of the band present on stage.
The clincher arrived when the book itself landed. In the section titled After the After Words, Bono wrote, "During lockdown we were able to reimagine forty U2 tracks… which gave me a chance to live inside those songs again as I wrote this memoir. It also meant I could deal with something that's been nagging me for some time: the lyrics on a few songs that I've always felt were never quite written. They are now. (I think.)"
By the end of November, in a Washington Post article profiling the band in the lead-up to their acceptance of the Kennedy Center Honors, it was disclosed that, yes, indeed, 40 stripped-down versions of U2 songs would be officially released as U2's next album in early 2023.
Songs of Surrender comprises re-recorded and reinterpreted versions of 40 songs from the band's back catalogue. Recalibrated songs include One, Beautiful Day, Red Hill Mining Town, City of Blinding Lights, With or Without You, I Will Follow, and Desire. The track listing is arranged into four distinct albums that are named after each of the band members, and apart from 1981's October and 2009's No Line on the Horizon, all studio albums are recognised. But what is all this 'reinterpreting' and 'reimagining' about? Prior the album's official release, the Edge (the self-admitted curator of the album) sent out a letter to fans. "When a song becomes well known," he wrote, "it's always associated with a particular voice. I can't imagine Tangled Up in Blue without the reedy timbre of Bob Dylan or All the Time in the World without the unique voice of Louis Armstrong." What happens, asked the Edge, when a voice matures and resonates with knowledge and wisdom?
This was, pretty much, a rhetorical question. The songs that were created and recorded when U2 were young men (each member is now in their early 60s) have changed in the intervening years to mean something altogether different. "Some have grown with us, and some we have outgrown, but we have not lost sight of what propelled us to write those songs in the first place. The essence of those songs is still in us. But how to reconnect with that essence when we have moved on and grown so much?" The answer, he admitted, was to carefully extract their admiration for the original versions; once achieved, "each song started to open up to a new authentic voice of this time, of the people we are now, and particularly the singer that Bono has become." The Edge concluded the letter with a wishful sign off: "I hope you like our new direction."
And the new direction is? So far, only two songs have been given a full release. Pride (In the Name of Love) was released in early January, and With or Without You at the end of that month. It doesn't need to be said that each track in their original form constitute two of the most anthemic rock songs of the past 40 years. And the new arrangements? Interesting to say the least, with rock song catharsis replaced by shimmering acoustic lullabies, but how such slighter versions might work in the band's natural habitat of a live environment is up for debate.
What is more certain is that (irrespective of whether you are a fan of U2 or whether you particularly care to hear stripped-down versions of songs you are quite likely very familiar with) no other rock band of or outside their generation has ever willingly embarked on such a recalibration of their back catalogue. Loads of major-name heritage acts may be satisfied to perform their best-known songs night after night, but which music acts have ever returned to their back catalogues and assiduously selected a sizeable batch of songs that, in their opinion, require serious or necessary refitting? Bob Dylan, of course, has frequently shape-shifted many of his songs during live performances, but not, as far as we know, officially recorded or released them.
This leads one to suggest that unlike any other band of their vintage, U2 remain fully engaged with their work, and still care enough about the work to want to revisit it.
And what's next, I hear you ask? Well, a much-vaunted semi-residency (which, Bono has said, would visually reference their acclaimed Achtung Baby album) at the Las Vegas MSG Sphere auditorium was provisionally lined up for September of this year, but construction issues at the venue might delay matters. As for new music, a no-holds-barred, no-acoustic-songs rock album is on the way at some point. As ever, U2 march on. They stumble now and again, for sure, but the search for meaning in their art continues.
TAG: Songs of Surrender is released on Island Records/Interscope, on Friday, March 17th. On the same day, Bono & the Edge: A Sort of Homecoming, with David Letterman, will be broadcast on Disney+. The documentary will feature the U2 members walking around Dublin with Letterman, as well as specially filmed concert performance.