ITV NEWSREADER Alastair Stewart has been forced to step down following what ITN called "errors of judgement" in the 67-year-old's use of social media.
He was accused of comparing a black person to an ape, though the line he used was in fact a quote from Shakespeare.
The award-wining presenter was embroiled in a Twitter debate three weeks ago with a man named Martin Shapland.
They were discussing the relationship between the Crown and taxpayer funds, and during the row Stewart quoted from Shakespeare's Measure for Measure, which included the words "angry ape".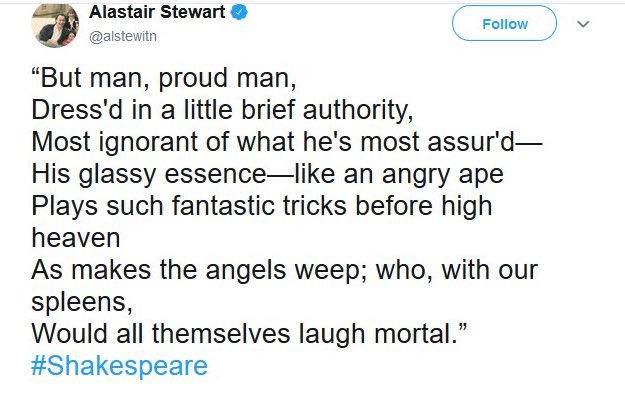 Mr Shapland, a black man, described Stewart's words as "a disgrace", suggesting that the tweet was racist.
"'But man, proud man, Dress'd in a little brief authority, Most ignorant of what he's most assur'd - His glassy essence - like an angry ape'," the tweet read.
Shapland took a screenshot of the tweet and reposted it, adding: "Just an ITV newsreader referring to me as an ape with the cover of Shakespeare.
"Measure for Measure, Alistair is a disgrace. [sic]"
In the aftermath, Stewart deleted his Twitter account, but the gaffe ended up costing Britain's longest serving news presenter his job.
Announcing his departure from the news channel, Alastair said in a statement: "It was a misjudgement which I regret, but it's been a privilege to bring the news to households throughout the UK for the past 40 years."
Prior to Stewart deleting his Twitter account, it was discovered that he'd used the 'angry ape' Shakespeare quote during a different debate in the past - this time with a white man.
A number of former colleagues of Stewart's were quick to pay tribute to the man for his decades of dedication and service to television.
Sharing an article referencing Stewart stepping down, ITV News presenter Julie Etchingham tweeted: "So sad to learn this – we have worked on many big stories together & Al is a trusted friend and guide to many of us."
Presenter Mary Nightingale, who struggled to hold back tears while announcing Stewart's departure on ITV news, tweeted: "Very sad about the departure of #AlastairStewart.
"He was a good friend and mentor to me when I started at Carlton TV, and we worked together for more than 27 years. I will miss him."
Very sad about the departure of #AlastairStewart. He was a good friend and mentor to me when I started at Carlton TV, and we worked together for more than 27 years. I will miss him.

— Mary Nightingale (@nightingaleitv) January 29, 2020