LABOUR'S Sadiq Khan has won the 2016 race to become Mayor of London.
With the result now verified, Khan has been declared the new Mayor, replacing the outgoing Conservative Mayor Boris Johnson.
With 44 per cent of the vote, Khan beat his nearest rival, Tory candidate Zac Goldsmith (35 per cent).
The counting of votes for both the 2016 Mayor of London and London Assembly elections began at 8am on 6 May.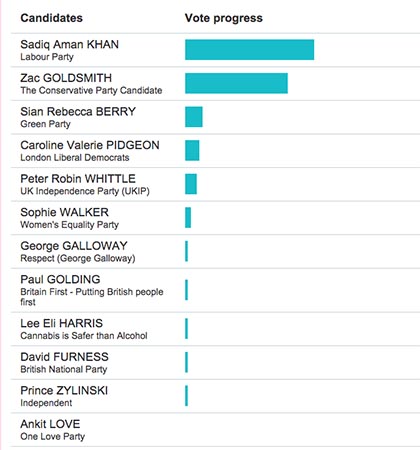 Just a few days before voters went to the polls, 45-year-old Khan, an MP for Tooting  spoke exclusively to The Irish Post  about his own immigrant background, and understanding of the Irish community in London.
"We owe so much to the Irish people who have come to London, worked hard, raised families and are at the heart of what makes our diverse city so great", said Khan.
Speaking before his win, Khan also stated that he would campaign for Britain to stay in Europe. "London cannot become isolationist. I want to build stronger links with Dublin and Belfast and showcase the innovation of London's Irish community."
Khan is the first Muslim to be elected Mayor Of London.
Elsewhere, in the Scottish parliament, the Scottish Nationalist Party (SNP) beat Labour taking 63 seats, not quite enough to claim a majority.
In the North of Ireland, a fifth of the Assembly seats have been filled as counting continues.
First Minister Arlene Foster topped the poll in her constituency of Fermanagh and South Tyrone, while Deputy First Minister Martin McGuinness was given the most first-preference votes in the Foyle constituency.
For more live London results click here
On a day we've confounded the critics, I'm honoured to be with Sheffield Brightside's newly elected MP @Gill_Furnisshttps://t.co/qyi2gBRCmd

— Jeremy Corbyn MP (@jeremycorbyn) May 6, 2016
A huge thank you to everyone who voted Labour, volunteered today or campaigned with us. #TeamKhan pic.twitter.com/Igv7BCHbJ1

— Sadiq Khan MP (@SadiqKhan) May 5, 2016