HE doesn't get into the sea as much as he used to. There was a time when you couldn't get John McCarthy out of it. 
The west of Ireland, South Africa, Central America, Hawaii; McCarthy surfed big waves all over the world, before he caught a spiritual one.
He sits on a wooden bench in Lahinch, Co Clare looking out at a sea-scape he has helped to shape.
Long before Ireland earned a reputation for surfing, McCarthy was the blonde kid from Tramore making a name for himself out there where the water breaks.
Slight in stature, he became a big name in Ireland and, later, he attracted attention at competition level all over the world.
In a minority sport that plays out at civilisation's watery edge, McCarthy was made famous by an AIB television advert which captured him careering across a huge slab of dark water breaking beneath the Cliffs of Moher.
The wave is known as Aileen's and McCarthy was among the first to surf it. His friend Mickey Smith, from Cornwall, had discovered the break and they studied its magnificence for nearly a year before plucking up the courage and paddling out.
From high up on the cliff tops they were just dots at the centre of creation's fury on dark winter evenings.
On land, the Tramore native has a surf shop, located on the beach at Lahinch. Inside there's a photograph on the wall, John McCarthy gracefully captured against the majesty of the ocean. Beside the picture, there's a psalm from the Bible.
"I used to be a boaster," he says. "But it's great to boast about something else other than yourself and now I boast about God."
He explains that his conversion wasn't instant. He remembers a time when spiritual writings felt like a sedative to surfing. Then one day McCarthy bought a Bible while visiting Sydney, Australia. The pace of change quickened.
He began to read; the fog began to clear and he started to understand that maybe for him there was another way, a better focus.
"I don't think people come to handing their life over to God without there being need," he says. "In my life I had needs. I was in trouble with something personal and there was brokenness in my heart and that's when God really reaches out to people.
"I got to the age of 30 and I started reading spiritual books. I eventually bought a book on world religion. From there I went to a convent and bought a bible. Things were slowly changing in my thinking. God started coming into my thinking."
There were signposts, like the day he met a group called the Christian surfers in Lahinch.
McCarthy had already decided that he wanted to lead a "good life" and found the concept of this group slightly amusing.
But he fell into a conversation with a Christian surfer who ended up inviting him to a conference in Devon. He accepted. He was curious and even returned a second time.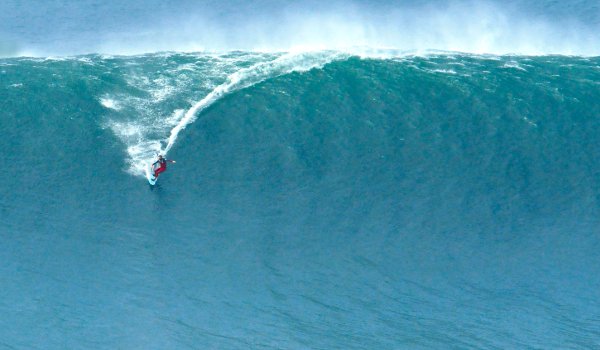 It was 2006 and a switch had been tripped.
"I'm a very focussed person and surfing was my focus," he says.
"When Aileen's was discovered, that was pre me being a Christian. So at that time it would have been a very big in my life: the idea of being part of a crew to find something great.
"It would have been a big deal and to be out there at Aileen's, at the bottom of the cliff with giant swells and to see one of the best waves in the world ... That was very special."
That special grace he and his peers sought among big waves was the subject of a critically acclaimed book by Keith Duggan called Cliffs of Insanity. McCarthy features in the story but his capture is that of a man apart, someone removed from the rest.
He refers to the other surfers in the story, his one-time peers, as people on a "surf mission together".
"They are all about a project but for me a lot of that is only surface deep."
McCarthy smiles and explains that when he was falling into religion, his best friend was growing further away from a spiritual life.
"He's an atheist now," he says. "When we meet we talk about other stuff.
"Within surfing, I would have good friends and I would always make a point to meet certain people. But as a general rule, the people I know through surfing, I just know them rather than being close to them.
"All that was totally normal for me at one time. And all of this is totally relative to where I'm at now. I've got great friends now. We get together and talk about real stuff. That for me is a deep relationship."
His change in direction was arresting, after all this was John McCarthy, the three times Irish Senior Champion.
There were Irish surfers dedicating their lives to following where he led – out there on the water. Only he didn't quite see it that way anymore.
"It's good to think about the question of what is success in life?" he says. "Is it success to achieve these goals, make a load of money, have a PhD?
"In life we can have all these things that identify us as successful and when I achieved my goals they brought me joy but ultimately, none of those things satisfied me.
"Mick Jagger said: 'I can't get no satisfaction' and he was the wealthiest guy, got all the women. So there's part of man that all these success points doesn't satisfy. And ultimately, our soul isn't satisfied with success and money and popularity.
"The big question is what am I doing here? What's my big purpose in life? For me, the little success points didn't answer those key questions."
For McCarthy, there would never be peace in surfing and sport alone and now there is an acute sense that his achievements might drift further out to sea.
"Am I proud of John McCarthy the surfer? Yes. But there are no trophies or anything like that up in my house. Nothing. I wouldn't be into that.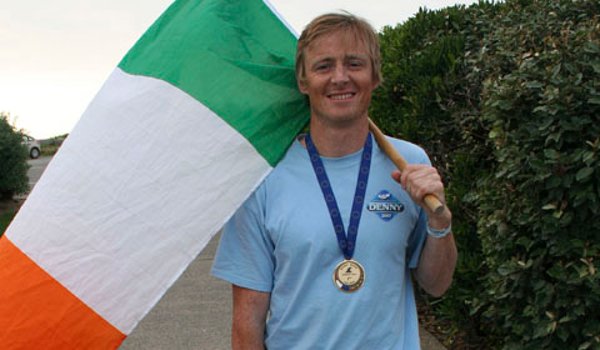 "For me, my biggest achievement might have been the AIB advert but I try to give God the glory rather than get big headed about it all. But I love surfing. I do.
"I love God and I'm passionate about God, I've learned that this is where I'm going and that's good. But within that, I'm a surfer and I love surfing."
"Here's the thing, I have an ego, like all of us, and I've learned.
Before I was a Christian, the life of my ego was allowed to run wild and I've learned that that doesn't really lead to fruit. It just leads to a self-centred egotistical life. I would actively now not try to promote my ego, or feed it.
"I don't shy away from my achievements but I wouldn't have the big picture up of me on the wall.
"Ok, in my shop there's a big picture of me up on the wall and I have a nice verse of the psalms up there as well. But you are using that to direct people to God."
In this watery world, big egos and big waves form a kind of matrimony. The relationship is intoxicating and addictive, if fleeting.
It's difficult to imagine dedicating so many years to something that scares you. But "absolutely he is scared of the water," respectful of big swells, of this higher force.
"When we were making the AIB advert. I had caught so many waves that day, I was absolutely exhausted. In the advert I got the big wave and it landed on my head.
"It was the end of the day and it washed me in against the cliffs. You are pretty safe in that there is almost a rocky beach you get washed up on to.
"You get washed over a few boulders. You are standing there and you are waiting for an opportunity to get back out. Both times I failed and I got washed back in. The tide was surging in and the swell was really huge.
"But eventually, I managed to get back out at the third attempt. Having surfed the big waves, everyone will have had a few occasions like that.
"If you put yourself in the wrong position, you are in big trouble. Now I have two kids, I don't want to put myself in that position.
"The challenge now is to let the lord get the glory."