STEVE Collins scoops a large blob of Vaseline onto the back of his left hand.
He looks up: "Stevie!" he calls above the whirr of skipping ropes and patter of gloves manicuring heavy bags in the TKO Gym.
The bright of the day is streaming through the gym's three large frosted windows, throwing light onto the ring canvas in Canning Town.
Earlier, father and son had breezed into the second floor of the converted industrial unit, bypassing the thumb-print security check next to the gym door, dispensing smiling nods and friendly nudges as they went.
Now it's down to business: Steve Collins Jnr — less than a year into his boxing career — here to spar with former British Olympian Billy Joe Saunders.
Watchful eyes gather around the ring apron, studying the former two-time world champion as he adjusts his son's headgear while delivering instructions made inaudible because of the whirr and the patter, each direction followed by a feint or an exaggerated slip from master to apprentice.
Then, a pause, as the blob of Vaseline is carefully applied around Stevie Jnr's eyes.
Less than a year ago, Collins Jnr was en route to winning an All-Ireland League title with Lansdowne Rugby Club in Dublin.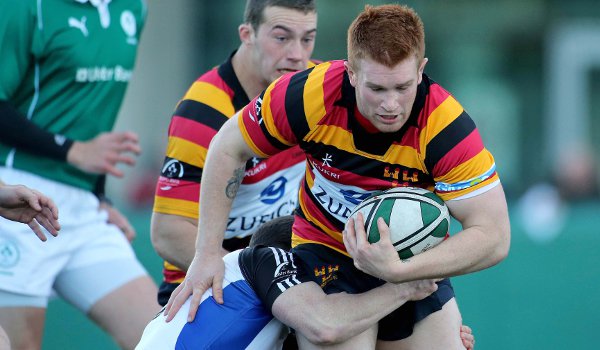 He always wanted to be a rugby player despite being the son of a two-time boxing world champion. Only he went and graduated to the boiler room of one of Ireland's most storied clubs.
He remembers when he was seven, sneaking down from his bedroom to watch his father's defeat of Chris Eubank, seeing him raised shoulder high — the new World Champion.
He looked on from behind the couch in his family sitting room. Even more vivid were the two fights with Nigel Benn, but by then he was already running with a rugby ball and dreaming about a career in field sports.
Then last summer he decided to trip the switch and add something new — boxing.
So the ring bell sounds and Collins Jnr marches forward, gloves held high, head feinting, shoulders slipping as he begins to release a series of hooks, upper-cuts and right-hands. Saunders slips and counters on the back foot, snapping counter-punches from his southpaw stance, maintaining a distance that Collins Jnr relentlessly tries to walk down.
"Oh he's a better athlete than I am," says Steve Collins, spooling long bandages neatly around his hands.
"Stevie's an athlete, I was never an athlete in the same way he is now."
'Really?!'
"Yeah, really!"
Stevie Jnr's sparring is complete and Collins Snr is taping up his hands in preparation for six rounds on the heavy bag.
"Of course I've retired," he answers. "I was just waiting for that one fight with Roy Jones. I was never going to make a comeback. It was just unfinished business, and Roy Jones hinted at it last year that he would take the fight, but then he took a fight with someone else. And he now has confirmed that he will never fight me… AGAIN."
In recent weeks ITV repeated a sports documentary about the life of Chris Eubank. In places like the TKO and at pub counters, the programme was a welcome wallow in one of British boxing's most celebrated eras.
Collins hasn't seen it.
"How can they do a documentary about Chris Eubank and not include Steve Collins?" he asks. "It's like the Odd Couple, Oscar and Ernie, Laurel and Hardy. You can't talk about Laurel without talking about Hardy. I'm not comparing us to two clowns but we did have our funny moments," he laughs.
"They went and did a documentary about Chris Eubank and never approached me. I only live down the road. Maybe Chris Eubank doesn't want me there? Maybe Chris Eubank has never gotten over the fact of what happened?"
He adds: "I'm not bothered by it. It's just not a full documentary."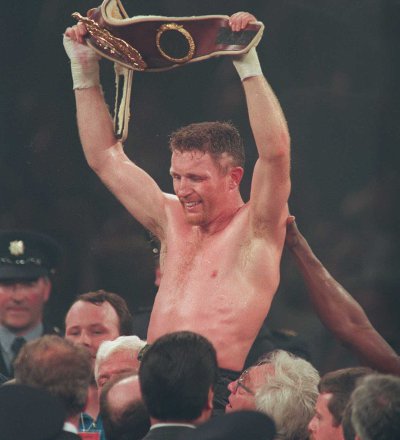 Those world titles are a long time ago now. But it doesn't feel that way for the former champion. Boxing remains a constant, the extension of his interest driven by his resolve to stay fit and the ambitions of his son who has registered four professional bouts, winning three and drawing one.
"I would love to experience boredom," he says. "There is just not enough hours in the day to do what I have to do. Fortunately the winter nights gets dark early but I have 150 sheep arriving this evening at home so I've just texted my wife to let the lorry in. This is my normal day.
"But look, Stevie's boxing career. He is now based in London because of his rugby career. Pascal, my brother, trains him in Dublin, I'm here coaching him when I'm in London which I enjoy very much and my other boy is in the amateurs and I'm with him once a week. My daughter is doing her activities. Life is very busy.
"But when I come into the gym and I feel 20 years younger. I love the buzz, the atmosphere, the respect the guys have for each other. I love the whole atmosphere and the people around the boxing.
"Britain is my home now and what I love about here is that I'm a celebrated Irishman.
"The British people have taken me to heart. They loved my style of fighting when I fought, and I really feel at home here and I love and I like the reception I get here."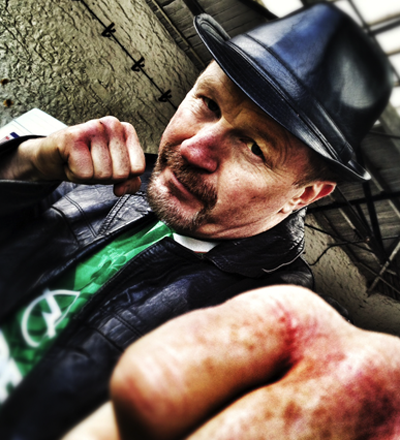 Steve Collins Jnr is leaking beads of sweat. He rests an arm on the ring apron and begins to talk fast about his new life in Britain, boxing and playing rugby with Rosslyn Park.
The sport in his life has always been rugby and there is something satisfying in finding his own way into a game many would have believed should have been a natural calling.
Behind him, the heavy bag creaks, swings and pulses the sound of heavy punches.
"You never lose your power," says Collins Jnr, critiquing his father's work on the bag.
"Yeah, the pressure can be very hard," he says. "Everyone saying, 'you are Steve Collins' son'. They either want to write you off, or they want you to be brilliant so you know it's a lot of pressure to try and impress people when I'm fighting, because you know he [nods over his shoulder] was the best in the world and I'm only doing this a few months so they want to say 'he's crap' or 'he's OK'. So that's where the pressure comes from.
"The only other thing I dislike is being watched by everyone. Don't get me wrong, I'm not afraid to get in with anybody but I don't ever want to look bad in front of a crowd.
"You get a lot of guys who fear their opponents but that never even dawned on me. It never will no matter who I'm in with. Even if I thought I was going to get sparked out, I wouldn't be afraid."
Collins has less than a handful of fights as a professional and completely bypassed the amateur ranks.
Yet if he doesn't spar like a raw novice, then he doesn't talk like one either. His confidence is obvious and inherited.
"What happened was I went up to my uncle, Pascal Collins; he has the Celtic Warrior Gym in Blanchardstown. I said, 'Packie I just want to keep fit. Can I come up, hit the bags, do the pads whatever.'
"He said yeah. I'd always been a boxing fan, watched all the fights, watched my dad as a kid, been around gyms. I was up doing pads with Packie and he said, 'Jesus, Steve, you hit hard'. He was kind of teaching me things. He didn't have any intentions of turning me into a boxer. He said, 'you are learning very quick' and he started putting me in with the pros.
"Then after a while he said, 'I think you have what it takes. Do you want me to get you one fight for the laugh' and I said 'I don't mind, yeah, alright. We'll see what we can do.' I got a fight in Dundalk and won.
"I mean I won't be struggling to get a fight because everyone wants to beat up Steve Collins' son, you know what I mean? Because I make them look good. I'd be saying to Pascal, 'why don't you get me a fight against him. Or try and get me a fight against him' and he'd be saying, 'look you are learning. Don't get me wrong, we know you can win but as soon as you beat them, you have to go up another level again. And you're not ready. It's a slow process and you have no amateur experience.'"
"You want to talk to me as well," asks Steve Collins Snr, fixing the strap on his watch. Most of the boxers have now left the TKO gym and the clock has ticked into deep afternoon. Music blasts from a radio near the window; loud enough to dull the interview, you explain.
"I'll turn it down," he says, moving quickly around the ring to adjust the knob.
"Now, right, fire away," he says standing square.
Collins Snr wants to talk about Collins Jnr. He's had his time. So what do you want to know about him?
'I mean, Mike McCallum was the best, Eubank was the toughest, Nigel Benn was the hardest puncher… and Michael Watson, well, he was probably the most complete of the British fighters before the fight with Eubank left him brain damaged.'
He expands.
"Unfortunately for Michael he had a very hard fight with Mike McCallum where he received a lot of punishment. It was actually a severe beating he got against McCallum and I think that contributed to what happened to him later in his career."
He's aware of the constant desire among fight fans to revisit this era but is that because there has been nothing comparable since in Britain?
"Every once in a while it throws up half-a-dozen guys in a weight division who are all good enough to win a world title," he says.
"There was the great era in the states: Duran, Hagler, Leonard, Hearns and then you had a great era in the UK, Eubank, Benn, Woodhall, Robin Reid… they were great fighters all here at the same time fighting for World Championship belts.
"Now, there are more titles for kids to fight for. Before it was a closed shop, only one world title, but now there are half-a-dozen world titles so kids have a chance to fight for a world title and if they win one then they can get involved in unification bouts. But without all those other world titles a lot of guys wouldn't get the chance to fight. It used to be controlled in South America, but South America no longer controls it. You have South American versions and makes game more interesting."
More interesting because of that, and the ambitions of his son.