THERE is something unexpectedly Irish about Iceland.
There are the more obvious tells — the big rusty beard is a common sighting on Reykjavik hipsters, all manner of hearty stews are on offer and the fact that two thirds of the country's people live in the capital, with the rest spread out among the sheep that cover the remainder, is vaguely familiar.
But when embarking on my first exploration of this chilly island I hadn't expected the similarities that popped up along the way, although in hindsight Celtic and Nordic traditions are probably more wound together than I previously understood. However, it was finds such as this which added to a trip that proved a true adventure at every stage.
As soon as we arrived in capital city Reykjavik we were welcomed like long-lost friends by the crowd at Hlemmur Square — a hotel/hostel set in an art deco building which used to house a bank, located close to the city's main street — who quickly offered tea, company and valuable contributions on how best to explore the country on a mini-break. Within just a few hours we were refreshed, unpacked, re-wrapped up for the weather and out to explore the city.
As far as ice goes there is little to write home about in the capital. Instead we found that on a bright day it is actually a rather refreshing place to stroll within — shopping, supping and snacking.
Iceland is officially the most sparsely populated of all European nations, which is great news for those of us who want to explore it. It also means that roughly 200,000 people — the aforementioned two thirds — can be found in and around Reykjavik. And that makes for excellent people watching, from a window seat at an Icelandic bar on the main street at 2pm on a Friday.
I'm not sure what I thought we would find, but Icelanders didn't disappoint.
They are an inimitably stylish breed, in a laid-back, couldn't care less kind of way. So Aran jumpers are everywhere — note the Irish nod, but worn coupled with designer sunglasses, skinny jeans and stiletto heels. And there is a beguiling sense of self-confidence among these people, which fits perfectly a society boasting understated chic at every turn.
But there is more to see than its people.
Although a relatively small city — everything touristy is in walking distance — there are very many cultural treats hidden within Reykjavik's winding cobbled streets.
From the Museum of Photography to the National Museum of Iceland, with The Icelandic Phallological Museum in between — which is thankfully more scientific than pornographic (think 200 specimens of genitals belonging to nearly all mammals of land and sea) — there is plenty to tick the cultural box.
For those who want more, travel north of the city to find a picturesque white house named Höfði. This is better known as the venue where the Cold War ended — more specifically it was the site of the 1986 Reykjavik Summit, where US president Ronald Reagan and Soviet leader Mikhail Gorbachev convened to thaw their differences.
For everyone else there's the cuisine.
Despite a somewhat distasteful persistence for restaurants to offer tourists whale, shark and puffin dishes as a traditional Icelandic delicacy — we were reliably informed that Icelanders do not eat these meats — the remainder of most menus offered an exciting traditional/modern culinary fusion.
Among them the harbour-side Mar restaurant and the cutting-edge Grill Market — with a focus on fresh seafood, succulent Icelandic lamb and inspired vegetable dishes — offered particularly tasty dishes.
Of course once acclimatised to the city it was time to set out and explore the country. The easiest way to do this is by hiring a car and there are many firms willing to furnish you with one.
Our first stop — and a worthy itinerary item for any first-time visitor who has only a short time — is the Blue Lagoon resort. It is traditional in Iceland to indulge in a spot of outdoor bathing in volcanically heated pools (this is where those meaty beards come in handy) which are dotted across the island. Natural hot pools are plentiful in Iceland, and no doubt delightful to find and explore, but if you are strapped for time and keen to know what all this thermal bathing is about then the man-made Blue Lagoon is your friend.
This popular attraction — we did queue to get in, but it's worth it — offers a truly mystical experience.
There, a steaming 37 degree, 5,000m2 pool is wrapped up in a wispy fog and its warm milky-blue waters, surrounded by lava fields and black sands, are full of mineral-rich silica mud. This mud can be applied freely as a pack to the face and left to do its business while you wade towards the pool bar. What more can one ask for from a lagoon?
After a few hours of well-being, we dragged ourselves away from the waters and back to our hostel to prepare for the night's big event — chasing the Northern Lights.
Iceland's SuperJeep tours offer a rugged package for visitors hoping to catch a glimpse of the notorious Nordic light show and pick you up at around 10pm to get the action started. There is no guarantee that you will see the lights, but once you book with the Superjeep team they will take you across the country night after night, in their convoys of 4x4s, until they find you a lightshow. But we were lucky enough to catch aurora borealis on our first night out, at around 12am in the morning, after chasing the murky green glow for a couple of hours.
The spectacle of dancing light which stripped the sky was well worth the wait. It was even worth the near frostbite gained when hopping out of the jeep in sub-zero temperatures to gaze at the amazing sight. Luckily the SuperJeep team were well prepared for all occurrences.They brought hot chocolate along for everyone and added a warming nip of vodka to keep the chill at bay!
Understandably, catching the lights might be the highlight for many on a trip to Iceland, but we had plenty more to tackle at this stage. So the next day we took our tour to the seas — on a whale-watching expedition with Elding Whale-Watching Tours.
Setting off from Reykjavik's Old Harbour, a beautiful morning offered a new perspective of the city as we sailed away from it into the icy Arctic waters for our maritime adventure.
Again, there is no guarantee that you will spot anything on your trip, but our keen-eyed guides kept us well informed of the many species of whale, birds and other sea life known to frequent these waters before they eventually started to show themselves. During our four-hour session we spotted minke whales, humpback whales, harbour porpoises and a variety of local birds — which is more than satisfying for a morning's work.
Taking the morning spot also left us time to get back in our car and take one final trip across the country before making our way to the airport. Tucked away in the craggy but fairly flat terrain that is Selfoss, Hotel Ion is a luxurious, eco-friendly example of modern Icelandic design at its most innovative.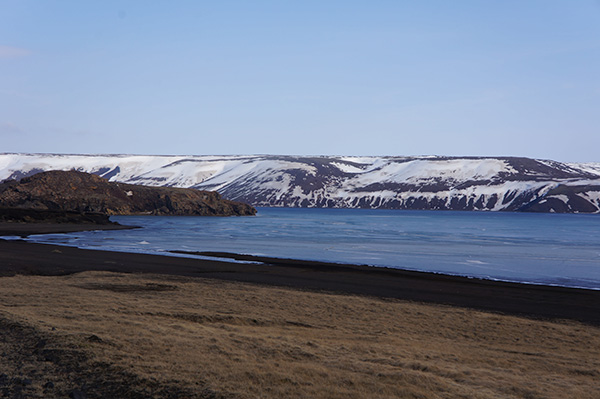 It also boasts a location to rival any of the many who claim prime places to surround yourself in the beauty of this island. And for those still searching, its entirely windowed cocktail bar doubles as the perfect spot to stay up late and attempt to catch the Northern Lights.
Our Ion experience involved sampling the hotel's very own outdoor lava spa before drying off for dinner at its Silfra Restaurant, which by far produced the best Icelandic lamb we tasted throughout our stay and the most mouth-watering selection of chocolate treats for dessert, or Súkkulaðiþrenna, as the locals would say. We had to leave shortly after to catch our flight home, but Ion had so much more to offer — not least a range of adventure activities, including hiking, diving and glacier tours — that we promised and plan to return.
As a taster, our brief trip to Iceland proved a tempting insight to a Nordic wonderland which is so different to the world we know at home, yet oddly familiar at the same time. We left, but are determined to return to an island which is so much more than ice and land.
Where we stayed
Hlemmur Square Hotel/Hostel
Laugavegur 105
105 Reykjavik, Iceland
Tel: (354) 415 1600
www.hlemmursquare.com
Kex Hostel
Skúlagata 28, 101 Reykjavík, Iceland
+354 561 6060
www.kexhostel.is 
Where we ate
Mar Restaurant
Geirsgata 9 (the Old Harbour) 
101 Reykjavík, Iceland
TEL: (354) 519 5050
www.marrestaurant.is
Grillmarkaðurinn (The Grill Market)
Lækjargata
101 Reykjavík, Iceland
Tel: (354) 571 7777
www.grillmarkadurinn.is
Silfra Restaurant at Hotel Ion
Ion Luxury Adventure Hotel
Nesjavellir vid Thingvallavatn
801 Selfoss, Iceland
Tel: (354) 482 3415
www.ioniceland.is
Getting there
Icelandair offers regular flights to Iceland from London, Manchester and Glasgow, as well as package deals in Iceland and city breaks to Reykjavik. For flight details and bookings visit www.icelandair.com