GLOBAL and foreign direct investments play a pivotal role in boosting the national and global economy.
International trade has expanded over the years. In 1985, global trade equated to one-third of the world's economy. By 2015, cross border trades grew to two thirds. Today, a companies' fortune is no longer reliant on the local environment. As more companies take the plunge to invest in businesses overseas.
Companies CEOs that set up businesses across the world bring a myriad of advantages to the host country. Such as employment opportunities and the ability to enable developing countries to close their savings-investment gap. The details and advantages of FDI are throughout this post.
As such, new and experienced investors are taking up the opportunity to diversify their portfolios with a combination of local and global investments. Portfolio diversification is necessary to increase sustainable growth across all investments and overcome any economic downturns.
This article will take a look at the different types of Foreign Direct Investments available, as well as the pros and cons of those, in order to analyse their role within the global financial market. But will FDIs and investment platforms lead the way to a brighter future for economic growth ? Keep reading to find out.
About Foreign Direct Investments (FDI)
FDI is an essential component of the international economic system. An FDI consists of an investment from one country into another country. FDIs enable the investor to maintain a 'lasting interest' in businesses they set up abroad.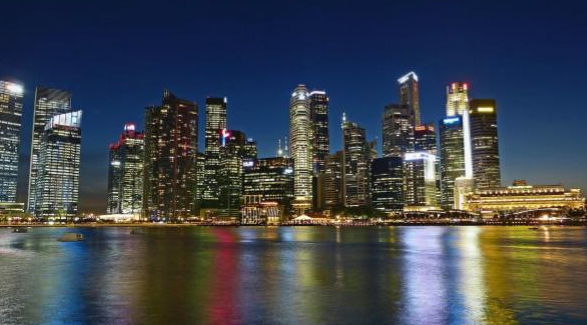 FDIs Maintain A Lasting interest.
According to the Organization for Economic Cooperation and Development (OECD), a lasting interest usually consists of ownership of at least 10% voting power of the company abroad.
Voting power allows investors to influence decision making for companies they set up in other countries. However, sometimes the percentage of voting power can be less than 10%, but the investor can still exert control.
A lasting interest distinguishes FDIs from a passive foreign portfolio: companies that invest in businesses abroad but have little to no influence over decision making. There are two different types of FDIs. These are;
Greenfield Investment: Companies duplicate their businesses abroad. Much like franchises Mcdonalds and Starbucks.
Brownfield Investment: Entails cross border mergers and acquisitions. Investors acquire established foreign enterprises in another country.
FDIs are further classified into the following;
Horizontal: Identical business created in a foreign country
Vertical: Business creates an extension (a different level of the supply chain) of their business abroad
Conglomerate: An unrelated business
Platform: A company from one nation invests in a second country business, which then exports to a third country.
Platforms Opens Up Global Investing To Everyone
As businesses are eager to grow their investment portfolio in commodities, trade, technology, and stocks globally, foreign direct investments are increasing worldwide.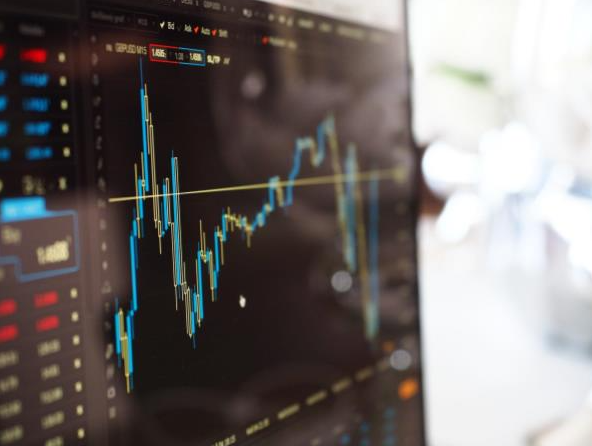 With the assistance of eToro, individual investors can take advantage of FDI growth. With their extended knowledge and analysis, the platform supplies an abundance of easy-to-use investment and trading resources to the public, making global trading and commodities accessible for all. With the help of tools such as the IPOs and the dividends of a company and the Weekly Market Stock News, investors can increase their knowledge on local and international companies, and make innovative and well thought-out moves in terms of investments.
Ireland's FDI Stocks
The CEIC reveals Ireland's FDI has grown significantly this year. In June 2020, it increased by 70.9 bn (in USD).
The latest FDI stocks data from OECD reveals that Ireland is the top country worldwide for inward FDIs. Demonstrating Ireland has numerous external countries creating or investing in businesses on Irish soil. GDP as of 2019 was 296%.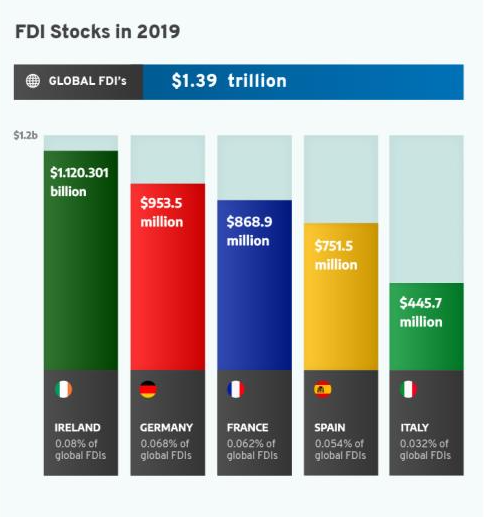 To put Ireland's FDI stocks stance into perspective. In 2019 the United Kingdom had an inward 70% of GDP. And outward GDP of 67%. In comparison, Ireland has experienced exponential interest from foreign countries and has equally committed to forming a colossal amount of economic ties with other nations.
According to The Department of Business Enterprise and Innovation (DBEI)
Trade and investment missions raise Ireland's profile as a world-class supplier of goods and tradable services and contribute to the generation of incremental sales to foreign markets.
With investors from Ireland creating a lasting interest in companies worldwide, Ireland is in the third position behind the Netherlands and Luxembourg. For more information on how FDIs support Ireland's economy and vice versa, please see below.
The Advantages of Foreign Direct Investments
Globalization is essential for all countries, particularly developing countries, to prosper and overcome their saving-investment gap.
FDIs create economic links and relationships between nations, enabling each to support the other and solve issues such as external debt management.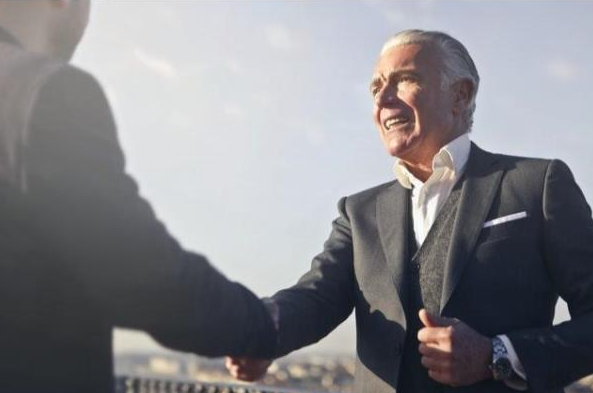 Equally, the knowledge and technological resources shared with foreign countries encourage a diverse economy. In turn, excluding the risk of a country's economy becoming dependent on the trade and success of a primary product or service.
Other positive factors that occur from FDIs are increased employment opportunities and enhanced training for workers. Moreover, the following increases: human capital, higher per capita incomes, and household savings.
Due to the benefits of foreign investments, most countries encourage and welcome inward FDIs. By creating special economic zones (SEZ), approving tax relief, and relaxing cross-border investment policies.
Meanwhile, investors benefit from forming long-lasting and stable ties with global economies. While also profiting from access to cheaper land and labour. Allowing companies to cut costs.
Global and Foreign Direct Investments
Global investments are an essential component of economic integration. FDI investments are increasing as businesses diversify their economic contribution in different parts of the world. Even more so now, with the rise of investment platforms, where budding and experienced investors can trade and invest in commodities, outside of their own country.
Trading platforms enable individuals to benefit from the advancement and growth of FDIs, and in turn, individuals can build a diverse and less risky portfolio, which is more likely to exhibit a healthy return. As mentioned in this article, without any foreign direct investment, the global economy would suffer. It not only allows a transfer of technology between countries, it also permits countries to generate demand and growth for their economy. Furthermore, the introduction of many investment platforms has also enabled to liberate access to markets around the world and offer investments opportunities.