THE COVER stars for this year's Building Britain are Irish architectural duo O'Donnell and Tuomey, recipients of the prestigious Royal Gold Medal for 2015 from the Royal Institute of British Architects.
This special Design Issue is a nod to Ireland and its innovative design-makers who are basking in an international spotlight this year as part of Irish Design 2015, a Government-led campaign to bring the country's creative capabilities to a global audience.
Having begun their careers in London with internationally renowned architects Stirling Wilford Associates and Colquhoun & Miller, Sheila O'Donnell and John Tuomey have been described as a "tour de force in Irish and British architecture".
Just last month the pair were selected as part of the team — alongside Allies and Morrison — to design the Stratford Waterfront scheme, a key part of Olympicopolis in east London, an urban cultural quarter being built on the site of the 2012 Olympic Park.
"Cultural and educational buildings and the public realm have been the critical purpose of our practice for more than 25 years," they said of the project that will see new buildings for the V&A Museum, London College of Fashion and Sadler's Wells Theatre.
"It feels like all our work has been leading towards this extraordinary commission. And we're happy to be back again in London where we began our careers in architecture."
The project is expected to generate nearly £2billion and create 3,000 new jobs.
Now riding what seems like an unstoppable crest of a wave (although John has previously joked "we've spent 25 years becoming an overnight success") O'Donnell and Tuomey have also been attracting praise stateside, picking up the Arnold Brunner Memorial Prize from The American Academy of Arts and Letters in May.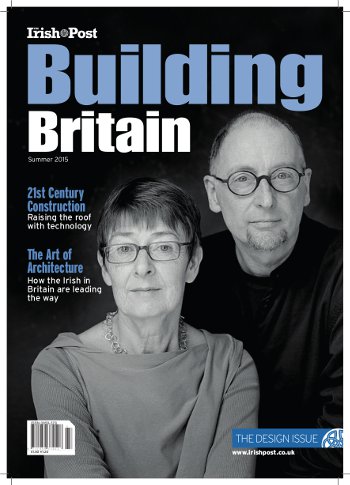 Co-founding their practice in Dublin in 1988 O'Donnell and Tuomey were part of the 'Group 91 Architects' who collectively masterplanned the regeneration of Dublin's then neglected Temple Bar.
The area's iconic Irish Film Institute became their first permanent building, bringing them both profile and acclaim.
"The work of O'Donnell and Tuomey balances the hand and the heart," says distinguished New York architect Billie Tsien.
"Their buildings are beautifully conceived and beautifully made. Like reading the best poetry — they astound you in a quiet way."
Those of us in Britain don't have to go far to be astounded with their work here, which includes projects such as the London School of Economics Saw Swee Hock Student Centre (shortlisted for the 2014 RIBA Stirling Prize) and the red brick Photographers' Gallery in Soho.
RIBA President Stephen Hodder describes O'Donnell and Toumey as being "at the vanguard of contemporary Irish architecture".
And the pair are just as invested in future proofing the industry they have each poured their heart and soul into, with both teaching the next generation of Irish designers at University College Dublin's School of Architecture.
Irish Design 2015 will run for 12 months, but with talent such as O'Donnell and Toumey leading the way, awe-inspiring Irish design will continue to leave a lasting impression.
Get your FREE copy of Building Britain with this week's The Irish Post, dated June 6.
To order a back copy, priced £1, call Sasha or Greg on 0207 001 9390 or email [email protected]