"JANE Green read it and wrote a comment for me. She said that she had taken a year off to nurse her best friend when she was dying from cancer and that since reading the book she has relived the great times they had towards the end. That was the best compliment. It meant so much to me because this book is so personal."
Anna McPartlin laughs as we chat, about her life, her work  and her new book, The Last Days of Rabbit Hayes.
It is tipped to be the Irish book of the summer and the early reviews have been nothing short of brilliant. No wonder she's happy, but this is a story that has its roots in a far tougher time.
Her mother suffered from multiple sclerosis before being diagnosed with cancer and dying when Anna was a teenager.
"It started off with me wanting to tell a story that featured MS," McPartlin told me from her Co. Wicklow home.
"I didn't think a story about some auld wan and her kid would be sexy, but I wanted to reflect what we had gone through.
"There isn't anyone who hasn't lost someone to cancer, so I wanted to tell the story of those last few days.
"I'm pretty well placed to tell it. My mother died when I was 17-years-old and she was in a home for years — and as a result I just wanted to tell that kind of story. Yes it was sad, but there was such laughter and joy too. That was what I wanted to do and it was important to me to tell it well.
"Everybody's early life shapes everything, whether you have my kind of life or whether you have two parents and four siblings and a dog. But it's not just childhood that shapes us. My experiences come out in my writing, it's what writers do; we regurgitate our experiences."
McPartlin talks with a lovely warmth, a happy glow as she speaks, finding humour in every little thing (she started out as a stand-up comedian) so it's no surprise that she has been able to produce such a poignant work from such a difficult scenario.
She added: "I'm very excited about this one, it's a brand new world for me, it's a fresh start and I'm really happy. I have put 100 per cent into it — I have literally bled for this book. It was very personal and I put my heart and soul into it."
Comedy's loss has very definitely been literature's gain, with McPartlin's debut novel Pack Up The Moon becoming a bestseller and giving her a success at the first attempt in 2006.
"That was huge.
"I had no expectations of it doing very well, so it really was genuinely shocking. It did so well in places like the USA and Germany. Starting out I really didn't know what to expect. I've dined out on that ever since!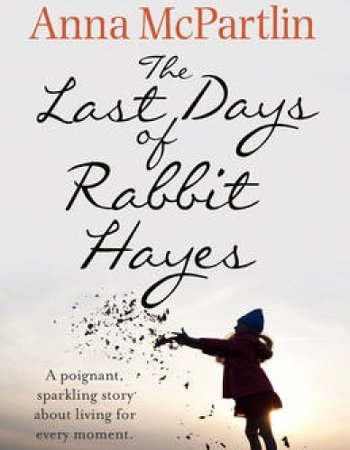 "But since then the arse has fallen out of the market! Bookshops started closing down and there was nowhere for books to go.
"A lot of women's fiction books are sold in supermarkets and women were still buying for their children and husbands, but the last people we were buying for was ourselves.
"When your back is against the wall the book is the first thing to be cut off the shopping list. Now things are really starting to turn again, for the better."
So what expectations does she have for The Last Days of Rabbit Hayes?
"It's hard to say . . . the response so far has been incredibly positive and the publisher has been fantastic. Every expectation and hope for this book has been met so far.
"I couldn't have got a better response and that's all anybody can ask for. You want that word of mouth, people telling their friends. That's what I'd like to see happen."
McPartlin's latest work looks set to be another bestseller, another Irish book that could do exceptionally well across the globe. So how does she view the Irish literary talent that's out there right now?
"I think we have a massive footprint. For such a small country it's incredible the amount of work that's coming out of it. Everybody has an opinion. One person will think Irish writers are excellent and another will think we are rubbish, but you can't say that we are not prolific. That's the one thing everyone can agree on and after that it's down to taste."
A bit like the world of stand-up comedy then?
"Look . . . that was very short-lived! I'm too lazy a person to have sustained a comedy career for a long time.
"I enjoyed writing it but all the performances, they were hard work. You had to be out of the house five nights a week and it got repetitive. I enjoyed writing comedy way more than I did actually performing it.
"I knew then that maybe the performance side of it wasn't for me, so I'd write and my friend would perform it and I'd just sit there smoking like a pig and watching her! Great craic!"
McPartlin ended up getting a job in an insurance company but the drive to write never left her and she kept writing at night for 10 years until she got her breakthrough in 2006.
"The one thing I would say to people is that if you want to be a writer you have to work. Work, work and work at it.
"For 10 years I didn't know if I would ever make it. I worked on it until midnight.
"Invest your time well and feel like you are going to get something out of it.
"And don't be afraid of the delete button. If you are stuck, it's not working. Delete it."
The Last Days of Rabbit Hayes by Anna McPartlin is published by Transworld Publishers