PART of the universal appeal of long-running sitcom The Simpsons is that it pokes fun at everyone, even America itself.
This self-deprecation means no one else is off limits, and national stereotypes – including the Irish – are occasionally the basis for jokes in the enduring series.
However the humour is rarely if ever offensive, and there is often an element of satire behind the joke.
So in honour of the cartoon's 600th episode – which airs in America this Sunday – we have compiled our top Irish moments from The Simpsons.
WHACKING DAY
Springfield's annual holiday Whacking Day – which sees townsfolk club snakes to death – wasn't just a spoof of the St Patrick story but was invented in the 1920s as an excuse to beat up the Irish. As the Irishman in the crowd confirms: "'Tis true. I took many a lump! But 'twas all in fun."

via GIPHY
IRISH OUT
Curmudgeonly Grandpa Simpson later reveals how he also "chased the Irish out of Springfield Village in aught-four". "And a fine job ye did too," helpfully chimes in the same Irishman.

SUPERSTITION
Grandpa also recalls the last time Springfield had a meteor shower they thought the sky was on fire. "Naturally, we blamed it on the Irish," he says. "We hanged more than a few."

via GIPHY
ANTI-IRISH SENTIMENT
These weren't the only times the sitcom acknowledged the anti-Irish sentiment immigrants experienced in the late 19th and early 20th centuries. Mr Burns recalls with glee the time when, as a young lad, he crippled an Irishman.

NO IRISH NEED APPLY
Meanwhile Moe's Tavern also had this sign on display on St Patrick's Day.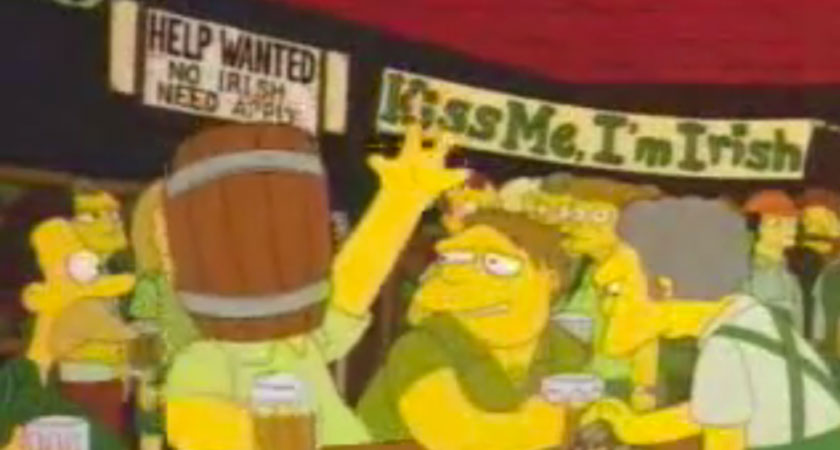 IRISH LILT
Barney Gumble was inducted into Homer's band the B Sharps after Homer heard his beautiful rendition of Too Ra Loo Ra Loo Ral. Barney also sang Irish classic Danny Boy following the closure of Moe's Tavern.

CATHOLIC EDUCATION
Marge enrolled Bart in St Jerome's Catholic School, only for resident Irish priest Father Sean (Liam Neeson) to convert both Bart and Homer. As Simpson Snr exclaims: "Once you go Vatican, you can't go back again!"

via GIPHY
POTATOES
Homer famously tried to hijack a U2 concert to promote his bid to become Springfield's sanitation commissioner, successfully sneaking backstage disguised as the band's Potato Man.

OVER-INDULGING
Epitomising the drinkfest that St Patrick's Day has become, an impatient Homer moans outside Moe's Tavern: "Awww, it's been St Patrick's Day for hours and I'm still not drunk yet! It's never gonna be 9 o'clock!"

via GIPHY
KENT O'BROCKMAN
News anchor Kent Brockman puts an Irish spin on his name while he reports live as Springfield's St Patrick's Day celebrations take a violent turn: "Ladies and gentlemen, what you are seeing is a total disregard for the things St Patrick's Day stands for. All this drinking, violence, destruction of property – are these the things we think of when we think of the Irish?"

HEAD OF STATE
A little worse for wear on St Patrick's Day, Homer gives Enda Kenny a run for his money by putting a barrel on his head and telling the rest of the bar: "Hey, look at me! I'm the Prime Minister of Ireland!"

via GIPHY
STEREOTYPES
The town's annual procession on March 17 includes floats such as '2000 Years of Irish Cops' and 'Drunken Irish Novelists of Springfield'.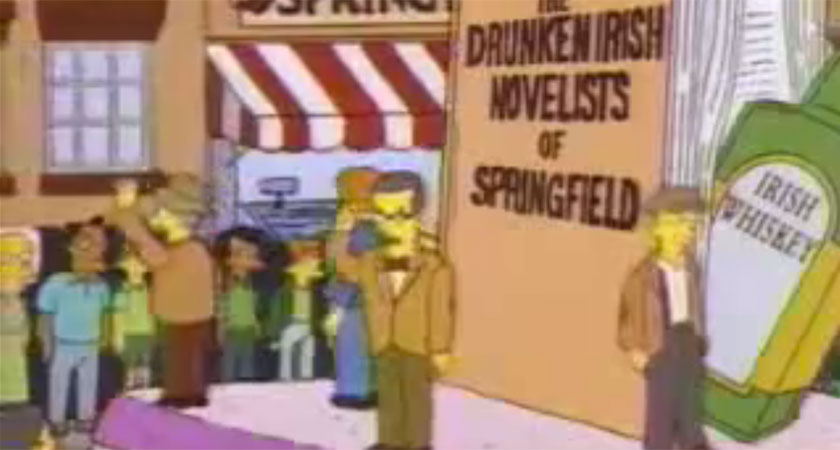 CHURCH CONTROVERSIES
Although a later episode's alcohol-free St Patrick's Day floats poked fun at the Catholic Church's views on contraception and broken clergy vows.

via GIPHY
LEPRECHAUN FIREBUG
It was revealed that Ralph Wiggum had a penchant for starting fires, driven on by an imaginary evil leprechaun.

MARCHING SEASON
Lisa tried to bring Irish from either side of the border together, only for her attempts to end in a riot. "This was such a pleasant St Patrick's Day until the Irish people showed up," laments Marge.

SIMPSONS GO GREEN
And of course last but not least, there was the time the Simpson family spent a whole episode in Ireland.

via GIPHY