FALL in Cape Breton, Nova Scotia, displays not only a beautiful pallet of colours of the changing season, it also showcases the best of Celtic music, language and dance. 
In its 23rd year, the recent Celtic Colours International Festival offered 52 concerts and over 300 community cultural experiences in venues and communities across the whole of Cape Breton Island. Featuring established and emerging artists from Cape Breton as well as international stars, the festival offered something to appeal to all tastes.
The Festival opened its 9-day run in Sydney, NS, with a concert highlighting The Chieftains — the world's best-known Irish band.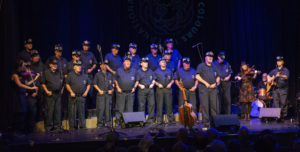 Now playing in their 57th year, The Chieftains appeared on their Irish Goodbye Tour.
Original members Paddy Moloney, Kevin Conneff and Matt Molloy were welcomed warmly by the packed house, which was treated to a film showing many highlights of the band's history and interactions with world leaders and performing stars of the 20th and 21st centuries.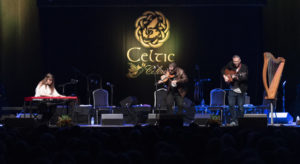 Celebrated Cape Breton fiddler Ashley MacIsaac also appeared during the Festival, opening with UK guitarist Tim Edey and Scottish award-winning pianist, composer and harpist Phamie Gow.
The Cape Breton University Pipe Band rounded out the first evening's performers.
According to Celtic Colours International Festival Executive Director Mike MacSween, "the theme of the festival this year is Lively Youth" reflecting its focus and goal of passing on the love of rich Celtic culture and music to today's youth.
The music of Celtic Colours was broad and diverse, ranging from sentimental ballads and folk songs, lively fiddling and guitar picking, wailing bagpipes and tin whistles, to foot-stomping, genre-crossing rhythms.
Cape Breton favorites The Men of the Deeps, a vocal group comprised of working and retired coal miners, touched hearts with ballads dedicated to memories of miners lost in tragic Canadian mining accidents.
Celtic Colours offered a wide-range of events across Cape Breton Island in addition to brilliant musical offerings.
Events included fibre and handicraft workshops, community suppers, Gaelic-language sessions, storytelling, museum openings, art events and nature walks.
The ever-popular Festival Club, which opened nightly at the Gaelic College in St. Ann's as each evening's concerts ended, offered late-night entertainment and friendship in an informal cabaret environment.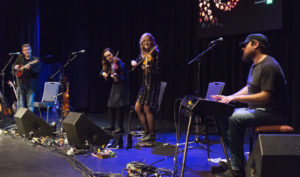 In addition to Cape Breton and Canadian attendees, the Festival welcomed a broad international audience as attested to one evening during a concert with shout-outs from people from many of the United States, Australia, Scandinavia, Germany, France, Ireland and the UK.
The Festival concluded with the Causeway Ceilidh, a closing performance in Port Hawkesbury, which featured Gaelic singer and multi-instrumentalist Julie Fowlis from Scotland's Outer Hebrides, as well as Celtic Colours Artists-in-Residence Breabach and Beòlach.
Find more information about the 2020 Festival here.
Brooke Billick is a Milwaukee-based photojournalist specialising in live performances and music festivals.