"IN DUBLIN people know each other and they have a very different way of telling stories. In London everybody is a stranger and from that point of view I find it a useful city. Stuff happens in London and I often think to myself, 'if I made that up people wouldn't believe it'."
Crime writer Jane Casey is back with The Kill, the fifth novel in her hugely popular series featuring London-based police officer Maeve Kerrigan, and she's excited at the thought of her readers getting their hands on this latest instalment.
Casey chats away, relaxed and happy, and it's hard to picture such dark themes coming from such an outgoing, warm-hearted mother-of-two. So where does she get her ideas and the criminal darkness from?
"I probably do have quite a dark mind, though I don't come across as the kind of person who is thinking that way. My husband is a criminal barrister and volunteers as a special constable as well so he is heavily involved in all aspects of police work. That's a good background to have as a crime writer."
Casey's books are international bestsellers and she has twice been shortlisted for the Irish Crime Novel of the Year Award, so hopes are high for the new work featuring D.C. Kerrigan.
"I have always had that kind of interest. I started writing when I was working in children's books. I was an editor and writing crime was a very good alternative to doing very sweet and wholesome books all day.
"I wasn't particularly enjoying it. It took me an awful long time to realise that the kind of stuff I liked reading was crime, so I should probably write crime. And with my husband's work being linked to it that was what happened, it was a combination of things."
Casey's working life (and a large chunk of her home life too) is dominated by crime, so I wonder if she finds watching endless police dramas on TV a bit like taking her work home with her?
"I love stuff like Love/Hate, I just don't have a huge amount of time to watch it because I have two small children. I have a month off every year when I watch box sets. I keep in touch with everything that is going on at home in Ireland. I think the next couple of books will have more of an Irish influence in them. I live in London, that's why they started off there.
"The thing about London is that it is the most extraordinary backdrop because there are people from every country in the world here, every language is spoken. It's completely believable that crime could happen here."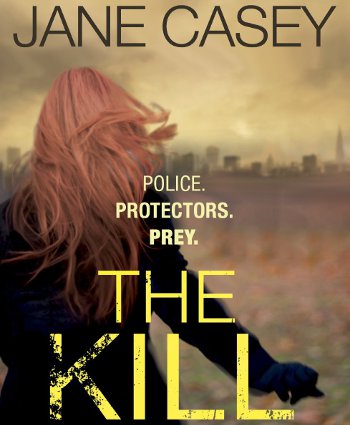 And, as we all know, it does. It happens everywhere. But Casey has a talent for making it very realistic and gritty and undeniably believable.
Maeve Kerrigan is a hugely believable character, so what chance Casey's heroine eventually being picked up some TV producers for maybe an Irish answer to Wallander, the much-loved Swedish detective series?
"That's my dream! When my family and friends ask me that question — about transferring to television — I always say to them that if I really wanted that, I would be writing scripts and not books.
"I created this world, it's my world. If you get into television it all changes, a lot. I would like a lot more people to read the books and learn about Maeve. I get a lot of feedback from readers and as a writer I get a great thrill out of people reading the books."
So what is it that makes people pick up a crime thriller in a bookshop rather than a light-hearted travel tale or one of the many ubiquitous sports biographies?
Casey said: "There's definitely a fascination with crime. People are drawn to look at the darker side of things. Crime could happen to any one of us, at any time. As a crime reader you always know there will be a resolution, whereas with some big literary novels it's all very beautiful and nothing happens! You plough through the whole thing and there's no ending. With crime there's a great story and there's more potential for it to work out in different ways.
"I also think people enjoy watching it on TV and yes, crime does seem to have taken over in the last couple of years. I'm delighted but I do wonder if there's going to be a return to easier drama for a while?"
Casey is hopeful that Irish crime writers will soon be acknowledged as a 'unit' in much the same way as Scandanavian writers organised themselves a decade ago and Italians have recently with their 'Italian noir' genre.
She added: "I think there are some absolutely brilliant Irish crime writers out there at the moment. It took a long time for people to see us as a group of people. The Danish, Swedes and Norwegians did this years ago. We have a lot of catching up to do now with that. There's definitely more interest in Irish crime writing and I really appreciate it."
The Kill by Jane Casey is out now