TWO EVENTFUL YEARS  have passed since Kodaline were introduced to the world, with a fanfare of most band's dreams — or nightmares, depending on their nerves.
"All the ingredients for greatness," raved Clash Music. "Think Coldplay and U2," wrote The Telegraph.
That's some weight to carry on young shoulders.
But in the intervening time, they've taken their anthemic melancholia from bars to arenas.
They count Zane Lowe, Ellie Goulding and Fearne Cotton as fans, have supported Kings of Leon at their monster outdoor show in Dublin, written with the most famous pop star in the world (that's Harry Styles), and soundtracked one of the most distinctive shows on British telly, Gogglebox.
The numbers are just as impressive. In Ireland alone, the band sold 45,000 copies of their debut album In A Perfect World, racking up nine weeks at number 1 and triple platinum status, while making a significant dent in the British (3), Australian (24) and US charts (89) too.
Meanwhile their Vevo account has notched up 40 million video streams of singles like High Hopes and All I Want — that's an awful lot of stolen five minutes.
It's safe to say the bar is set high for the next album, Coming Up For Air, not that they seem to notice or care.
"Whether we're on tour or doing promo we're always writing songs, so when it came to recording, we never felt like we were going in to record our second album," begins frontman Steve Garrigan from a cosy room inside Sony HQ, London.
"Any spare weekend we had last year, we'd book a studio, so there was never a moment for the pressure to build up," adds bassist Jay Boland, the second Kodaline member present. "For worry to set in, you have to stop, but we didn't."
"Yeah, you don't know how to stop — you crashed into a tree with a motorbike!" laughs Steve, making light of Jay's arm injury last October.
We're sure it was no laughing matter at the time; his inability to play caused the group to cancel their autumn 2014 tour of the States. The two act like it was no biggie, perhaps because it was this enforced cancellation that allowed them to complete the album instead.
Explains Jay, in his gentle manner: "It happened at the end of a week in a Dublin studio, which had been successful for us — we recorded about eight songs that one session. If I broke my arm at any other point, it could have done a lot of damage to us as a band. But we were ready to cancel the tour and continue the momentum in the studio. It meant we finished it at the end of last year, and we're ready to go with it this year."
"He's trying to make himself look good!" grins Steve. "Yeah, if he hadn't crashed into a tree, we wouldn't have this album!"
In actuality, it was jetting over to Los Angeles to work with Irish producer extraordinaire Jacknife Lee that gave the album its shape. He's the producer of choice for U2, Snow Patrol and even One Direction — so what is it about him that makes him so revered?
"He works on every second, to get each second the best it can be," explains Jay. "We'd sit there thinking 'what's he doing?' as he ran around the studio putting sounds together. But when he pressed play, you realised why — it was exactly the intention we wanted. He was able to piece it together in the most detailed way, he was so focused."
"I tend to disagree with some of that, to be honest," adds Steve (ouch). "He's like a feckin' philosopher, the way he talks. You can't argue with him. I'd hate to be in a debate with him."
Just a couple more weeks of studio time followed, in Dublin, Surrey and Longford, and that was a wrap. No months away on a studio retreat, no labourious creative arguments.
A few weeks, and it was done. "If you want to spend a year on something, you're going to spend a year. If you want to spend two months, you do that. We wanted to get it done as quick as possible, and we did," says Steve.
It helped that there was little revision of their sound: emotive, stadium-sized anthems, with more hooks and singalong opps in one song than in most albums. But they have taken steps to expand their range, as found in the latter-day Snow Patrol-sounding Human Again, and epic ballad Unclear, which features the children of the Downs Malvern Choir to add to its explosion of sound.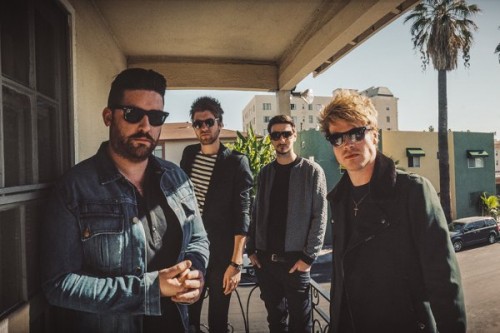 The album's closer, Love Will Set You Free, was a co-write with Snow Patrol's Jonny McDaid, who lives in LA with his fiancée Courtney Cox. Yes, that's Monica from Friends.
The connection meant that they spent a few days in each other's company, not an everyday experience for this Swords-born group.
"I mean, what do you even do when you see a Friends character?" smiles Steve.
"Act as normal as possible!" laughs Jay. "No, she's a really lovely person. By the end she was bringing us chicken into the studio. Some of her character must have brushed off on her or they must have worked it around her, because there are similarities, like she was always tidying up."
"And cooking. Monica was a chef, wasn't she? One night Courtney cooked us steak, and it was amazing. I can't cook at all — burnt toast is as far as I go."
For the next stage of their career, which they began as 21 Demands, featuring in Irish talent show You're A Star, they've uprooted from their first British residence of Birmingham.
Steve and guitarist Mark Prendergast have returned "back to our parents' homes, which is… uh…" mumbles an embarrassed Steve, as if they weren't rock stars permanently on tour. Meanwhile, Jay and drummer Vinny May have moved to London with their other halves.
"We're really enjoying London, especially because there's such a strong presence of Irish people here again," says Jay. "Most of my street is Irish, and just a couple of days ago, I discovered a nearby shop which sells white pudding and everything Irish, so I'm happy!"
While each member has yet to decide where they'll eventually call home, in the interim they're happy with this situation, which will have little effect on band operations.
Says Jay: "Our rehearsals take place in London, and our crew is British, so it's middle ground. Even a flight back to London is like a bus, so we're back and forth all the time."
That's especially the case for Steve, who will have even more reason to stay in London as his new girlfriend, RTÉ presenter Diana Bunici, is set to move over.
Sorry, ladies, but the indie heart-throb confirmed rumours that he is indeed spoken for. "I don't really talk about personal stuff, but I'm seeing her. I've been seeing her for about two months, but she's just moved to London," he says with all the comfort one might imagine.
"She's good craic." How did they meet? "Through mutual friends. Or at a gig. I really should know…"
Sensing this isn't his favourite subject, talk swiftly moves on to the immense year they face, with a European tour lined up from February, a US visit soon after, and a Australian/Japanese jaunt during summer.
"That's when it helps being Irish — there's always someone in the crowd who's there from Ireland," laughs Steve. "You'd scan the place and, yup, there he is — there's always someone in a Dublin jersey!"
Yet a growing audience means the Irish are but a fraction of the crowd.
In fact Kodaline's fast-rising popularity and epic rock anthems means that already, they've been earmarked as one of the few possible acts to remedy the shortage of festival headliners. And the band is just as keen to accept the challenge.
"Every band dreams of headlining festivals and playing massive, massive gigs. If we could, that would be awesome," says Steve. "We have big ambitions for our live show — we really want to step it up," adds Jay. "We're already talking to a designer about how to make our tour in nine months' time bigger. We have our sights set pretty high."
Something Muse-esque, perchance?
"How about Kodaline-esque?" offers Jay, with a grin. "Mark was a lighting designer before we went into this, and we're trying to figure out the visuals, but also what we can do with the show musically — how to link things and which songs flow together well. There's a lot that we want to do, but we don't even know what it is yet."
 Coming Up For Air is out now