)
IRISH dance group Fusion Fighters marked their one-year anniversary with surprise fusion flash mob in Oxford on Sunday.
The flash mob was a collaborative effort from dance groups and soloists, including local Irish dance school The Marion Flanagan School of Irish Dance.
Flash mobs, where a group of people assemble in a public place to perform a dance or musical act on the unsuspecting public have become popular in recent years, with many being captured by spectators and going viral.
The cast of 60 plus was made up of Fusion Fighters, Chris Naish, Liz McCarthy and Hannah Carroll; The Marion Flanagan School of Irish Dance; Simon Barton and Street Envy; Natasha Bradley and The Desert Diamonds, Cara Flowerdew and Laura Jones from Lord of the Dance, The Oxford Lindy Hoppers and Step by Step dance school.
"We are all really delighted with how it went and especially that it didn't rain!" co-ordinator Chris said. "The reaction from the public was great too with the interaction with the button, so we can't wait to see the video."
The troupe came dressed as civilians and waited until an unknowing member of the public pressed a set up button positioned on top of a sign reading "PRESS FOR FUSION".
The performance commenced with a single musician and gradually built up a vibrant performance from the full cast.
The flash mob included performers of several styles and cultural backgrounds, moving from Irish to hip hop, to Lindy and belly dance with a soundtrack featuring Hossam Ramsey, De Froiz Free Hip-Hop beats and Afro Celt Sound System.
The group, who launched their initiative on St Patrick's Day 2013 in Trafalgar Square, enjoy using various art forms and technologies to create their performances.
This isn't the first attempt at a flash mob by creative director Chris Naish of Riverdance fame. He and his public dance crew Sneaky Steppers co-organised the viral hit St Patrick's Day Flash Mob in 2011 at Sydney Central Station, Australia which received millions of hits on YouTube.
On Sunday, Michael Hayes from the SAE Institute Oxford directed a student film crew who were there to capture the entire flash mob, with a video due online soon.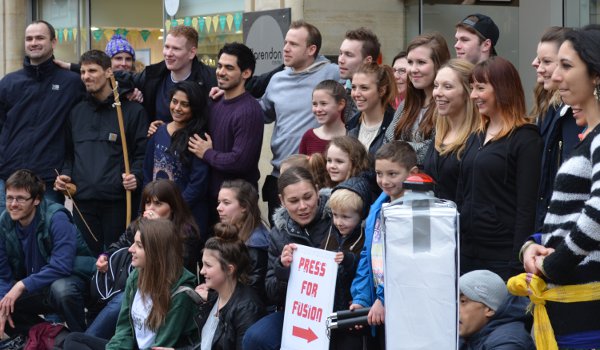 O'Neill's Oxford also provided a base for the dancers. Pub manager Eamon O Sullivan has now invited the whole cast to celebrate the launch of the video at his 'Join the Jig' evening on March 13 from 7pm.
The 'Join the Jig' event will feature a performance from The Marion Flanagan Irish Dance School and Fusion Fighter Chris Naish.
* This article was edited on April 23. It had wrongly stated that World Champion Martial Artist Rebecca Kane had taken part in the flash mob, which she had not