GETTING OLDER is extremely challenging and for some, it can be a harder process than for others.
Some lose their hair before their friends, others possibly lose their limbs and others, their mobility. Getting older when you feel just as young as you did at 18 on the inside is surely a confusing message for old people today.
One elderly couple that are showing a real lust for life despite their age is Mona and Des Manahan, a married pair who bode an inspiration for couples together today.
According to The Daily Edge, the Manahans appeared on the Late Late Show along with make-up artist Rosie. The make-up artist is from the branch of Benefit where Des is currently undertaking makeup lessons for Mona before she goes fully blind.
So there's a man who comes to benefit for makeup lessons with his wife so he can learn to do her makeup because she's going blind ?

— Hollie O'Loughlin (@hollieol_) October 23, 2017
Makeup artist Rosie said that Mona was asking about advice for makeup instore and when she had difficulty, Des simply took the brushes and began learning how to do his wife's makeup.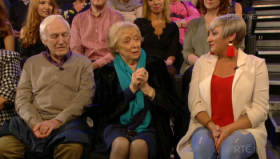 Reportedly, the couple have been together since 1952, and Des is 'getting good' at applying his wife's makeup.