ELECTRIC Picnic is completely sold out, don't even think of turning up if you don't have a ticket. That was the half public relations, half public interest message being pumped out on Irish radio almost every hour in the lead up to the 11th annual music and arts festival in Stradbally, Co. Laois which took place last weekend.
With torrential rain on Thursday and Friday, it looked like mud could have been the main act and for many of the 41,000 who did get their hands on tickets, setting up camp to a soundtrack of slurping muck was a rather sodden affair.
Luckily things dried up by the time Blondie took to the main stage on Friday (giving big shout outs to young guns The Strypes who played just before them). Debbie Harry & co played a lot of new material but the crowd really warmed up for singles like Maria, Heart of Glass, One Way or Another,  Hanging on the Telephone and Call Me.
Later on the same stage The Pet Shop Boys gave a masterclass in pop-tastic festival sets complete with hit after hit including Go West, West End Girls and It's A Sin.
An on-form Neil Tennant (whose vocal chords are still perfectly intact after all these years) and Chris Lowe were accompanied bright lights and some very enthusiastic fur-wearing, antler-clad dancers who inspired the crowd to throw shapes until midnight.
Advertisement
Chic featuring Nile Rogers delivered the goods on the main stage too on Saturday, and no wonder with Rogers' back catalogue. Did one man really write Le Freak, Lost In Music, Everybody Dance and We Are Family? He did, but it was the song Rogers co-produced with David Bowie, Let's Dance, that really summed up their disco madness set.
No one could accuse Paolo Nutini of phoning it in either, the Italian/Scottish (who is beginning to resemble a young Elvis) gave it socks from the first song, Scream, a single from his latest album Caustic Love right through till older sing-a-long hits like Coming Up Easy.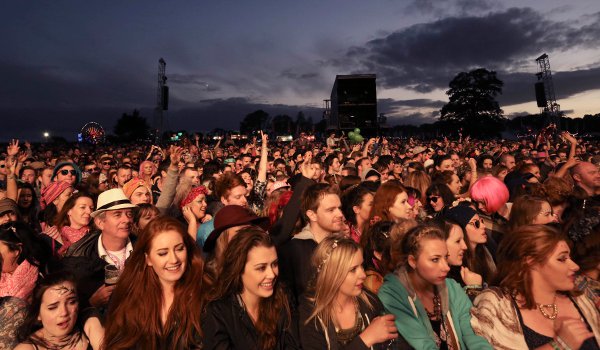 Even some fans wondered if Portishead were the right choice for the penultimate act on the main stage on Saturday, but they were silenced pretty fast as Beth and band had the audience in their trip pop palms with incredible vocals and visuals (getting a roar of approval for one montage highlighting the crimes of certain Irish banks).
This being the biggest Picnic to date, some might rightly worry if Ireland's original boutique festival has gone too mainstream. Certainly it seems the festival has become hugely commercialised with its snowballing popularity.
For those who haven't been to Stradbally since the early years, the biggest change is that you can't cross a field without students in silly outfits working for  big mobile phone companies offering you sweets or stickers or branded sunglasses.
Sponsors Electric Ireland pulled off a coup by booking Bonnie Tyler last minute to play their Power stage. Then, in an irony just ate itself moment, two songs into the Welsh power ballad queen's set, the power failed causing a forced recess before Tyler could return to finish what she started.
Advertisement
Apart from power issues, the tent was far, far too small to accommodate the huge crowed who gathered hours in advance to get a view.
With the interest in Tyler obvious well before the gig, could an electricity company not get some big speakers and screens set up for all who got left outside? Let's hope the EP organisers never let multinationals run our favourite festival.
It was most definitely a good Picnic for Irish acts. Hozier drew an enormous flock of fans to the main stage, and later played a surprise set on the well-hidden Other Voices stage. DJ Donal Dineen had everyone rocking at his closing set in Body and Soul Upstage on Saturday night while their were rave reviews for BBC DJ Annie Mac and the DJs from Le Galaxie.
The Jerry Fish tent (where Jerry was wandering around offering lollipops) also hosted Irish acts like The Frank and Walters and Camille O'Sullivan, while on the woodland Salty Dog stage the Camembert Quartet rocked, and on Sunday Sinead O' Connor got rapturous applause for her new material.
Over in the brilliant spoken word Mindfield arena, An Puball Gaielge was packed out all weekend, and not just because it was the only place showing the All-Ireland Kerry vs Mayo match, but also for some so bad it's good karaoke as gaeilge.
Despite the huge crowds, there seemed to be less of the dreaded queues for bars and loos then ever, which means finally organisers with access to posh loos are paying attention to festivalers most pressing needs.
So is the bigger the better really the case for EP2014? Everyone who missed out on a ticket will say yes, but festival veterans will always yearn after those first years, when the Picnic was truly boutique and unique.
Advertisement