UNTIL March 12, 1961 the traditional hand-knitted Aran sweater was a functional item of clothing.
Mainly worn by fisherman on the west coast of Ireland, it kept them warm when out facing the elements blown in across the Atlantic as they worked.
For generations the women in the villages had knitted these warm hard-wearing sweaters for the menfolk and often introduced their own local signature stitches into the traditional design.
But from that memorable date in 1961 everything changed.
The local humble traditional Aran sweater became an Irish cultural fashion icon and sales rocketed by over 700 per cent.
Advertisement
The reason for the sea change and explosion in popularity was that a devoted Irish mother, who was worried about the snowstorms in New York, knitted Aran sweaters for her sons who were working and hanging out in Greenwich Village.
Those sons were also working as an Irish ballad group in their spare time and they wore those sweaters during a winter gig held at the Blue Angel Club.
Their manager Marty Erlichman then pulled off a coup by getting the unknown group a guest appearance on The Ed Sullivan Show and insisted they wore their sweaters.
Forty million American TV viewers were enraptured by the Irish folk group and the huge international career of The Clancy Brothers was launched - whilst the trademark Aran sweater look became famous.
Sales of records, concerts and sweaters took off and back in the remote Irish villages in Donegal and Connemara the women could not believe their luck as they supplemented their income by knitting countless sweaters to satisfy the new demand.
Advertisement
The award-winning playwright and director Rosalind Scanlon, who was Artistic Director of the original Irish Cultural Centre in Hammersmith from 1999 to 2009, grew up in Fulham but was born of Irish parents from Donegal.
She had heard many stories about the knitting of Aran sweaters, and this became the seed of a new idea.
Having written over 13 plays herself, including Dance Hall Days and her play about the fans of Daniel O'Donnell, Lovin' Daniel, one of her special skills is her desire and ability to work within the Irish community - often casting the people she meets in daily life to play roles alongside the professional actors in her productions, to give them their first opportunities on the stage.
The significance of the Aran sweater and Scanlon's desire to work with the local community gave her the creative idea to pull these strands together for her latest workshop project The Knitting Ring.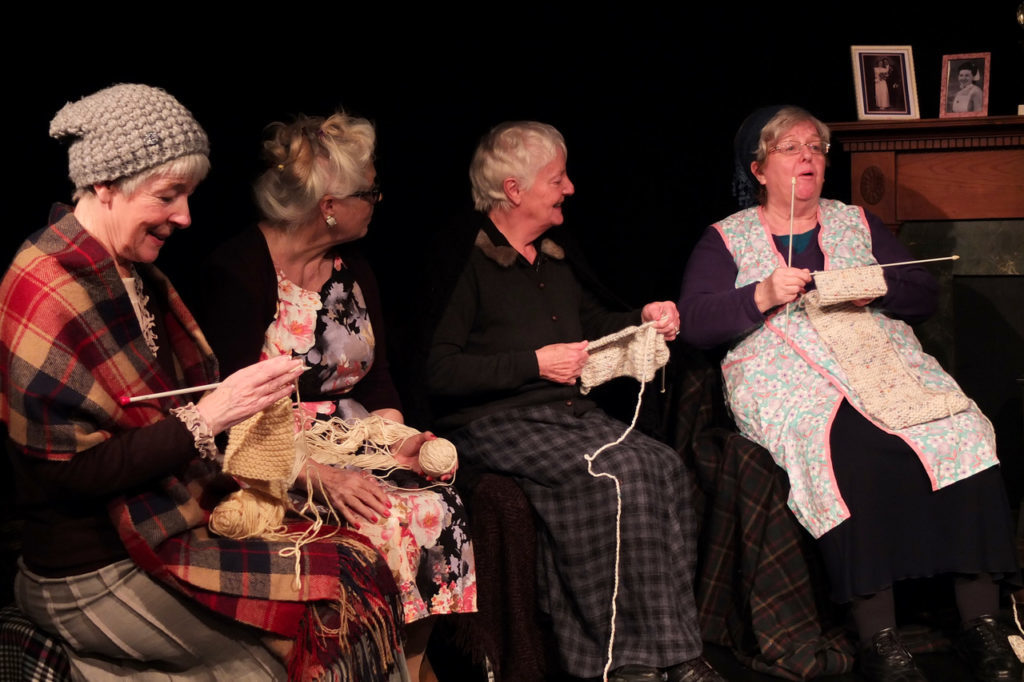 The film had its premiere at the Irish Cultural Centre in Hammersmith recently.
Advertisement
Playing to a packed house, it was well-received by its audience, and it is hoped that once this awful coronavirus pandemic is over it will be screened again.
Scanlon had advertised for Irish woman in London aged sixty or more to participate in this unique five-week-long project, as part of a film collaboration under the auspices of the Irish Repertory Theatre UK and Sé Merry Doyle of Loopline Film.
Scanlon set The Knitting Ring in a fictional West of Ireland parish in the early sixties and kick-started the creative process with the idea of the unexpected arrival of an American who visits the village and asks the group to knit Aran sweaters for Macy's department store in New York to fulfil the sudden demand for these unique Irish ganseys, following The Clancy Brothers' appearance on The Ed Sullivan Show.
Scanlon had her own stories about the Aran sweater in her mind also, told to her by her mother about a knitting ring back in her native Donegal - where some of the local women would come together to chat and knit at a time when women were treated as second class citizens by the church and state.
Such groups provided a social lifeline and source of help for lonely and often mistreated women who would be allowed by their husbands to attend, as there could be no threat from knitting.
Advertisement
They were a much-needed oasis of warmth, friendship and support for these long-suffering ladies.
To move the creative process along, Scanlon encouraged the group of women to develop, for themselves, the characters they had been assigned and to use their own experience as members of the Irish diaspora or their memories from back home too.
As a result there are many powerful performances in the film.
We meet Kitty Cummins (Káit Feeney), who tells of her ostracization because she married a soldier in the British Army and is accused of 'taking the King's shilling'.
Molly Branagan (Kitty O Beirne) who endlessly dreams of being a Hollywood movie star, Annie Ryan (Ann Fox) who lives with her brothers on a farm and endures hard work and deep loneliness, Josie O'Meara (Monica Melia) who is the housekeeper for the local priest but is in danger of losing her home as he is about to retire, Rosie O Grady (Mary Dwane) whose father married her off to a local rich farmer twice her age and lives in a loveless marriage, Bernadette O Riley (Maureen Sullivan) who lost her baby because of the trauma of her IRA husband being on the run, Nora Burke (Teresa Long) who is still recovering from the death of her husband out fishing, and holding it all together is Mary Casey (Rita Rose - Hope) in whose house the Knitting Ring becomes a retreat from all their woes in the real world.
Advertisement
Watching these stories unfold in the film, through initial casting and the conversations about the roles they have been assigned to, rehearsals and performance is both moving and fascinating.
Seeing Scanlon herself guiding these senior women carefully and sensitively to have confidence in what are, for some of them, new careers as thespians, the final dénouement shows how skilled and valued she is in this area of Irish-based drama. Scanlon brought in the internationally renowned director Sé Merry Doyle (John Ford – Dreaming the Quiet Man) to capture the progression of the project and he knits the dramatic highlights together in a powerful way.
The final product is a truly excellently crafted cultural art film that should be screened internationally as doubtless the Knitting Ring experience is probably repeated in other forms or cultures around the world.
I have known and admired Scanlon since she organised the highly-successful second Sense Of Ireland Festival at the Riverside Studios London in 1988, and have seen many of her productions, but seeing this film was the first time I was able to follow her working methods and to observe how she built a narrative based on the keystone idea.
It is a moving and endearing experience to be drawn into this creative process through the camera lens.
This project has such value on so many levels in providing a stimulating creative interest for these Irish women from the community, but also in creating an informative and amusing artistic work as revealed in this remarkable film.
The fact that Sé Merry Doyle filmed the whole thing on an iPhone 7 adds to its uniqueness.
Advertisement